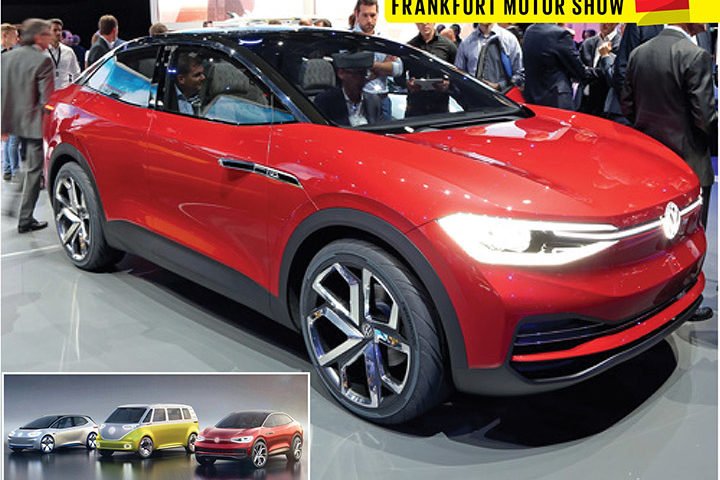 New electric ID range will have a hatch, saloon, MPV and two SUVs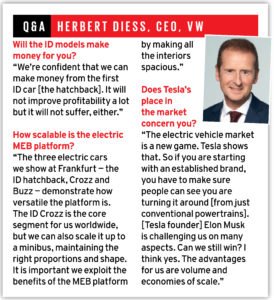 A second electric SUV will sit alongside the ID Crozz as part of Volkswagen's initial five-model electric line-up.
The first SUV, the Crozz, was shown in near-production form at the Frankfurt show and will go on sale in 2020. A larger electric SUV will follow later.
The remaining ID models will be the hatchback (confirmed for 2020), Buzz (2022) and a saloon that is likely to be revealed in concept form at the Geneva motor show next March. All will be built on the Volkswagen Group's electric MEB platform.
The first ID cars will have a choice of ranges, depending on battery size, from 250 miles to 373 miles, and the top speed will be 99mph in the hatchback — up from 75mph in the e-Golf — and 112mph in the ID SUVs.
Volkswagen boss Herbert Diess confirmed that, alongside these models, VW is considering a retro-styled electric model.
"When we've finished with the standard programme [the five cars mentioned above], the next thing for us is to do something emotional [for electric vehicles]," he said.
He added there was always the possibility for a retro-styled electric car, saying it was important to have heritage.
Despite the push towards electrification, Diess said traditional powertrains will remain vital. "We will need both Golf and ID for many years," he said. "EVs will play a major role in China and Europe. But in many parts of the world, that's not the case. If there is not a supporting government policy, people will not buy an EV."
VW's parent company, the Volkswagen Group — which also owns Audi, Bentley, Bugatti, Lamborghini, Porsche, Seat and Skoda — announced its overall electrification plans at the show. By 2030, every model will have an electrified variant and, by 2025, there will be 80 electrified models, not including mild hybrids. Fifty will be pure electric and 30 plug-in hybrid. Of those 50 electric models, 23 will be sold under the Volkswagen brand.
Elsewhere at the show, there were similar messages about electrification. Mercedes-Benz confirmed it will offer an electrified version of every model by 2022 and Honda said it plans to do the same by 2025.
RACHEL BURGESS