Threading this heavy-duty beast down a British B-road will focus the mind
This is probably the most regional car BMW has designed. Its big-grilled largeness is aimed at buyers in America, the Middle East, China and other Asian markets, and judging by the enthusiasm with which it was viewed by colleagues from Dubai, it looks as if BMW has hit the target. These buyers are offered a version with a petrol V8 that we won't get, its twin exhausts spitting dune-assaulting promise even at idle.
European buyers, who will need to think hard about where they might park this seven-seater before committing, can choose between the 335bhp V6 xDrive40i sampled here, a 192bhp xDrive30d or a 290bhp M50d. The X7 shares the recently renewed X5's platform, but it's substantially bigger than that car, occupying a footprint 5.15 metres long and 2m wide, less door mirrors. The X5 shares the same width, but comes in at 4.92m long and 1.75m high, the taller X7 topping 1.81m, which certainly contributes to the idea that you're driving a gargantuan beast. So does looking over your shoulder towards the distant tailgate.
But that, of course, is the point of this car. It's big enough to seat five in absolute comfort, and even those banished to the back will find a lot more space than usual once installed. They'll need flexible bodies, though, because getting past the forward edge of the wheel arch requires dexterous effort. The boot is bigger than you'll find behind the third row of seats in some seven-seaters, but for truly usable space you can drop both rows to uncover 2121 litres.
Fine upholstery is a pleasingly unmissable feature of the X7, this being the latest of BMW's luxury range whose stablemates include the 7 and 8 Series. Such is the surface area of seat trim that the choice of material and finish can have a dramatic effect on the cabin ambience, as can the option of the vast glass roof, which part-opens.
The impact of the X7's interior will be nothing compared with the business of conducting it down a road, if you have never driven a vehicle of this scale before. You're sitting high and the rear window is a long way off, but it's the X7's width and the initial feeling of bulk that can intimidate. Even on American interstates, the lane-keeping assistance will be kept busy if you don't concentrate. That's not because it's a wanderer but because of the sizeable chunk of said lane it occupies. This is a car in which lane-keeping is a real benefit, as is its semi-autonomous ability to edge ahead in traffic jams unprompted, by harnessing the radar-governed cruise control.
Motorways are likely to be a primary habitat for X7s. Despite this, BMW's chassis engineers have aimed to deliver a driver's car, its X5 roots helping. The scope for bold cornering in Florida, this test drive's ultimate destination, is limited but a quiet roundabout revealed a fair bit of well-controlled roll in comfort, less of the same in sport and more gainliness than you might expect from a vehicle the size of a decently voluminous van. Its air suspension can turn the ride a bit bouncy over deeper dips, but you can slice through long sweepers with a verve that Starbucks-swilling back-benchers will find distinctly unamusing. The 40i X7 is not hugely quick, which is no surprise given its bulk. But it's less hefty on its wheels than you might expect with 2320kg to cart, the all-out assault on 62mph completed in 6.1sec. The V6 is smooth at low to middling revs, but forays any higher make it sound a little strained. But the eight-speed transmission ensures you rarely stray there anyway, unless you paddle or nail the throttle, especially as it downshifts willingly.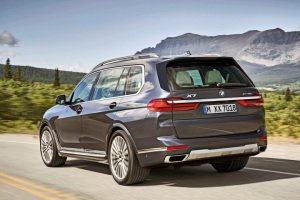 Judged against its distant-markets mission of carrying plenty in luxury and with lightly glitzy presence, the X7 does its job well. It's far from the most elegant or imaginatively designed BMW and it's really too big for many British roads (and car parks), but if you need that much sumptuously presented space,
add it to your shortlist.
RICHARD BREMNER
BMW X7 xDrive40i
Vast for our roads, but undeniably capacious and finely furnished. Brisk for a seven-seater, but no sports SUV


Price  £74,155
Engine  V6, 2998cc, turbocharged, petrol
Power  335bhp at 5500-6500rpm
Torque 332lb ft at 1500-5200rpm
Gearbox 8-spd automatic
Kerb weight 2320kg
0-62mph 6.1sec
Top speed 152mph
Economy 31.4mpg
CO2, tax band 198g/km, 37%
Rivals Audi Q7, Land Rover Discovery, Mercedes GLS