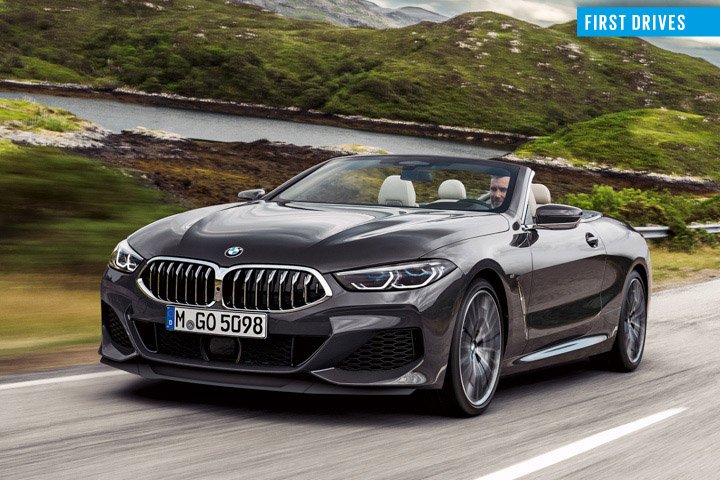 Sports coupé-cum-tourer takes well to convertible duties
When BMW announced the return of the 8 Series in 2018, a Riviera-spec flagship convertible was always on the cards. After all, dynamism broadly comparable to that of a Porsche 911, only with levels of space and opulence closer to Mercedes' formidable two-door S-Class, should appeal just as much in open-air form as it does with a fixed roof. Perhaps more so.
The £107,000 M850i xDrive tested here represents one half of the initial line-up – the other being an 840d xDrive with BMW's super-smooth, economical 3.0-litre straight-six turbodiesel, though an M-badged derivative with more than 600bhp is expected. Both drivelines are carried over wholesale from the coupé, meaning this M850i gets a tractable 4.4-litre twin-turbo V8 packing 523bhp/553lb ft. Explosive potency ensues, and despite a hydraulic roof mechanism and additional bracing that see kerb weight rise from 1890kg to 2015kg, the convertible gives very little away to the coupé in terms of straight-line speed, adding just 0.2sec to the 3.7sec 0-62mph time.
On the road, the car's handling gives similarly little away to the coupé, favouring the same sure-footed stability over the easy-going adjustability you'll find in an Aston Martin DB11 Volante. In fact, with the roof down (allow 15 seconds) and the elegant rear deck exposed, cabin turbulence is decently quelled and, out among the elements, the artificial steering feel seems less bothersome. Elsewhere, the ride is firm but pliant, the body extremely well controlled and there's so much traction, you can indulge the car's natural balance and confidently carry big apex speeds. Push too hard and you'll invite understeer perhaps sooner than in the coupé, as the weight tells, though it's hard to imagine many of these cars being used for much other than GT duties. And duly, with the roof in place, this is a well-isolated, cosseting cruiser we'd steer from Portsmouth to Portofino without hesitation.
As with most convertibles, you'll sacrifice some practicality – at 350 litres, boot space is 70 litres down on the coupé – while in this case paying roughly £7000 more for the privilege. But in many ways the drop-top 8 Series does have more to recommend it than the coupé, not least because the car's benign dynamics better suit the more laid-back cabrio brief. With a continent-crushing range, the diesel could be the star of the line-up.
RICHARD LANE
BMW M850i xDrive Convertible
Stunning pace, usability and versatility, but the 8 Series drop-top lacks an element of romance


Price  £107,100
Engine  V8, 4395cc, twin-turbocharged, petrol
Power  523bhp at 5500-6000rpm
Torque 553lb ft at 1800-4600rpm
Gearbox 8-spd automatic
Kerb weight 2015kg
0-62mph 3.9sec
Top speed 155mph (governed)
Economy 26.2-26.6mpg
CO2, tax band WLTP figures tbc
Rivals Mercedes S560 Cabriolet, Aston Martin DB11 Volante