Second-generation battery-powered urban crossover arrives with a bit more style and a lot more range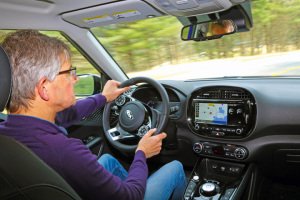 It's now more than 40 years since the original Star Wars blazed across cinema screens around the world, and this film, along with the eight that have followed it, still exert a pull powerful enough to inspire.
For proof, look at the nose of the latest Kia Soul EV. Apparently that jutting lower jaw of a front bumper was inspired by Darth Vader. And like Mr Vader, this volt-charged Soul aims to be more assertive than the norm – and a bit more sporty, too, according to Kia. That may sound like a bold claim for this stylishly boxy urban crossover, but a 7.9sec 0-62mph time and some addictive mid-range zip earn the adjective, if not the associations with the man of memorably limited wardrobe choice.
Never mind the fanciful referencing, though. This new Soul EV scores with substance, too, with an official claimed range of 243 miles and a 75-minute-to-80% 50kW recharge time making it decidedly more viable as an only, all-purpose car.
A low centre of gravity and contained roll allow moderately ambitious, fluent cornering
Kia has yet to announce a price, but it will be usefully less than the e-Niro's £36,495. Given that car's outstanding blend of range, performance and price, it should be no surprise that the new, second-generation version of  the Soul EV uses exactly the same electric motor, power electronics and battery systems. Kia notes that the huge cost of developing and manufacturing this drivetrain necessitates sharing it across these three Hyundai Group models, for economies of scale. The Soul sits on a different platform, however, and one that is structurally stiffer and 30mm longer in the wheelbase. The front overhang has grown by 25mm (for reasons of Darth mimicry and little else), but the wheelbase stretch does at least yield another 13mm of rear legroom. The boot's bigger too, although not by enough to eliminate criticisms of a shortfall.
There's plenty of extra tech, too. Adaptive cruise control and lane keeping afford a useful amount of autonomy in heavy traffic, there's an extensive suite of electronic safety systems, including rear cross-traffic assist, plus a head-up display and various features designed to maximise the battery pack's ability to give. These include cooling and heating 64kW's worth of cells with liquid rather than air, while a button enables you to heat or chill only the driver's portion of the cabin if you're one-up and need to eke. An in-built heat pump recovers waste heat from the coolant, while driving modes that include Eco and Eco+ help, as do four levels of brake regeneration, which are altered via paddle shifts as per the e-Niro. The Soul EV will also come with an app – an EV must-have these days – and, just as useful, an inbuilt modem allowing the more accurate provision of the vital information around charger location, type, availability and compatibility. It can also be used to remotely heat or cool the cabin, initiate and monitor the battery's charging (as long as you've plugged it in, of course) and send the navigation system a pre-planned route via the portal of your Apple or Android smartphone .
All of which contributes to the impression of a considerably more grown-up Soul, especially inside where the cabin takes on a new level of sophistication and convenience. You sit behind an adaptive TFT instrument cluster, which is complemented by a large, neatly integrated infotainment screen.
The biggest difference, however, will be in your mind, because like the e-Niro, this is an EV in which that 'will I make it?' anxiety can largely be forgotten. The Soul's new TFT instrument cluster displays your range in fairly big digits, and in contrast to older EVs, they tumble at a considerably slower rate – and sometimes more slowly than the rate at which miles are covered. It's also much easier to slow that decline with careful husbandry, using the paddle shifts, the Eco modes and, if you're one-up or mean, the driver-only climate control mode. If you're in the mood, it's quite entertaining to squeeze maximum go from a charge. You'll also enjoy the near-noiseless propulsion of an EV, but more compelling are the urgent surges of power to be enjoyed at low to middling speeds. This is an urban crossover that really is suited to an urban world. It will quickly dart into gaps, it will sludge through jams with minimal semi-autonomous effort and do so without fuming the streets. And all of this can be enjoyed in a fair degree of comfort.
This is not an especially luxurious car, but it's well-equipped, restfully quiet and rides adequately. It's also spacious, back-benchers enjoying the room to slump quite extravagantly. As with every EV the battery pack's mass can produce resolute thumping over bumps, but the Soul's ride rarely turns uncomfortable.
You do sense its heft, though – this is a 1682kg machine – and the urge to fling it about is somewhat tempered by steering that feels too lightly disconnected in all modes other than Sport, in which it turns springily resistant – which is better, but not great. That's a shame, because the Soul's low centre of gravity and contained roll allow moderately ambitious, fluent cornering. Couple this to that surprisingly brisk official acceleration figure – the same as the more potent Nissan Leaf scores – and it's easier to understand Kia's desire to make this car appear slightly more sporty. The electric Soul's face is hardly as malevolent as Darth's, but it will grab attention with the night-time illumination of its jutting, trapezoidal grille.
Those keen on unusual lighting can enjoy a veritable palette of in-cabin glowing ambiences, although the task of switching them on defeated the occupants of this test car. The triggering of the rest of the controls is reasonably obvious, the gear selector now a simple three-position rotary knob for drive, neutral and reverse, while a central push button engages park.
Like the e-Niro and Hyundai Kona, the Soul EV provides a genuine advance with its combination of range, performance, recharge time, all-round convenience and price. It remains pricey for a practical high-rise family hatch, but it's substantially more practical, and affordable, as a zero-emission EV, and comes with a visual persona all its own. Kia UK will sell only one version of the car, equipped with the more powerful 64kW battery – a 39.2kW version has also been developed with a 154-mile range – and it will come with a so-called off-road pack that includes faux skid plates and roof rails. Those won't turn the front-drive Soul into a dirt monster but will lend it a ruggedness of which Darth might approve.
If you want one, your chief issue will be the wait: orders for the e-Niro stretch to 2020, and the Soul EV does not go on sale until late this year. But by that time, Kia's plans to increase production of its EV powertrain may well have been realised. You might also consider a wallbox charger if you can accommodate it – a domestic AC charger will replenish the battery in nine hours 35 minutes, and if you think that sounds long, a simple domestic socket will need 31 hours to do it. That's an age, but it's a big battery – big enough that this new electric Soul makes a lot more sense than the old one did.
RICHARD BREMNER
The regenerative braking paddles allow straight freewheeling at level zero to quite substantial slowing at level three, and it intensifies from there if you continuously pull on the left-hand paddle. RB
MANAGING THE SOUL'S MODES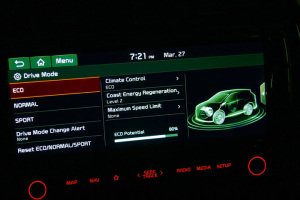 There are four driving modes in the Soul EV, selected via a push button on the centre console. Normal provides level one of regenerative braking (zero regen allows the car to freewheel, which it manages to do for a surprising distance) and leaves the air conditioning to function normally. Sport quickens the throttle pedal response and adds steering weight, while Eco mode dulls the throttle, raises the brake regeneration level to two and limits the air conditioning's operational effectiveness to the driver's area. It functions between 56 and 81mph.
Eco+, which only functions below 56mph, switches the air conditioning off but leaves the braking regeneration on two. So with skilful application of level three regeneration and the single-pedal mode, you can squeeze out a bit more range.
KIA SOUL
Now has the range to be an only car at a reasonably competitive price. Brisk, roomy and convenient, too


Price £32,000-34,000 (est)
Engine Electric motor, 64kW lithium ion polymer battery
Power 201bhp at 3800-8000rpm
Torque 291lb ft at 4000rpm
Gearbox Single-speed, direct drive
Kerb weight 1700kg
0-62mph 7.9sec
Top speed 96mph
Range 243 miles (WLTP)
O2, tax band 0g/km, 16%
RIVALS BMW i3, Hyundai Kona Electric, Nissan Leaf, Kia e-Niro