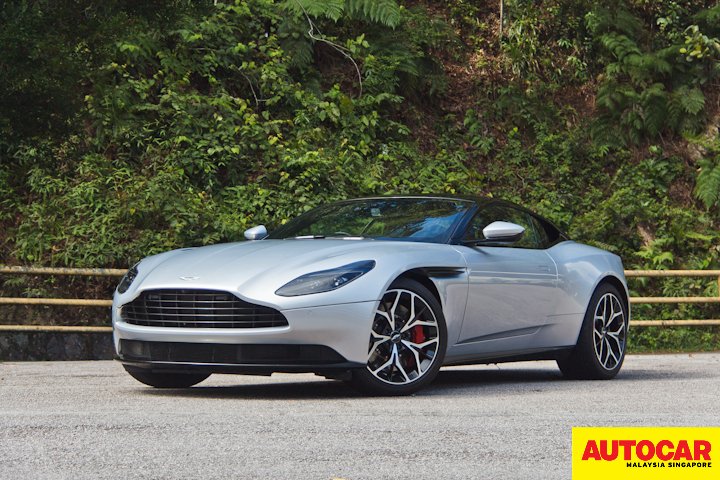 The Aston DB11 made its debut in 2016 but four years on, it's still a heart-stopper, as Sean Foo discovers
As you catch a glimpse of "lightning silver" while walking towards Aston Martin's KL headquarters, your breathing is momentarily disrupted; you know this is going to be a good day.
The traditional Aston front grill, but with black metal vanes, greet you. You grin broadly at the luscious lips of this inanimate (is it?) object with the excitement of a young man spotting his dream woman nearby; did DB11 notice you? Were the headlights winking at you?
Walking around, as if stalking the Aston Martin DB11 surreptitiously, the front wheel arch vent responsible for reducing turbulence and improving front end grip is a lovely detail, much like an elongated tear drop ear ring worn nonchalantly by the dream woman.
The rear three quarter is perhaps the best view. At first glance, the rear seems overly wide and chunky. But no. The proportions are, in fact, spot on. The wide rear complements the broad curvaceous rear haunches, flowing tapering roofline and waisted swan doors, drawing everything together into a cohesive, contemporary and striking piece of sculpture. This is a 21st century automotive expression of the voluptuous woman painted by Renaissance artists in masterpieces on display in galleries worldwide.
We must not forget the wheels. Wheels maketh car, as shoes maketh man. The polished and gloss black design is intricate and somewhat busy, yet they suit the DB11 perfectly – they are a playful touch, sprinkling a sense of fun on what might seem a mildly intimidating car. They signal that DB11 has a sense of humour.
The interior is very different to the DB9, DB11's predecessor. Where DB9's interior theme was simplicity with limited ornamentation, DB11's interior is a feast for the eyes. There is much more to customise and select: the choices of trim, leather colour, type, finishing and positioning are endless. With increased choice comes increased risk of mismatching and incompatible colours and materials; it's best to bring your loved one along to ETIQA Twins to collaborate closely with Aston specialists to create a unique and cocooning interior that you won't want to get out of.
"Lightning silver's" fully lined black and chocolate leather interior with its grained wood trim is simply gorgeous. It is delightful to reacquaint with the wonderful glass buttons, and to play with (use!) the surprisingly useful electrically sliding centre console. The large aluminium paddles are superb; perfectly placed, ergonomic and tactile. Interior quality is improved by a quantum leap; the Mercedes sourced switchgear and electronics provide the depth and breadth of engineering quality and integrity that the Ford/Volvo era DB9 never had. DB11 has been shopping at Prada, not Parkson.
We set off into the notorious KL traffic, the "hot V" bi-turbo V8 growling and gurgling subtly, but definitely making its presence felt and heard as we gently cruised towards Genting Highlands. The public swarm around us, feigning nonchalance as if we are just another car. However, they are looking, but trying hard not to stare and remain cool. We know that, and they know we know what they are up to.
The three lane highway is busy. Fortunately, the outside lane is mostly clear and cars move over as we approach. We drive confidently without aggressively tailing the car in front. DB11 begins to reveal its abilities. It is supposed to be a GT, but it does super sports car too. The agility, the cornering capability and the way it pivots and turns in with immediacy with no perceptible body roll at the speeds you get to on the highway is wonderful and extraordinary – underpinned by the near perfect weight distribution, with the V8 positioned behind the front axle and the uniquely rear-mounted eight-speed ZF gearbox. A car this big, this wide and this muscular surely cannot be this athletic. The damping is beautifully judged in "GT" mode, ironing out bumps while simultaneously holding the car on its chosen trajectory without any wallowing or harshness. The Aston Martin DB11 possesses brains, beauty and charm, blending them perfectly like a Martini.
On Ulu Yam down to KL, DB11 roars with immense grunt, the V8 spinning freely, responsively and energetically. An AMG heart it may be, but it sounds and performs with the soul and strength of previous Aston powerplants. Would Aston's own 100hp more bi-turbo V12 (600hp) be preferable? Probably not, the additional 115kg over the front axle might rob this DB11 of its delicacy, poise and agility. Less is sometimes more.
It's a privilege to pilot DB11 along the fast, long and sweeping corners of Ulu Yam, interspersed occasionally with quite sudden tight and tightening turns. DB11 is completely unflustered, hunkered down, dominating the tarmac, making other traffic seem stationary, as our ears cheerfully absorb the rich, melodic and guttural tones of its bellowing exhaust. Can life be any better? Is DB11 perfect?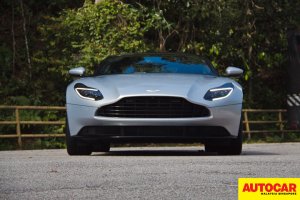 Alas, while accurate and well-weighted, the steering lacks the natural organic feel of the near extinct hydraulic system (McLaren); perhaps DB11 could please remove its gloves. The seat requires additional padding and bolstering, Vantage sports seats would probably be perfect. The ZF transmission may be slightly lazy and dim-witted compared to Porsche's PDK but then again, the ZF suits DB11's more laidback personality and slightly brutish nature nicely. Dual-clutch would be a touch too clinical and digital.
Perfection is impossible, but this Aston Martin DB11 really is nearly perfect.
Aston Martin DB11 V8
Malaysia Price POA
Singapore Price POA
Engine 8-cyl, 3982cc, turbocharged, petrol
Power 503bhp at 6000rpm
Torque 675Nm from 2000 – 5000rpm
Gearbox 8-speed auto
Kerb weight 1770kg
0-100km/h 3.9 sec
Top speed 300km/h
Economy NA