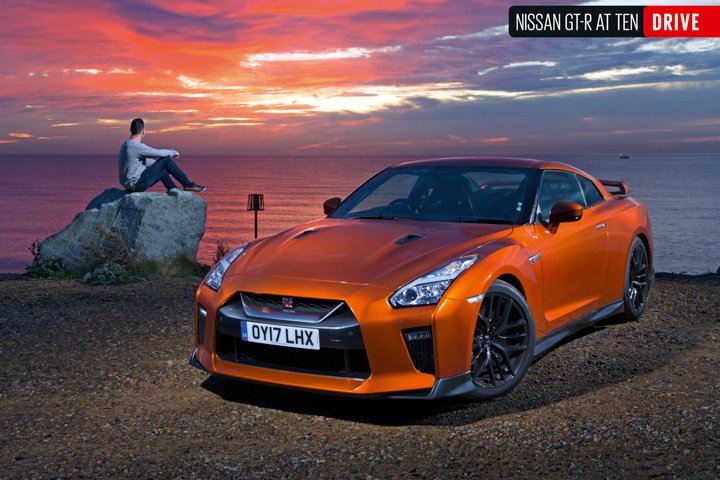 To mark ten years of the Nissan GT-R, we sent Dan Prosser to the land of the rising sun (for budgetary purposes, Suffolk at dawn) for a coast-to-coast race against time
The wispy clouds high above the North Sea are slowly turning red and orange, but the sun isn't due to rise for a short while yet. From the warmth of the car's cabin, I use those unhurried 30 minutes to review the route for today's ambitious journey one last time. Starting from this shingle shoreline at Aldeburgh on the Suffolk coast, we'll head west and carve a meandering, indirect route through the heart of England and across the pinched waist of Wales before, 340 miles later, arriving in Aberystwyth. There, all being well, we'll find a view a lot like the one we see before us now: calm sea gently rippled by a light breeze, low sun casting a soft, warming glow into the clouds above.
At 7.38am, that fiery ball finally breaches the horizon. Dawn makes way for daytime. Photographer Luc Lacey and I watch for a while as the sun climbs into the sky, savouring what is sure to be the last peaceful moment of a long and restless day. But we can't hang around. If we're to make Aberystwyth in time for sunset, we'll have to press on.
This day, 26 October 2017, is a notable one. Sunrise and sunset will be separated by almost exactly ten hours. Ten hours and 47 seconds, to be exact. That's how long we have to get from here to the Welsh coast, a simple enough task were it not for the fact we have an awful lot to do today besides drive from east to west.
It looks tight. The Google Maps app on my phone reckons the journey will take 7.5 hours, but on this occasion Google Maps is wrong. It thinks we'll be travelling by car, you see. In fact, we're going by Nissan GT-R. Call it seven hours, then, which leaves three hours for the day's errands but no time whatsoever for traffic jams, missed turnings, lunch, non-critical toilet breaks, punctures, breakdowns or any other such delays. As I pad about on the pebbles at Aldeburgh, waiting impatiently for Luc to finish his sunrise shot, I can't help but think the game's already up.
But why attempt this journey at all, and why today of all days? It was at this time of year that Nissan first unveiled the R35 GT-R at the Tokyo motor show in 2007. And so, on a ten-hour day, we're marking the car's tenth anniversary. In the time it takes the sun to rise out of the North Sea, sweep across the sky and extinguish itself in the Irish Sea, we'll drive from Aldeburgh to Aberystwyth, stopping along the way at a number of places that will help us tell the amazing and unique story of a game-changing performance car.
The A14. Dante would today surely write about the ten circles of hell
With the sunrise shot committed to memory card, we crunch our way across the shingle and eventually hit the road just after 8am. We've already lost 25 minutes and covered only a few metres, which isn't encouraging. As keen students of astronomy, though, you'll have worked out by now that our day will actually be a bit longer than 10 hours and 47 seconds because of the distance we're travelling. In fact, the 241 miles that separate Aldeburgh and Aberystwyth, as the notably adventurous crow flies, put another 19 minutes in our pocket. Those 19 bonus minutes will prove to be crucial. 
Much as I would love to drive from coast to coast on nothing but country lanes and mountain passes, we just don't have the time. We'll pick up the multilane A-roads and motorways wherever possible, but for now the only way to get from here to the main road is across Suffolk's gently heaving countryside, over B-roads and back lanes that rise and fall gradually with the landscape. Through sleepy villages we slip along slowly and quietly but, the moment the derestricted sign passes, it's down two gears, foot to the floor, engine wound out to the limiter one ratio after another. The frantic, vision-blurring speed the GT-R hits you with point to point is even more dazzling now than it was a decade ago.
These are moments to be savoured because the next road we'll pick up is the dreaded A14. It'll carry us halfway across the country, which should be good for our deadline but not for morale. The A14 is the UK's most dispiriting road. All too soon, the rollicking tarmac runs out and the entry slip arrives. Grudgingly, we join the lumbering carriageway.
The A14 didn't exist when Dante wrote about the nine circles of hell but, were the Italian poet to rewrite Inferno today, he'd surely revise that number to 10. This wretched dual carriageway plods along like a fat, overfed crocodile through dull, uninspiring scenery. Its signposts are a checklist of towns you never want to visit: Corby, Kettering, Bedford. You sit there slowly going mad in a line of cars at 50mph or so for mile after mile because somewhere up ahead one labouring lorry is inching its way past another in a painfully drawn out overtake. And then there are eternal roadworks and endless average speed cameras and breakdowns that cause interminable tailbacks.
It's hateful, but it takes us to within a few miles of our first location. It's just before 11am when we arrive at Bruntingthorpe Proving Ground, the two-mile runway in Leicestershire where we'll have all the space we need to really open the GT-R up. I allow ourselves 30 minutes.
In brilliant sunshine, I attach the GPS timing gear and find the grippiest patch of concrete on the runway. When the GT-R was new a decade ago, twin-clutch gearbox and launch control system were still novelties and it seemed insanely fast. Nissan claimed 0-62mph in 3.6sec back then, fully 1.3sec quicker than Porsche quoted for the £10,000-more-expensive 911 Carrera.
I line the GT-R up. This 2017 version develops 562bhp, up 89bhp on the 2007 car, and Nissan now claims a sub-three-second 0-62mph    time. Hold it on the brakes with your left foot, flatten the accelerator, hear the engine strain and step off the brake pedal. There's the most delicious half-second delay before the car releases itself, the thump to the back coming as a violent, unsettling shock. Frustratingly, though, the GT-R records one 3.1sec run after another until the drivetrain overheats. It won't be ducking under 3sec today. Still, for the money, that is frighteningly quick – a GT-R trademark since day one.
From Bruntingthorpe, we pick up the M6 and the M42 on our way to see a man who knows the GT-R story inside out. A few minutes before we arrive, though, an important moment comes and goes. At 12.44pm, the sun reaches the meridian, its highest point, before it starts to drop towards the horizon again. It signals the midway point in our race. With just over five hours until sunset, we're well on course, but I hoped the meridian would be some poignant, memorable juncture on this journey. I wanted to be parked on a picturesque hillside, turbos glowing cherry red somewhere up the exhaust system, smoke pouring from the brakes. Instead, we've just passed Worcester on the southbound M5.
We arrive at Litchfield Motors in Gloucestershire at 1pm. Having built the company that bears his name into one of the world's leading GT-R tuners, Iain Litchfield has followed the GT-R saga as intently as a trophy hunter stalking a deer. "I was in Tokyo when Nissan unveiled the GT-R in 2007," recalls Litchfield. "At the time, we did a lot of tuning work on Subarus and I was in Tokyo to see the new hatchback STi. Nissan had a GT-R cutaway on the stand and, being quite geeky, I started spotting things, like the size of the turbos. I was excited by it and bought a car straight away. When I drove it, I realised it was… well, let's just say we shelved all of our Subaru development plans immediately. The GT-R was on a different planet.
"In the early days, GT-R tuning was just exhaust systems and mild ECU work, but now it's huge. We've probably seen half of all the GT-Rs in the country here. Five or six cars come in for tuning or servicing every single day. These days, we're developing our own billet engine block – the standard block starts to crack over time at around 1000bhp – and we're building a car that we hope will do a sub-seven-minute lap around the Nürburgring."
We arrive just before the sun is due to set. In Aldeburgh, it already has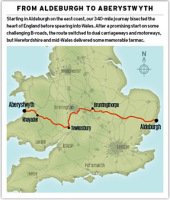 That's how far the GT-R tuning scene has come in a decade. Litchfield talks so passionately and so knowledgeably about the GT-R, I could hang around for hours. In fact, it isn't until we get back in our cars that I realise time has overrun by 45 minutes. With just three hours until sunset and 120 miles still to go, we're under pressure.
The clouds are forming, and not just on our plans to reach Aberystwyth for sunset. We pick up the A44 and press on through Herefordshire. Blessedly, the A44 couldn't be more different to the A14. For one thing, it's an extraordinarily pretty route, especially at this time of year when the trees are resplendent in rich browns and burnt oranges. It also rises and falls and twists and turns beautifully; and, although it's not a deserted back road, it does change direction often enough that I can keep the car working beneath me.
By the time we cross the border and enter Wales, landscape rising up all around us, the clouds overhead are so dark and heavy that I can hardly believe they're still floating. After Rhayader, we enter the Elan Valley where, according to our plan, Luc would shoot some epic, big scenery images and I would have a chance to really push the GT-R. Impenetrable fog and lashing rain were not what we had in mind.
With time running out, we glumly decide to press on to Aberystwyth, eventually reaching the seaside town 15 minutes before the sun is due to set. Back in Aldeburgh, it already has.
Our efforts have not been rewarded, though. Rather than the radiant sunset we drove all this way for, we instead get a thick, sticky mist that slowly fades from light grey to murky blackness. But this trip was never really about vistas or solar light shows. It was about the GT-R. A decade ago, Nissan changed the game with its super coupé and, years later, it's still the most exhilarating machine in which to chase the sun from one sea to another.
WHAT ABOUT THE NEXT GT-R?
Given the age of the Nissan GT-R, many would expect a next-generation model to be around the corner. But Nissan executives remain coy about the prospect of a new GT-R, telling Autocar that the current car is still doing its job as a halo model for the brand. Still, development of the new GT-R will be under way in Japan and, given that the recent IMx electric SUV concept has more torque than the GT-R Nismo (516lb ft and 481lb ft respectively), it would be no surprise if the next incarnation of Nissan's flagship performance model incorporates an electric powertrain.
THE BEST GT-Rs AND HOW MUCH TO PAY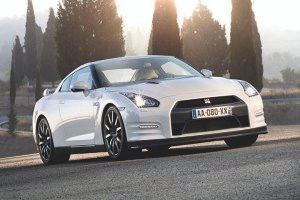 GT-R (MY2011)
What to pay: £43,000
Nissan has tweaked the GT-R every year since it was launched in 2007, but the 2011 model year was the first major overhaul. Power was increased to 523bhp, the ride quality was improved and the gearbox was made more durable.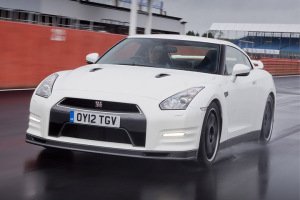 GT-R TRACK PACK
What to pay: £50,000
In 2012, the Track Pack gave us an idea of what to expect from the forthcoming GT-R Nismo. Renowned GT-R expert Iain Litchfield thinks the Track Pack model is among the best GT-Rs to date.
GT-R NISMO-N-ATTACK KIT A
What to pay: £150,000-plus
There were a few versions of the 2013 GT-R Nismo, but the one that set the absurdly fast Nürburgring lap time of 7min 08.679sec was the N-Attack Kit A. There's thought to be just one example in the UK.