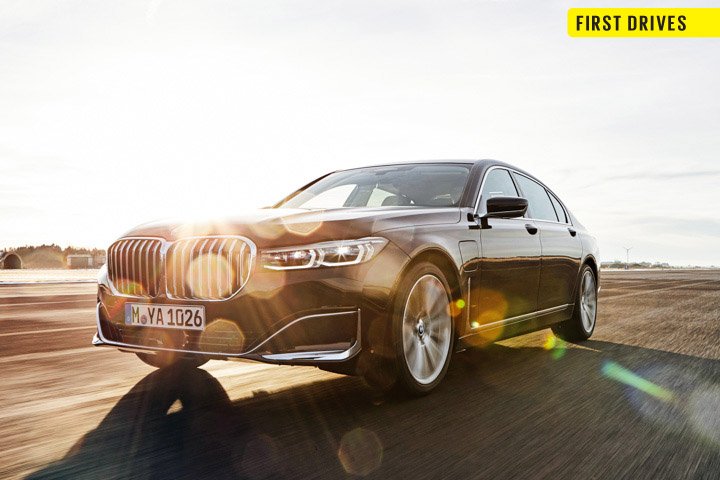 TESTED 17.1.19, GERMANY ON SALE SPRING PRICE £85,000 (EST)
New looks, more refinement and in plug-in hybrid form a – shock! – upsized engine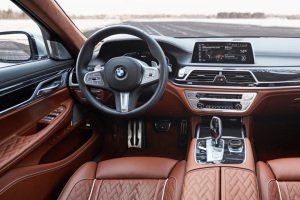 BMW might not admit it, but the invoice for facelifting the current 7 Series came in a fifth dearer than what's typically permitted. That confirms what we already know: the G12 generation, introduced in 2015, had fallen too far off the pace of rivals from Mercedes-Benz and Audi. Rolling refinement and a forgettable aesthetic were largely to blame and much money has been duly spent on those areas.
This refreshed 7 Series LCI (for 'Life Cycle Impulse') spearheads chairman Harald Krüger's goal of making BMW's costlier models more luxurious in the traditional sense. It's why you can now have parquet-style leather on the seats and armrests, and wooden inlays on the seatbelt outlet covers, and why there is additional sound insulation within the rear wheel arches, rear backrest and B-pillars. Thicker glass, laminated to 5.1mm, is available not only for the windscreen but also the side and rear windows, which are now lowered more slickly by new electric motors.
'Luxury' is also behind the ballooned kidney grille. Comparisons with Dr Lecter beckon, and BMW has surely gone too far this time, but along with the slimmer laser headlights and elegant panels of the lower front bumper, the 7 Series does now seem to have a more imperious disposition. The designers say their aim was to channel a touch of Rolls-Royce, and when you see the car's thrusting, bevelled nose and neat front bumper in the metal, you'll know what they mean.
The most economical 7 Series no longer feels a poor relation to its range-mates
Under the bodywork, an extensive range of turbocharged petrol and diesel engines remains, starting with the 262bhp 730d and culminating in the V12 M760Li xDrive – a leather-lined, 577bhp missile. We'll get to sample some of those models in March, before deliveries in April, but our first brief taste of the new 7 Series comes in plug-in hybrid 745e form at BMW's Maisach facility near Munich.
This car is a very rare case of upsizing, because whereas its 740e predecessor paired an electric motor with four petrol-fed cylinders, that has grown to a more sonorous six for the 745e. And although the lithium ion battery pack sited beneath the rear bench is physically no larger than before, its capacity is now 12kWh, resulting in a claimed electric range of 36 miles. At 48g/km, CO2 emissions still sneak under the critical 50g/km regulatory threshold, which is some achievement given that, with WLTP rules now in force, plug-in hybrids are tested with a full battery, an empty battery and at various states in between.
We're driving a development car, not that you'd know it, because this lightly revised interior is vault-like in its fit and finish. On the road, there's a choice of new driving modes, bookended by the option of 'locking' the powertrain into electric mode, with a top speed of 87mph, and Battery Control mode, whereby energy is siphoned from the 3.0-litre engine and channelled through the gearbox-integrated electric motor to charge the battery.
However, most of these cars will live their lives in the default Hybrid setting. Even on our short test drive, the 745e's ability to set off in silence then awaken – with barely a ripple in momentum – a smooth-spinning engine sat in a different postcode is profoundly impressive. With 196lb ft from the electric motor, throttle response is crisp at low speeds, but a brief stint on the autobahn highlights the true potency of this powertrain: 443lb ft from 1500rpm and 389bhp demonstrate why a 2045kg limousine still needs at least a half-dozen cylinders. Given the space, it'll sail into triple figures without hesitation, and thrumming sweetly all the way.   
My gut says a Mercedes S560e would still better isolate passengers and breathe more instinctively with the road, although both cars ride beautifully on adaptive air suspension. Admittedly, in the 745e, a distant pitter-patter underfoot could be more to do with the winter tyres than spring rates increased to handle an additional 200kg of hybrid hardware. What's more, you'd now require one of our road-testing microphones to make an accurate noise comparison with the Mercedes, and in general terms, BMW seems to have closed the gap.
Criticisms? BMW has calibrated more regenerative travel into the brake pedal, which as a result feels a touch over-servoed and has an oddly cushioned initial travel. The 745e is also a little keen to stabilise any roll. Fine handling is ingrained in BMW's DNA, and more recent 7 Series iterations have always suffered a bit for that, because unlike an S-Class, they can't simply discard all sporting pretence in the pursuit of luxury.
A more thorough dynamic assessment than is possible in 45 minutes of driving will come. As for this particular model, a plug-in hybrid 7 Series might be a concept whose broader appeal still needs to ripen, but that time seems to be drawing near. At this stage, the powertrain integration is all but seamless, and although the electric range remains marginal, it is used to increasingly clever effect (see separate story, above). More important, with a six-cylinder soundtrack and performance to match, the most economical 7 Series no longer feels a poor relation to its range-mates. In fact, this 745e is probably the most luxurious car BMW now makes.
RICHARD LANE
This isn't the only 745e. There are also four-wheel-drive and long-wheelbase versions, although all are 22mm longer than the 740e they replace. RL
BMW 7 SERIES 745e PLUG-IN HYBRID
Facelifted flagship makes an impressive debut, with hybrid tech only enhancing its appeal


Price  £85,000 (est)
Engine 6 cyls, 2998cc, turbo, petrol, plus synchronous electric motor
Power  389bhp at 5000-6000rpm
Torque 443lb ft at 1500-3500rpm
Gearbox 8-spd automatic
Kerb weight 1995kg
0-62mph 5.2sec
Top speed 155mph (governed)
Economy 134.5mpg
CO2, tax band 48-52g/km, 13%-16%
Rivals Mercedes S560e, Audi A8