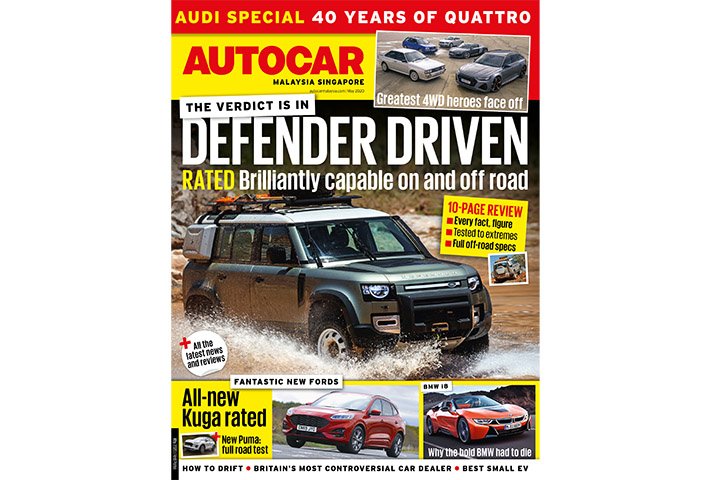 It's the Autocar Malaysia Singapore May 2020 edition, while the lockdown continues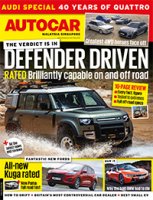 The eagerly anticipated Land Rover Defender got a full workout in Namibia and this month, we share the outcome of three days under tough conditions. The 10-page review starts overleaf.
Only the boring get bored, so it's been said. Sometimes, it's not a lack of imagination but a brain freeze.
This month, we feature 50 ideas for petrolheads to keep themselves occupied over the ongoing Stay At Home.
There's not going to be a second-gen BMW i8. Speaking as a great fan of the car, why? All is revealed on page 88.
Want to learn a new skill during the MCO? Learn how to drift like a pro, within the safety of these pages.
Other must-reads include 40 years of Quattro, Tom Hartley the supercar dealer at his new showroom, and how, through the Second World War, bombings and shortages, this great magazine carried on publishing, uninterrupted.
Finally, Selamat Hari Raya to our Muslim readers. Stay safe and well and enjoy the stories we've curated for you this month.
Lisa Kuok
Managing Editor
Download Autocar Malaysia Singapore May 2020 for iOS here
Download Autocar Malaysia Singapore May 2020 for Android here
Why two download versions? Each version is optimised to how the respective operating systems display PDFs. Either version will work in your mobile device/laptop/desktop. Downloading the "wrong" version won't damage your device. Enjoy.