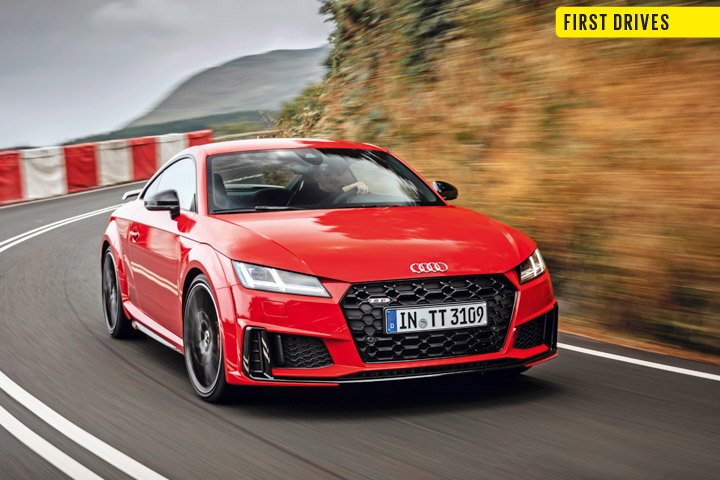 TESTED 17.7.18, Isle of Man ON SALE Autumn PRICE £45,000 (est)
Third-generation coupé gets a cosmetic refresh and new tech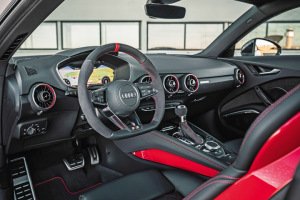 If you're still getting over the fact that kids born in this millennium can buy booze, then prepare for a shock: the Audi TT is 20 years old. The original, very pretty concept came about in 1995. Yes, really.
Since 1998, when the production car first went on sale, more than 600,000 TTs have been sold. With this third-generation car around since 2014, the time is ripe for a mid-life nip and tuck. The visual changes amount to new colours, bumpers and grilles, plus more standard kit offered for what's expected to be an increased price. Audi says to expect a price of about £45,000 for the TT S, which gets some more substantial changes than other derivatives.
The car is now automatic-only, the previously optional six-speed gearbox now replaced by a standard seven-speed transmission. The fitment of a petrol particulate filter means power has dropped to 302bhp, but torque has risen to 295lb ft, meaning 0-62mph takes just 4.5sec.
On the road, the new gearbox impresses straight away. It is more immediate in its behaviour than the old unit and more rewarding as a result. Shifts both up and down feel snappier, and it complements the energetic 2.0-litre turbo engine well.
The small changes to peak power and torque are undetectable, meaning that the TT S is still more than fast enough, even when
let loose on the Isle of Man's derestricted roads, as in our test. It pulls hard from low revs and is still eager at higher crank speeds, although it arguably lacks the zest of a Porsche Cayman.
Despite the fitment of standard magnetic dampers, the TT S rides in an agitated fashion, lacking the flow of something like a Jaguar F-Type. Moreover, while the Audi is a more agile car than the big Jag, it never rewards with the same exquisite poise of the aforementioned Porsche or joyful exuberance of the BMW M2.
'Twas ever thus. Those expecting a TT transformation from a facelift should have been more realistic; the Audi coupé remains one for the cool rather than the committed, though the former group will find enough to like about this revision to keep them keen.
MATT BIRD
AUDI TT S
As talented as ever, the TT covers every base as well as an Audi should but could still be more exciting


Price  £45,000 (est)
Engine  4 cyls, 1984cc, turbo, petrol
Power  302bhp at 5400rpm
Torque 295lb ft at 2000-5300rpm
Gearbox 7-spd dual-clutch automatic
Kerb weight 1460kg
0-62mph 4.5sec
Top speed 155mph
Economy tbc
CO2, tax band tbc
Rivals Porsche 718 Cayman 2.0, BMW M240i