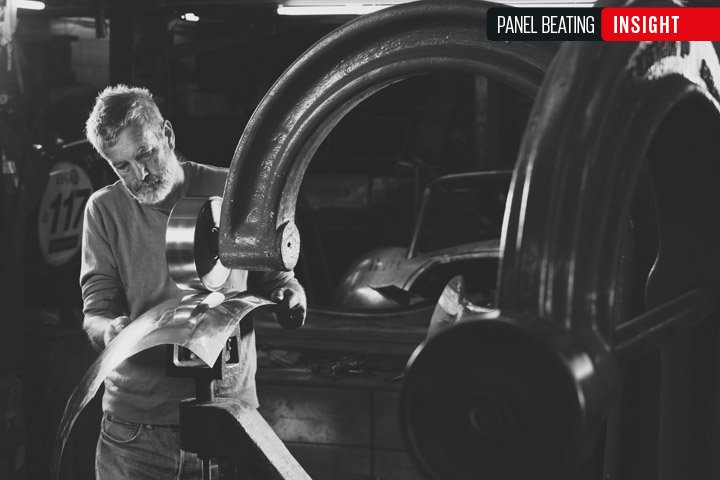 How hard can it be to turn a £20 sheet of aluminium into a front wing for an AC Cobra? Colin Goodwin tries panel beating to see if he – and his wing – can shape up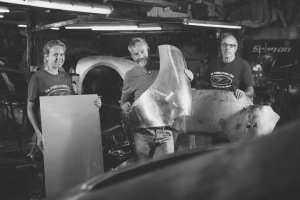 Apparently, there are over 100 billionaires living in the UK, 72 of them in London. Any one of them could afford to buy the 1962 Ferrari 250 GTO that will go under the hammer at an RM Sotheby's auction at Monterey later this month. A GTO sold earlier in the year for £52 million, the most money ever paid for a car. It's amazing, but here's food for thought: if that Ferrari were to receive a bump that dented its front wing, there are far fewer than 72 people in the UK with the skills to repair it.

One of the few is Grace Roaf. This 22-year-old hot rodder and drag racing enthusiast is an apprentice at G&A Fabrications, a traditional panel beating and fabrication business hidden away behind a former Texaco fuel station in Walton-on-Thames, Surrey. It's a small workshop, a bit untidy and short on space, but magic happens here. A miracle might even take place here today because I, with Roaf's help, am going to attempt to turn a £20 sheet of aluminium into a front wing for an AC Cobra. Both of us will be under the watchful eye of Lawrence Kett. Kett did an apprenticeship at British Aerospace, making spares for Concorde and 747 engine cowls under contract for Boeing. From there, he went to Autokraft, working on Cobras, including building new MkIVs at Brooklands. In 1990, he started this company and has never looked back.
The wing panel's surface won't look so good once I'm back on the job
"It takes 10 years to really get the hang of this work," says Roaf, "and I'm only two years in so you'll have to bear with me." We could have made a wing for a GTO to really demonstrate my earlier point but there is no Ferrari here to use it on, whereas G&A Fabrications usually has a Cobra or two about. It also has a buck for a Cobra, which will make the job a bit easier because we'll be able to marry up the panel we're shaping to the buck to see how we're doing. Or, more to the point, it will be easier for Roaf to see how badly I'm doing.
The first task is to make a paper pattern so that we can cut out a rough shape from the virgin metal sheet. We use masking paper and tape, plus a pencil to trace around the hard edges of the headlamp bowl, like brass rubbing in a church. With this outline transferred to the sheet, we use a combination of tin snips and a plasma cutter, which in my hands makes a right mess but in Grace's burns a clean line through the sheet. We're now ready for the wheel.
The English Wheel is the simplest of devices but incredibly difficult to master. As you can see (left), it is a giant 'G' with a pair of rollers. There are three at G&A, each fitted with a pair of rollers that have different profiles. One pair is nearly flat, another has a pronounced curve and the one that Grace and I are using is midway between the others. It's a nerve-racking business, this wheeling. Roaf gets us started, gently pulling and pushing the metal back and forth between the rollers, carefully applying pressure with her hands to encourage the shape. It's a very delicate balance between not enough force and so much that you put a crease in it that turns it into scrap. When it's my turn, I don't apply enough pressure, and after dozens of passes between the rollers, the sheet has not changed shape at all.
"It would take me days to make a complete wing," says Roaf, "whereas Lawrence could finish this in a morning."
"True," says Kett, "but I've been doing this all my working life and I can't tell you how many Cobra bodies I've made."
Several hours later, my back is getting stiff, but thanks to Roaf's patience and skill, the sheet of metal is looking suitably curvaceous. The complete Cobra wing is made up of several sections (ours is the very front and contains the headlight bowl) that will finally be gas welded together, another skill in itself. "We can also use the gas torch to anneal the metal," says Roaf, "to soften it so we can put a tighter bend in it without damaging the material."
There's a car in here that's under wraps and we can't talk about it because it's very special. Its body was originally made in Italy, where a different technique is used. Italian artisans use hammers, sandbags and even logs to beat the metal into shape. Any dents and dimples that you end up with have to be hidden with filler. One Cobra in here has an eighth of an inch of filler in it in places due to poor welding and equally poor metal shaping. The goal is to use hardly any filler.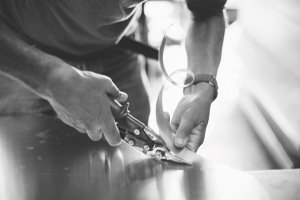 There's much work to be done on our wing but so far there are no ugly dents. Kett gives us a few minutes of his precious time, winds a bit more tension onto the rollers and removes every blemish within no more than 20 strokes. The surface is perfect. Better still, it's beginning to fit the buck properly. Trouble is, it'll not look so good once I'm back on the job. You work in one area and another bit starts going out of shape.
"It's a bit like having three children," says Roaf. "You have to pay all of them attention or one goes astray. If you concentrate on one area of the metal, you'll find things are going awry in another. It's a constant compromise and challenge." A
PHOTOGRAPHY Luc Lacey