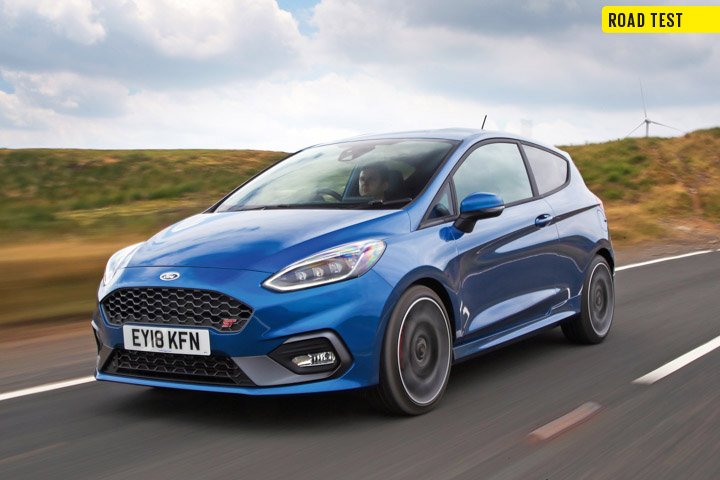 Can Ford reclaim the hot hatchback crown with a Fiesta ST that's missing a cylinder?
MODEL TESTED: ST-3 3dr
Price £21,495 • Power 197bhp • Torque 214lb ft • 0-60mph 6.6sec • 30-70mph in fourth 7.8sec
 • Fuel economy 37.7mpg • CO2 emissions 136g/km • 70-0mph 45.3m
WE LIKE
Class-leading handling • Now has track day-grade grip and performance • Still a performance bargain • Remarkable touring fuel economy
WE DON'T LIKE
Breathy three-pot not a perfect fit • Tetchy, busy B-road ride • Cabin short on performance flourish
Ford hasn't missed, flopped or floundered with its go-faster Fiesta since it introduced the first Fiesta ST at the Geneva motor show in 2004 – although, as those with longer memories will recall, the Blue Oval had something of a chequered history with its hot supermini breed before that point.
The original 'Mk1' Fiesta XR2 was a triumph. It was a car capable of 60mph from rest in less than ten seconds, and of passing 100mph flat out, on the market in 1981. But the performance versions of the 'Mk3' Fiesta (XR2i, RS Turbo) were both notoriously disappointing. After those two had come and gone, the closest the Fiesta would get to having a range-topping hot hatchback derivative (until the arrival of the original ST) would be the 'Mk5' Zetec-S of 2000.
So, throughout the early decades of the Fiesta's life at least, the hot version of the car us Brits have held so dear might have been either great or poor – or simply non-existent. Thankfully, Ford finally mastered its fast supermini recipe with the original, 2.0-litre 'Mk6' Fiesta ST, and perfected it with the 1.6-litre turbocharged 'Mk7' of 2013. That car sat pretty at the top of the rankings in our 'hot supermini' category from not long after the demise of the old naturally aspirated Renault Clio RS 200 until the Fiesta itself was discontinued last year.
From 0-100mph, it is quicker than even the original Focus RS
And so for the third-generation Fiesta ST, which undergoes the road test process this week, a job of consolidation is ahead. Few hot Fiestas have combined class-dominant critical acclaim with segment-leading UK sales quite as well as the last one.
The new one, as we'll go on to explain, has been designed and engineered for even greater mass-market appeal, with a pioneering three-cylinder engine ready to combine performance and efficiency in rare proportions, and suspension tuned for a more balanced, comfortable ride.
But might those be hints of a softening of the performance appeal of one of the greatest hot hatchbacks of recent years? Read on to find out.
Ford started with a 'Mk8' Fiesta some 71mm longer than the 'Mk7', whose front track width had already grown by 30mm compared with that of its predecessor. But the Ford Performance in-house tuning team went wider again on that driven axle, ending up with a whopping 48mm increase on track compared with that of the old Fiesta ST.
Attached to that front axle are several key developments for the car. One of them is the most direct steering rack to be fitted to a front-driven Ford. At 12:1, its gearing is 14% quicker than that of the old ST, though it's a fixed-ratio system.
Another is a limited-slip differential – the first to be offered on any Fiesta hot hatchback. It is a helical unit supplied by Quaife that works across the front wheels in tandem with a brake-actuated electronic torque vectoring system. The LSD isn't standard but rather comes as part of Ford's £850 ST Performance Pack.
The ST adopts derivative-specific front wheel hubs at the bottom of MacPherson-style strut front suspension, with torsion beam suspension at the rear. Damping is via Tenneco RC1 frequency-selective shocks which, though they're not 'adaptive', are effectively double-valved and can switch between softer and firmer settings depending on the profile of the bump being dealt with. This contributes to what Ford's chassis engineers describe as a more supple quality to the new ST's ride than that of the last version.
The Fiesta ST also uses 'force vectoring' directionally wound suspension springs at the rear axle, which apply a stabilising lateral force on the wheels as well as cradling the car's mass, and allegedly sharpen handling response. The springs are a Ford patent; they permit the use of softer rear suspension bushing than would otherwise have to be used (which should also improve ride), and they make for a rear axle 10kg lighter than if Ford had adopted a Watt's linkage to achieve the same result.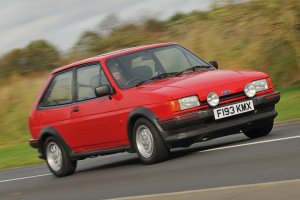 Finally, to the engine: Ford's all-new, all-aluminium, 1497cc three-cylinder turbo petrol, which produces official peak outputs of 197bhp at 6000rpm and 214lb ft, and transient 'overboosted' torque of 236lb ft. Those match the equivalents of the ultimate version of the last Fiesta ST (the ST200) precisely, although they're not quite class-leading figures.
One of the advantages of the new engine, says Ford, is that it makes a broader band of peak torque than the old four-pot, that it's lighter too, but also that it's the world's first three-pot automotive engine that can switch onto two-cylinder running under low load conditions.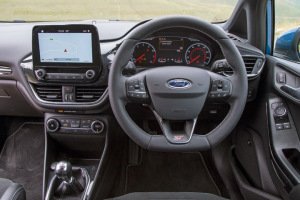 The bolsters of our Fiesta ST-3 test car's part-leather sports seats were quite pronounced, and easily provided the kind of lateral support you'd want from the driver's seat of your hot hatchback. If you opt for a lower trim level (ST-1 or ST-2), you lose the leather and Alcantara upholstery, but the cloth seats you get instead are the same shape.
You sit fairly high and bent-legged at the ST's controls, and longer-legged drivers might feel like they would prefer another inch or two of maximum leg room. Likewise, there's a chance you might notice the very slight offset of the car's steering column that we measured: a 10mm right-sided offset of the wheel that obliges you to perch more of your backside on the outboard cushion bolster than you might choose to in order to perfectly align your torso with the steering boss.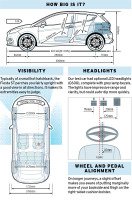 The instruments are simple, readable analogue dials, visible though the orbit of a sensibly proportioned steering wheel with a squidgy but not overly chubby rim. The spokes of that wheel are busy with buttons for the car's cruise control, trip computer and infotainment systems – while those for the car's engine stop-start system, electronic stability control system and selected drive mode are on a console that's a bit tricky to see, on the far side of the manual handbrake lever. A reorganisation that made the latter more accessible, at the expense of some of the former, would have been welcome.
The car's freestanding 8.0in touchscreen infotainment system is respectable for its usability and its features, although it doesn't give the Fiesta quite the sense of technical sophistication of one or two of its rivals. Likewise, the car's standard on perceived quality surpasses adequacy without going too far past. In this value-driven part of the market, you don't expect a cabin free of hard mouldings or a spread of exotic materials but, even by supermini standards, the Fiesta ST's interior is pretty workaday.
Practicality is competitive without being outstanding; both three and five-door versions are available, though the car doesn't quite match the latest Volkswagen Polo GTI on second-row passenger or boot space.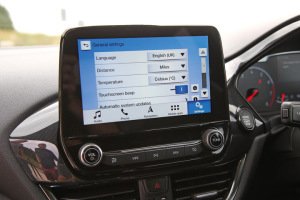 You have to climb all the way up to our test vehicle's ST-3 specification on the Fiesta ST's showroom ladder to get a car equipped with a factory sat-nav system.
Entry-level cars get a 6.5in touchscreen infotainment system and mid-level ST-2s get an 8.0in screen. But when both lower-end systems include Apple CarPlay and Android Auto smartphone mirroring as standard — and particularly since Ford's navigation system isn't all that great — you can easily do without.
The SYNC3 system can be voice-controlled, and works fairly well when given clear instructions. Finding your way in and out of CarPlay mode can be tricky, with no 'home' button on the row of shortcuts just underneath the main screen, but that apart, usability is decent.
Our test car was fitted with Ford's optional B&O Play premium audio system (£350). It increases the car's speaker count from six to ten.
The sound quality is impressive enough but the system wouldn't be high on the list of things we would spend extra on.
Your initial reaction to the stuttering, syrupy three-cylinder thrum made by the Fiesta ST when you listen to its engine spin freely to midway through the rev range might be ambivalence or even concern. We've become so used to soundtracks not unlike this from economy-minded budget models, and that makes the uneven idle and fizzing, saccharine mid-range of a modern turbocharged three-pot strangely hard to accept when it's coming from a hot hatch.
But give it the benefit of the doubt and the Fiesta ST's engine doesn't take long to repay your faith. This is an eyebrow-raisingly fast car, and certainly feels a good deal quicker, through the middle of the rev range particularly, than the last ST.
The electronic launch control works well enough but, by restricting the car's engine power, doesn't make for the quickest possible standing start. Without using it, however, it's hard to gauge how much torque you can deploy without overwhelming the front tyres even in bone-dry conditions. You certainly can't use full throttle in total confidence until you hit third gear – an indication of just how much grunt the car's engine is ready throw at its front tyres.
After plenty of attempts, we recorded a best two-way average of 6.6sec from rest to 60mph: very respectable indeed, albeit nothing remarkable. But look at the ST's pace from 30-70mph and you get a clearer indication of its real-world speed: 5.7sec is quicker than every direct rival we've tested since 2015 except the Toyota Yaris GRMN. And get this, fast Ford fans: from rest to 100mph, the new Fiesta ST is quicker even than the original, epoch-making Focus RS we tested in 2002.
On the road, the car surges through the mid-range with real force, and a warble distantly reminiscent of Ford's five-pot Focus ST. It's an engine to work hard from 3000-5000rpm, but perhaps not to rev beyond 5500rpm too often, when it gets a bit breathy, which seems a shame. But it sounds good enough when working hard, although perhaps not quite as waspish or exciting as you might want it to be.
The controls feel well weighted and metered, with a feelsome brake pedal inspiring plenty of confidence and a short, slick, positive gearchange never leaving you in any doubt when it's just engaged. Most testers preferred the calibration of the car's accelerator pedal when the car's 'Normal' drive mode was selected, with 'Sport' and 'Race' adding a bit too much sensitivity to the top of the pedal's travel.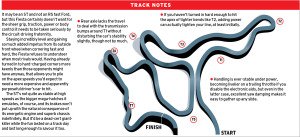 There are twin worlds of involvement to be found at opposite ends of this car. In many of the ST's £20,000 hot hatch opponents, you feel lucky to strike up a relationship with one axle that'll keep you coming back for more, corner after corner. But in the Fiesta, you can be at once totally engrossed in the adhesive tenacity of the car's front wheels and also in the jocular handling adjustability granted by the rear ones – all at the same time.
The Fiesta puts its extra-direct steering to good use, changing direction with real immediacy. Thankfully, it comes partnered with useful steering weight and a fixed ratio, both of which ultimately make it possible to process, albeit also with a hint of elasticity and compliance about the rack's tactile feel.
This is, just as the first Focus RS was, a front-wheel-drive car you can steer on the throttle. Keep your foot into the accelerator travel and it will dive keenly into bends just as you turn away from dead centre, as if an invisible passenger had just given the wheel an extra positive tug. Leave the car on a balanced throttle and it turns in less aggressively, but still with enormous keenness and good stability. Turn in on a trailing throttle, meanwhile, and you can tease the kind of controllable lift-off oversteer from this car that its predecessors traded on 25 years ago – although doing it takes just a touch more provocation than it did in the last-gen ST. You might think that all LSD-equipped hot hatchbacks handle like this, but it's just not true. The Fiesta ST is something special.
And has Ford achieved this handling immediacy and adjustable poise while also toning down the previous ST's famously antisocial ride? Yes, but with qualified success. While the new car is considerably more comfortable than the old one was around town, it retains a slightly restive ride on the motorway and has reactive vertical body control over really tough B-road Tarmac that doesn't quite level out at any speed.
The entry-level Fiesta ST-1's £18,995 sticker price achieves Ford's aim, making the hot Fiesta look like a bit of a bargain next to rivals, most of which start at list prices beginning with a two. It's a bit of a red herring, of course, since very few will buy the car in ST-1 trim anyway; and for most, the deal secured on monthly finance will mean more than the one done on list price. Be that as it may, the point is clear: this car represents outstanding performance-car value.
The ST-1 gets an infotainment system with smartphone mirroring for both Apple and Android as standard, plus 17in alloy wheels, cruise control, Recaro fabric sports seats and a Thatcham alarm. Ford's mid-spec equipment level costs £1000 extra, bringing upgrades for the car's alloy wheels, seats, climate control and infotainment system.
And although you might think fuel economy wouldn't matter much to hot hatchback clientele, the Fiesta ST is one that's often used daily – and so its ability to return nearly 50mpg in real-world touring (it recorded 48.2mpg on our touring economy test) could well impress a great many.
Perhaps that clever three-cylinder engine ought somehow to have rated better in terms of lab test carbon dioxide emissions; at 136g/km, the Fiesta is behind both a Clio RS 200 Turbo and a Polo GTI on lab test CO2 – admittedly both key rivals being automatic 'box-only at this stage.