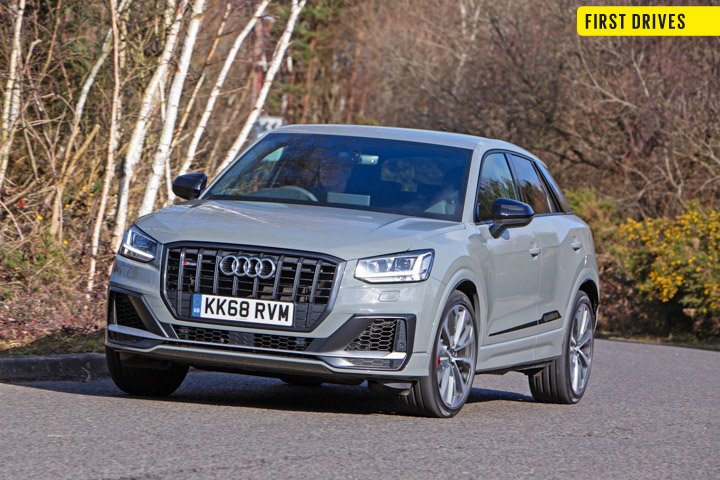 Small, fast SUV is sharp, but haven't we seen it somewhere before?
When I was at school, I was always told that copying a classmate's work was a big no-no. The same went for copy-pasting something from the internet and passing it off as your own work. You just didn't do it.
The world of automotive manufacturing is a little different, granted. Still, I can't help but detect a whiff of the above going on at the Volkswagen Group at the moment.
The car you see here is the new Audi SQ2. As you'll be able to deduce from its name, it's a sharper, faster version of Ingolstadt's smallest SUV. It has a turbocharged four-pot motor that develops 296bhp and 295lb ft of torque, four-wheel drive, a seven-speed dual-clutch gearbox and a sub-5.0sec 0-60mph time. It has a base price tag higher than £35,000, but lower than £40,000.
If you think that sounds familiar, there's a reason why. You could tack that exact same description onto the Cupra Ateca, the Volkswagen Golf R, and the forthcoming Volkswagen T-Roc R, too – perhaps with the exception of price for the latter.
Obviously, platform sharing is nothing new. And it's a good thing that this ubiquity is countered by each arm of the VW Group having its own distinct image. Being an Audi, the SQ2 should theoretically come with a chic, tech-rich cabin; and be able to stick to the road with the same tenacity as one of those facehuggers from Alien.
While it falls a bit short on the first count (it now feels very 'last-generation' Audi inside), on the second it doesn't disappoint. There are pretty serious grip levels here.
The quattro four-wheel drive constantly redistributes torque from front to rear axle to keep the SQ2 on line; and when the nose does wash into understeer, up to 100% of that force can be directed rearwards. You can feel the car momentarily pivot around its centre when it does, gently tucking the nose back in. It's rather impressive.
That 'EA888' engine feels very nearly as potent here as it does in the Golf R, too. After a degree of initial lag, the Audi accelerates with a muscular ferocity, and it'll continue to pull right up to its 6500rpm limiter. With its torque being spread so wide (2000-5200rpm), you can plant your foot in just about any gear and make rapid progress.
There are caveats, though. While stiffened, lowered sports suspension keeps body roll largely in check, an animated, often fussy ride comes with it. It's at its most irritable at town speeds and on medium-pace country roads; and even when you add pace, it still has a tendency to rebound and deflect more than is comfortable. The Golf R rides with a good deal more pliancy than this.
I reckon you'd find more passenger space in the back of the Volkswagen, too, and while the SQ2's 355-litre boot is bigger than the Golf's, it's only by a fraction. The driving position is also too high; the seats themselves aren't supportive; there are vast expanses of hard plastics in the cabin that seem out of place in a fast Audi; the steering is particularly numb; and you can't shake the thought that a Golf R would handle better, ride better, be even quicker, and cost you less money.
Obviously, Audi thinks it knows what it's doing with the SQ2. SUVs and crossovers are in vogue; and a go-faster, more expensive model such as this is the perfect 'halo' for an increasingly popular class of car.
So while the SQ2 might not necessarily be the sort of performance car the world needs, Audi will no doubt tell you that it's the sort of performance car that some in the world want. Which is why those buyers willing to fork out £36,800 for an SQ2 probably won't lie awake at night, unable to shake the thought that they should have bought a Golf R instead.
SIMON DAVIS

TESTER'S NOTE
There's no spacesaver spare tyre beneath the Audi's boot floor, only a fairly large subwoofer. Makes for a decent audio system, mind. SD
AUDI SQ2
Impressive grip and straight-line performance marred slightly by a taller centre of gravity and fussy ride



Price  £36,800
Engine  4 cyls, 1984cc, turbocharged, petrol
Power  296bhp at 5300-6500rpm
Torque 295lb ft at 2000-5200rpm
Gearbox  7-spd dual-clutch automatic
Kerb weight 1510kg
0-62mph 4.8sec
Top speed 155mph (governed)
Economy 32.1-33.2mpg (combined)
CO2, tax band 192g/km, 37%
Rivals Volkswagen Golf R, Cupra Ateca, BMW X2 M35i