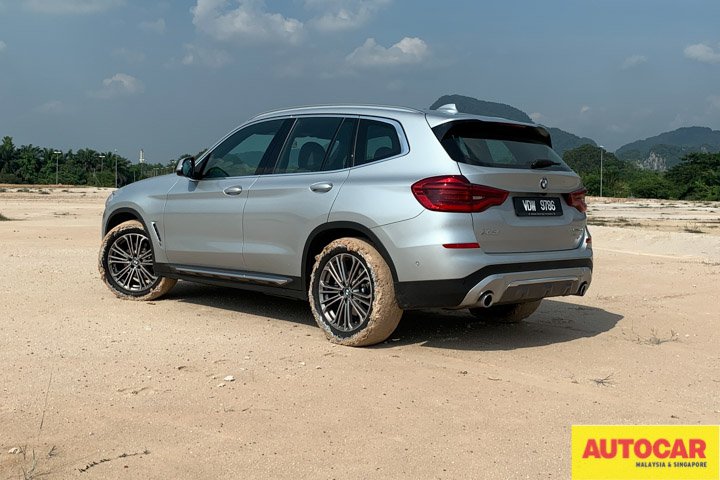 SUV sceptic and sports car diehard, Sean Foo, fosters a BMW X3 xDrive 30i Luxury for a few days to see if there is room in his life for a "truck" …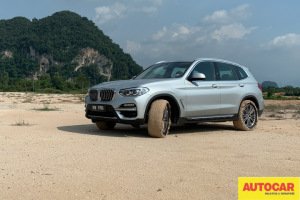 It started so well .. first impressions and all that. I was delighted to find wireless Apple CarPlay (few cars have this, as most require USB wired connection) in the X3, and it worked first time with my colleague's iPhone. My turn to drive, and naturally, I wanted to connect my iPhone. Disconnected my colleague's iPhone, but CarPlay had gone walkabout, AWOL, just like 1MDB's billions.
No amount of prodding of the buttons, switching on and off, rebooting, hammering the dash and elsewhere (including my head!), made any difference at all. Apple CarPlay couldn't be found in the infotainment system. It had vanished. Undeterred, we called BMW Customer Support using the on-board system. A very helpful, calm and polite man tried to help us, but he couldn't find our car on his system. We explained that it was a BMW Malaysia media car, provide the number plate details, as well as VIN. Their computer said no, car does not exist! Just like Apple CarPlay! Absolument incroyable! I gave up, as I didn't have much hair left to pull out.
The X3's interior is high quality, beautifully built, with the relatively simple, typical BMW design, perfectly acceptable. I was not familiar with BMW's famous and highly regarded iDrive system, but found it mostly intuitive. Tip: don't try to enter navigation destination information by voice: that feature isn't available in Malaysia. The handwriting recognition worked well, if a bit slow and kindergarten-like. Mapping information and quality was excellent though.
While I sat much higher than usual, I was struck, within a few minutes of driving, by how car-like the X3 felt. I was quite taken aback and very pleasantly surprised by the massive disconnect between what I saw and what I felt. The X3 hides its bulk, height and weight exceptionally well. I was impressed by the X3's balance, agility, compliance, composure and serenity. It was amazing that something so big and chunky could perform such feats and tricks.
It had no problem devouring the fast corners of the North South Highway at the speeds travelled by folks driving full throttle who seem to be firm friends with the Police. Once set up for a corner, it hung on: I accelerated and it hung on just as tightly, and those full throttle folks reluctantly moved over to the middle lane, such was the power of the massive BMW kidney grills bearing down on them. Yes, there was some roll, but it was well-controlled and never unnerving. It was in fact confidence inspiring. You just needed to ensure that your inputs were smooth and measured. Anything too abrupt or too harsh would immediately remind you that this was not a lightweight vehicle.
Cross-winds didn't seem to affect X3 much either; perhaps I was lucky as it wasn't too windy during my time with the X3. There was a little jolt when passing at high speed, the hulking, overloaded and slow lorries belching out black plumes of diesel stench. The jolt was more noticeable than in a car, but not materially more noticeable.
Apart from some wind noise from the door mirrors at speeds best not recorded, the cabin was quiet and refined. There was no need to raise your voice to conduct a conversation, almost irrespective of the speed at which you were travelling – certainly at the speeds I travelled at. I was deeply impressed by how something that seemed as aerodynamically inefficient as the X3 could produce such a calm and peaceful cabin. It is not an exaggeration to say that it had limo-like refinement.
Around small town Ipoh overrun with school holiday tourists from all over Malaysia and Singapore, the X3 almost felt a bit out of place. It was hefty and towered over most other cars as they swarmed around, finding gaps you would have sworn on your loved one's life, couldn't possibly fit a car; but fit they did. It is fortuitous that Malaysians are generally quite good at avoiding contact sports on the roads.
I think of the X3 as a performance hatch on steroids, tottering on stilts, while driving around with a full load of passengers. Although not a full-on hot hatch experience, it was a memorable and engaging experience to drive something this big and this tall, this quickly through corners, straights and bumpy roads. The 19-inch wheels – overly fussy to my eyes, and best cleaned by someone else – didn't ruin the ride. You could call it supple, comfortable even. There was a slight brittleness over the nasty, uneven, broken terrain that some dare to call roads in Perak, but the ride was never jarring or cheap; there was real quality to the dampers. I couldn't help thinking that 18-inch wheels with adaptive dampers set to Sport would have removed the stilts from the GTi-esque experience.
Naturally, the X3 was much better at scaling the road bumps, designed to improve the sales of brake pads/discs and suspension components, than cars. There was much more ground clearance and suspension travel. This is one area in which the X3 objectively outclassed cars; no argument possible.
The in-line turbo four produces 252hp and lots of twisting stuff. X3 felt amply powered in almost all situations. The way the X3 stormed up steep inclines on highways demonstrated how far engine technology has come. The eight-speed automatic box was efficient and businesslike, and best sampled in Sport. In Comfort, it was a touch lethargic, much like the service one gets at Government offices. Even in Sport, turbo lag could not be disguised especially when one suddenly stomped on the throttle while cruising gently, as was the case, when the small hatchback finally noticed I wanted to pass, and vacated the outside lane. The transmission almost seemed to ask "are you sure?" while it waited for the turbo to spool up. There was definitely a noticeable delay, a small blot on an otherwise clean copybook.
I preferred steering in Comfort, with Sport mode for the engine and transmission. Sport setting for steering was heavy, and the weight did not change with cornering attitude, speed or load; it was simply heavier just to be harder to move. In Comfort, the steering complemented the light, lithe and agile feeling of the car, while at the same time, making for finer and smoother steering inputs during spirited driving. Fortunately, the Luxury spec of our test car did without the much thicker rimmed steering wheel that blights M Sport spec BMWs. Girth is not always good. Steering delicacy and what little feel there is, is reduced by having unnecessary girth to grapple with – or perhaps it works better with bigger European hands.
There are unfathomable deficiencies in the X3. The front seats are comfortable, with support in all the right places. However, they are too narrow at the base and the shoulders, as if they were taken unaltered from an X1 or maybe a 1 series. It seemed as though I was in business class but sitting in an economy class seats with plenty of space around you. Very strange. The other bone of contention was the lack of height adjustment for the front seat belts. BMW attempted to mitigate this by fitting "universal" mountings, but they simply don't work. I could not have the belt just so, at a position where my neck didn't feel at all threatened by the seat belt edge. Perhaps inconsequential things, but they did tarnish the experience, unfortunately, too memorably.
Determined to at least wave some mud at the 4WD, we found some land that had been cleared, ready for development. Access would have been dodgy for cars as there were only rocks, sand and mud, and the ground was soft. It was excellent fun skidding around and dropping into ditches and ploughing through mud and sand, far more enjoyable and exciting than any ride in any theme park. I had BMW Assistance's number ready to be dialled but the X3 took it all in its stride. Instead of its off-road capability being fully utilised, it was more like being teased.
I have been a passenger in many other SUVs, big, small and medium (at a very broad range of price points), and never warmed to them. They were always at least one of the following: cumbersome, under-developed, dynamically extremely challenged, poorly executed and generally dull, with the main (and in many cases, only) attraction being the elevated driving position. However, the hugely capable BMW X3 xDrive 30i Luxury is a car I would seriously consider if I grew up and had to get a sensible car with a broad range of capabilities to replace my two-seat sports cars.

Malaysia Price RM313,800
Singapore Price NA
Engine 4-cyl, 1998cc, turbocharged, petrol
Power 252bhp at 5200–6500rpm
Torque 350Nm at 1450–4800rpm
Gearbox 8-speed auto
Kerb weight 1790kg
0-100km/h 6.3sec
Top speed 240km/h
Economy 13.2km/L (claimed)