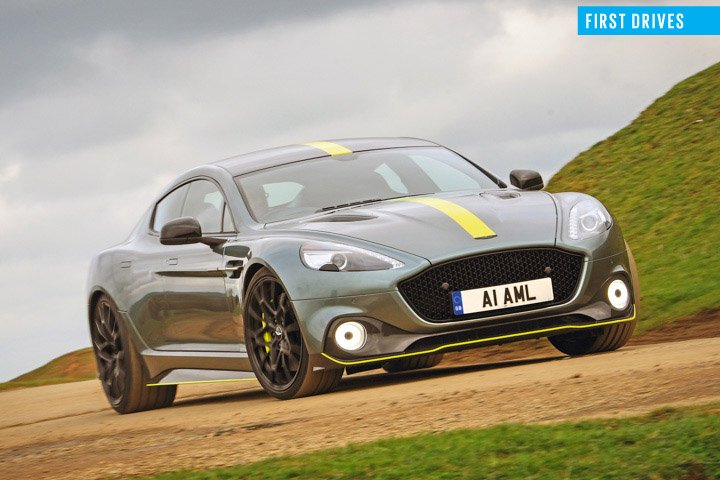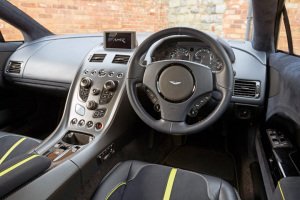 This is it, then. The once-bold new era, heralded by the introduction of a vehicle platform called VH which allowed about a dozen (similar) cars to be launched on the same architecture, draws to a close. It was the (Ulrich) Bez of times, it was far from the worst of times.
But the new Aston Martin revolution is under way. And this Rapide, as outlandish as VH cars became thanks to four doors and four seats, is the last of the old line.
It's going out in limited-run AMR specification. Just 210 will be badged this way, with 35 extra horsepower and costing 45,450 extra pounds over a Rapide S: so 595bhp and £194,950.
You might find unregistered examples of the S at dealers, but production has finished. For the AMR, production and some deliveries have already started, but you can still order and specify one, and the racing-inspired Day-Glo highlights seen here are optional.
You will get carbon-ceramic brakes behind 21in wheels and AMR-specific tuning, turning what was Aston's most laid-back GT car/four-door coupé/fastback saloon/family hatch – call it what you will – into something more raucous.
You'll also get, if you overlook the Valkyrie, the last of the naturally aspirated V12s, the 6.0-litre-badged (actually 5935cc) stalwart which has provided sterling work since its introduction in the DB7 Vantage of 1999. That was the first production Aston with a V12. Now you can't imagine the Aston range without one.
As ever, it drives the rear wheels, these days through an eight-speed automatic gearbox mounted at the rear, and a limited-slip differential.
Those traits and a lengthy 2989mm wheelbase are what have lent the Rapide one of the nicest inherent chassis balances among super-saloons, or even some big GT cars, over which the Rapide remains more agile and deftly balanced.
The Rapide's kerb weight is 1995kg, which seems like a lot until you realise a Bentley Continental GT, despite having two fewer doors, weighs another quarter of a tonne.
And even now, nine years after the Rapide's first introduction, there aren't many cars of this weight and size that hide their mass so well.
The AMR alterations to the chassis are subtle. They add a firmness to the ride and a bit of extra body control. I might have preferred it as it was – this is a big saloon, after all – but the ride quality is still good; a touch fidgety over small ripples, but never close to frighteningly harsh.
And what's still evident is that lovely balance. The steering is smooth, pleasingly weighted and gains weight and feel as you turn. At three turns between locks, it has half to a full turn over some big cars, as they fit sharper steering to improve agility. Not here. No hyperactivity, no active roll bars, air springs, rear steer. It just is what it is: straightforward, honest, with the smoothest of V12s and a clean gearshift .
If rivals have anything over the Rapide, it is interiors that are roomier, and stuffed with lavish materials and world-class electronics – hence their weight. The old Aston navigation and entertainment are as baffling as ever, and the analogue dials not as clear as they should be, but there's a digital speedo and phone mirroring. That's just fine for me.
There's not a direct Rapide replacement coming – the DBX will effectively be it. I wonder if it's a shame that the last of the VH cars wasn't a fire-breathing version of one of the more glamorous coupés, rather than this lower-key run-out. But the Rapide, being the longest Aston, with a hefty aluminium structure down its middle, has the biggest backbone.
So, in a way, fitting. I know, new dawn – but I'll miss it.
MATT PRIOR
The window line's high and the seats sportingly narrow but, all told, it's not bad to ride as a rear passenger in a Rapide. MP
ASTON MARTIN RAPIDE AMR
Last of the old-school Astons with a naturally aspirated V12 is as charming as it always was


Price £194,950
Engine V12, 5935cc, petrol
Power 595bhp at 7000rpm
Torque 465lb ft at 5500rpm
Gearbox 8-spd automatic
Kerb weight 1995kg
0-60mph 4.2sec
Top speed 205mph
Economy 21.9mpg
CO2, tax band 300g/km, 37%
RIVALS Mercedes-AMG GT S 4-Door, Rolls-Royce Ghost