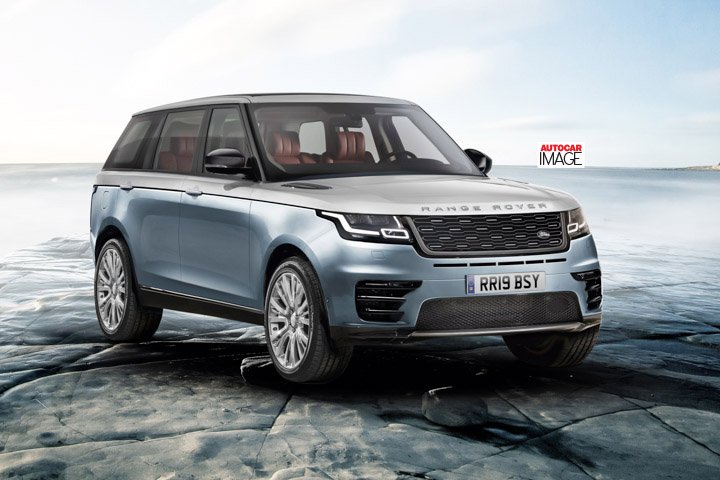 Toting high-tech kit and even more luxury, the next-gen flagship SUV will gun for Bentayga and Cullinan
The next-generation Range Rover, due next year, is intended to eclipse a new era of rivals in the fast-growing super-luxury
SUV segment.
With competition from the Bentley Bentayga and Rolls-Royce Cullinan as well as upcoming, more mainstream models such as the BMW X8 and Audi Q9, Land Rover's task with the fifth-generation Range Rover is to create a vehicle that surpasses all of these rivals. It will attempt do so using not only its unique heritage but also technological advancements in powertrains, autonomous driving systems and infotainment.
It will be revealed and on sale as soon as late next year as Land Rover celebrates 50 years since the launch of the original Range Rover.
Land Rover recently confirmed that the upcoming Range Rover, alongside the next Range Rover Sport, will use an all-new architecture.
To prepare for these models, its Solihull plant is going through a major refit to accommodate the advanced technology that will be used in future Range Rovers.
The new Range Rover platform will be significantly lighter than the current model's architecture
As a result, production of the Discovery will move from Solihull to Jaguar Land Rover's new plant in Nitra, Slovakia, from next year, also freeing up room for the potential production of the first electric Range Rovers.
The new Range Rover platform will be significantly lighter than the current model's D7u architecture, and the lightest of all Jaguar Land Rover platforms.
Called Modular Longitudinal Architecture (MLA), the aluminium platform will be used on all future Jaguar Land Rover models ranging in size from the Jaguar XE to the Range Rover. By the middle of the next decade, next-generation versions of Jaguar Land Rover's transverse-engined models are even expected to be switched to MLA too.
MLA's weight saving is crucial to allow for the extra heft of battery packs for electric and hybrid models, plus the technology and drivetrains that MLA has been designed to accommodate. It is understood the next Range Rover, codenamed L460, will closely match the size of the current car, which is 4999mm long, 1983mm wide and 1920mm tall, with a wheelbase of 2922mm. That is slightly smaller than the Bentayga except in terms of height, where the Bentley SUV sits lower.
The exterior design will be evolutionary, given the Range Rover's iconic look and the company's keenness to capitalise on this. The current generation is softer and less angular than the third-generation model, and this pattern is set to continue.
Luxury rivals such as Rolls-Royce and Lagonda, Aston Martin's revived marque, are readying electric models for launch, perceiving a perfect synergy between peaceful electric powertrains and luxury motoring.
However, even though MLA can accommodate a fully electric drivetrain, as well as petrol, diesel and plug-in hybrid variants, it is understood that the next Range Rover will not initially be offered with one.
Instead, Land Rover wants the first electric Range Rover to be a stand-alone model. This will be a tall estate with more car-like qualities than other models in the line-up, and more limited off-road prowess.
Electric variants of other Range Rovers will subsequently be offered as part of normal model line-ups, including a version of the full-size Range Rover set for launch before 2022 and aimed chiefly at Asian megacities.
While Land Rover readies an electric Range Rover, the new model will continue with plug-in hybrid technology recently introduced in an update to the existing Range Rover.
The MLA's plug-in hybrid set-up is understood to include an electrified back axle alongside a four-cylinder Ingenium petrol engine, with the electric-only range increased above the 31 miles of the current P400e.
There will also be changes to the pure-combustion-engined line-up. Currently, there are 3.0-litre V6 and 4.4-litre V8 diesels and supercharged 5.0-litre V8 and 3.0-litre V8 petrols – all sourced externally and all set to be axed.
Jaguar Land Rover confirmed in 2016 that its Ford-sourced V6 engines will be replaced by straight-six Ingenium petrol and diesel units, built at its engine plant in Wolverhampton. By the time the Range Rover arrives, these will be in play, mixed with 48V mild hybrid technology in some versions to improve performance and economy.
Real-world testing of the straight-six diesels has shown NOx emissions to be no higher than 80mg/km – well under the limits of new regulations.
Even with all its new electrified technology, the next Range Rover will keep its peerless off-road ability – Land Rover continues to see this as a key differentiator between it and newer rival offerings.
The next Range Rover's infotainment will be an updated version of the Touch Pro Duo system, which was first seen on the Velar last year. That move represented an overhaul for Land Rover, which had long been criticised for having an outdated interior compared with peers. It has two 10.0in screens that can be used simultaneously.
Some rotary dials remain and this will continue with the next-generation Range Rover, because Land Rover is determined to keep some of the tactility found in manual actions rather than having every single function running through a touchscreen, including for its latest Terrain Response off-road system.
The new flagship will also get an advanced version of the so-called Smart settings, revealed on the Jaguar E-Pace last month. The artificial intelligence system pre-empts occupants' habits – for example, seat and mirror positions and display preferences – as well adjusting air-con according to the weather.
Land Rover's connected car technology will in due course offer features such as being able to unlock your front door, switch on the kitchen lights and even turn on your TV while you're on your way home.
The next Range Rover could also spearhead Jaguar Land Rover's advanced autonomous driving systems. The company is already well under way with trialling self-driving technology as part of the UK Autodrive project. Technology such as a vehicle being able to drive to an available parking space and self-park is currently being tested on Discovery prototypes.
Not only will the next Range Rover set an important precedent for new generations of Land Rovers, remaining the flagship model for the brand, it will also be a vital car to lead affluent customers into Jaguar Land Rover's growing Special Vehicle Operations division.
Earlier this year, the limited-edition £250,000 two-door Range Rover SV Coupé, created by SVO, was revealed. Land Rover believes there is the potential to push the price even higher in the future.
RACHEL BURGESS
TOUGH CHALLENGES LIE AHEAD
Steve Cropley
Designing an icon gets ever tougher, especially if you've done a few before, as I strongly suspect Land Rover design boss Gerry McGovern would agree.
The next Range Rover faces many constraints that none of its predecessors ever did: an immediate example is that the battery needed for its hybrid powertrain can't be allowed to limit cabin or boot space but must impact one or the other.
What's more, battery weight will require the new Range Rover's surrounding structure to be lighter than ever, making life harder for engineers tasked with delivering great NVH (noise, vibration and harshness) performance and great structural rigidity. And everything in the vehicle must function not just at the levels of the existing Range Rover, but much better. It's what the market demands.
In styling terms, the sheer number of iterations already produced off David Bache's simple, original 1970 two-door Range Rover must be complicating McGovern's design thinking for the fifth version, quite different in weight, proportion and every important dimension from those originals. In short, while it's a given that the next Range Rover will look graceful, serene, sophisticated and luxurious, it will also be an engineering tour de force. It will have to be.