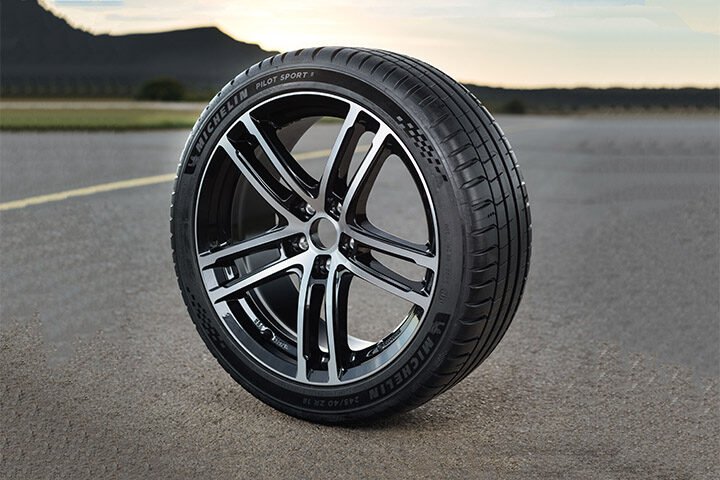 High-performance tyre, now in its fifth-generation, Michelin Pilot Sport 5 available from 4 April 2022
Michelin Pilot Sport 5 has debuted in Malaysia. Now in its fifth generation, the high performance tyre comes with several design updates and technological enhancements. These include:
Long-lasting tyre grip
Dual Sport Tread Design technology is a dual-sided functional tread design. There are large groves and high void ratio on the inner-side which gives enhanced wet road traction, Meanwhile on the external side, rigid blocks give better grip on dry roads. There is also Groove Clear, an area of large longitudinal grooves that dump water into wide transversal channels that divert water out of the way.
Longer-lasting performance
Michelin Pilot Sport 5 has Dynamic Response technology and MaxTouch Construction. Dynamic Response Technology is a hybrid aramid and nylon belt that optimises transmission of steering instructions on to the road. MaxTouch Construction maximises tyre contact with the road by distributing acceleration, braking, and cornering forces evenly across the tyre tread so performance is not sacrificed for durability.
Premium Touch Sidewall Design
The side wall of the Pilot Sport 5 is sleek matt-back with a velvet-like micro texture. There is also Wear2Check, an easy-to-read tread wear indicator that makes it easier for drivers to monitor the condition of the tyre.
Michelin Pilot Sport 5 is available from Michelin authorised dealers from 4 April 2022. Sizes available initially are 26 dimensions from 17 to 19 inches. More sizes, from 17 to 21 inches, will be available by end of 2022. The recommended retail price is between RM700 to RM1,900, depending on size. For more information, please visit //www.michelin.com.my/.