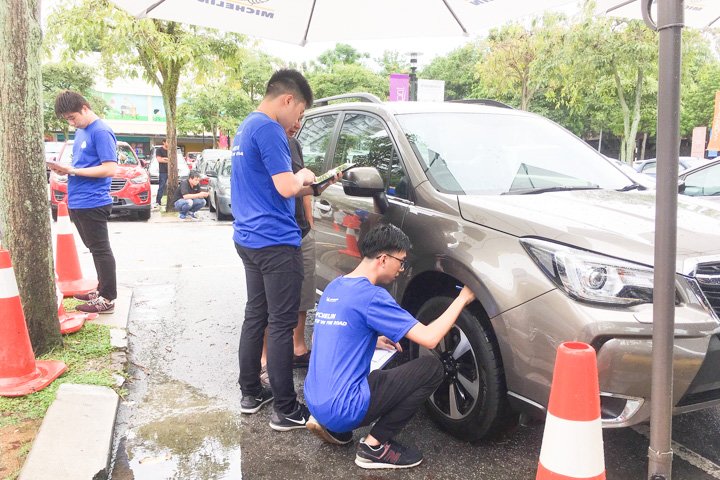 Michelin Truck will be going from place to place offering complimentary tyre welfare checks
Ahead of Ramadan and the balik kampung rush, Michelin has launched their annual road safety campaign, Michelin Safe on The Road. The campaign which runs for the entire month of May, is aimed at highlighting the importance of tyre maintenance and periodic checks as part of good road safety practices.
While many accidents on the road may be caused by reckless driving, vehicle maintenance and tyre condition are also contributing causes.
As part of the MSOR Truck Roadshow, in-truck road safety education will be provided as well as complimentary tyre checks including air pressure, tread wear and overall tyre condition. Michelin consultants will be on site at several locations nationwide from 11AM to 8PM to evaluate the condition of the tyres and provide valuable advice on how to prolong the lifespan of the tyres. Participating motorists will also be receiving car service voucher with free Petron card worth RM50 when they spend in Michelin Expert Centre.
Last year, Michelin successfully conducted 1,100 tyre checks in more than 26 locations nationwide. This year, with the support of its longstanding partners Petron and Tesco as well as the addition of Aeon Big, the MSoR campaign will expand to more locations in the North and South of Peninsular Malaysia.
Michelin Safe on The Road (MSoR) Truck Roadshow schedule is as below:
LOCATION

VENUE

DATE

TIME

Kuala Lumpur & Selangor

The Waterfront @ Desa Park City

Tuesday, 30 April

11am – 8pm

Petron Sri Kembangan Raya

Friday, 3 May

Tesco Extra Cheras

Saturday, 4 May

Tesco Shah Alam

Sunday, 5 May

Petron Puchong 1 @ OUG

Monday, 6 May

Petron Bandar Baru Klang

Tuesday, 7 May

Petron Bandar Menjalara

Wednesday, 8 May

Johor Bahru

Tesco Mutiara Rini

Saturday, 11 May

Petron New Skudai

Sunday, 12 May

Petron Taman Jaya

Monday, 13 May

Petron New Skudai

Tuesday, 14 May

Petron Taman Jaya

Wednesday, 15 May

AEON Batu Pahat

Saturday, 18 May

Malacca

Tesco Melaka

Sunday, 19 May

Penang

Petron Jalan Kelawai

Thursday, 23 May

Petron Perai SS

Friday, 24 May

Tesco Extra Seberang Jaya

Saturday, 25 May

Petron Permatang Batu

Sunday, 26 May

Petron Ayer Itam

Monday, 27 May

Petron Jalan Tengah

Tuesday, 28 May

Perak

Petron Jalan Kidd

Wednesday, 29 May