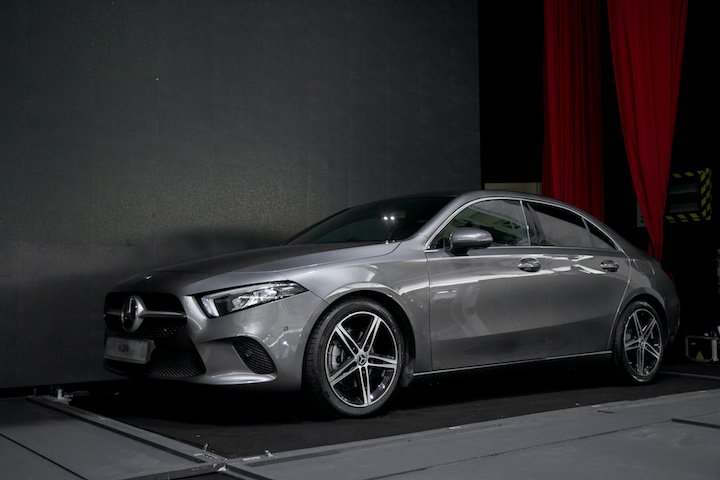 Two variants offered: A 200 Progressive Line and A 250 AMG Line, priced at RM230,000 and RM268,000 respectively.
The first-ever Mercedes A-Class saloon has made its debut in Malaysia. Based on the A-Class hatchback, the front-wheel drive saloon is available in two variants, the A 200 Progressive Line and the A 250 AMG Line.
The A 200 Progressive Line has a four-cylinder, 1335cc engine that produces 163bhp and 250Nm of torque. The A 250 AMG Line is powered by a 4-cylinder, 2.0-litre engine that generates 224bhp and 350Nm. Both identical to the output from the saloon's hatchback counterparts.
The saloon is 130mm longer than than the hatchback, the additional length going into the rear legroom making the compact saloon's cabin more comfortable for passengers at the back than the hatchback and the CLA. Other Mercedes claims of practicality for their compact newcomer include above-average shoulder, elbow and headroom plus easy access to the rear. It is at the top of its segment for rear headroom (944 mm). The boot has a capacity of 420 litres with a boot opening width of 950mm and a diagonal of 462mm between lock and lower edge of the rear window. This allows easier access for loading large items.
The A-Class saloon comes with the new MBUX – Mercedes-Benz User Experience – multimedia system as standard. MBUX is customisable and has the ability to learn through Artificial Intelligence.
Other standard features include the latest generation driving assistance systems: Active Brake Assist and Active Lane Keeping Assist.
The Keyless-Go Convenience Package with hands-free access will be one of the available options, with fully automatic opening of the boot lid with a kicking motion of the foot under the rear bumper.
The A-Class has Intelligent Drive functions from the S-Class which provide segment-leading active safety, like the very latest driving assistance systems with cooperative driver support. For the first time, the A-Class is able to drive semi-autonomously in certain situations. To do this, it keeps a close eye on the traffic situation: improved camera and radar systems allow it to see up to 500 metres ahead. The A-Class also uses map and navigation data for assistance functions.
Another luxury class feature offered in the A-Class are multibeam LED headlamps. The new A-Class is equipped with halogen headlamps with integrated LED daytime driving lights as standard. LED High Performance headlamps and multibeam LED headlamps are options. Multibeam LED headlamps allow extremely quick and precise, electronically controlled adjustment of the headlamps to suit the current traffic situation. 18 individually actuated LEDs are housed in each headlamp. The daylight-like light colour of the LEDs is easy on the eyes and has a positive effect on concentration as the road ahead is precisely and brightly illuminated.
The A 200 Progressive Line is priced at RM229,888 while the A 250 AMG Line is RM267,888.