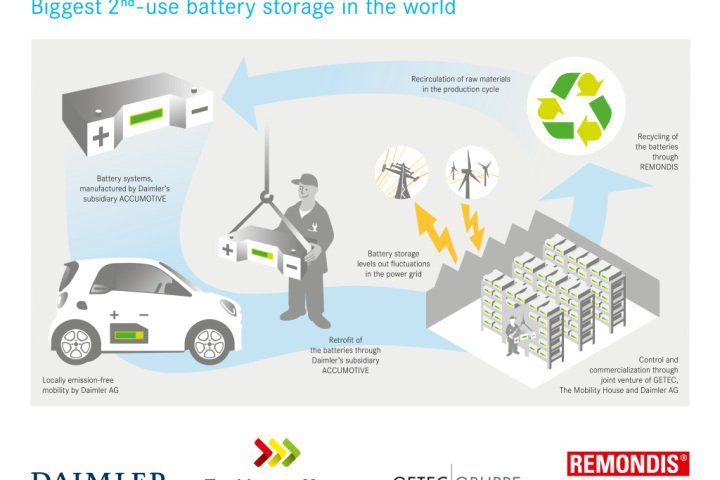 Daimler AG forms partnership with Mobility House AG and GETEC to recycle used high-voltage batteries 
Daimler AG has partnered with The Mobility House AG and GETEC to create the world's largest second-use battery storage facility. The 13MWh project is located in Lünen, Westphalia and is currently supplying part of the German power grid. Full supply will begin before the end of the year.
A weekly auction will be held between the network operations for primary controlling power range and the full output, with fully automatic energy storage and feed-in, will be available to the winner.
As more and more energy is generated by fluctuating, renewable energy sources such as wind farms or solar power stations, high-capacity battery storages are the key to stabilising power networks. According to figures from the German Ministry for the Economy and Energy (BMWi), 40 to 45 percent of power consumed in Germany is to be generated from renewable resources by 2025, increasing to 55 to 60 percent by 2035.
The biggest waste in renewable energy comes from the used batteries of electric vehicle battery systems. The lifecycle of a plug-in or electric vehicle battery goes on beyond the vehicle's operating life. Efficient management of energy and material resources also applies to all components used in electromobility. Once taken out of the hybrid/electric vehicles and used in stationary power storage, the systems are fully operational even after the service life guaranteed by the manufacturer. The slight capacity losses are of secondary importance. Cost-effective use in stationary operation is possible for at least an estimated ten years longer. Reusing the modules from electric cars in a battery storage doubles their economic value and also demonstrably improves their eco-balance.
With the project in Lünen, the four partners cover the entire battery added value and 2nd-use chain: From the manufacture and configuration of the battery systems by Daimler subsidiary ACCUMOTIVE and the corresponding range of electric and plug-in hybrid vehicles from Daimler AG to the installation and marketing of the stationary battery storage to the energy markets by The Mobility House and GETEC, and finally the recycling of these battery systems at the end of their lifecycle and the return of the valuable raw materials to the production cycle, which will be undertaken by REMONDIS.