[metaslider id="23263″]
Tested 17.10.17, Buckinghamshire On Sale Now Price £1.2 million
If the Bugatti-baiting hypercar's seven-figure price tag doesn't blow you away, the 1163bhp beast inside it should do the trick
Of all the staggeringly large numbers that characterise the Zenvo TS1 GT – the power output figure that rounds up to 1200bhp; the 233mph top speed that's more aeronautic than automotive – it is, in the end, the list price that really grabs you. By charging £1.2 million for its new hypercar, Zenvo is slotting itself into a corner of the fast-car world where very good simply isn't good enough. As it is, the TS1 GT falls a long way short.
The Zenvo ST1, as it was known back then, first started appearing on magazine covers almost a decade ago. The Danish company has been hanging around on the sidelines for a while now but, having been acquired by a Russian billionaire a couple of years ago, it finally has the heavyweight backing it needs to bring a car to market. Now badged TS1 GT, Zenvo's hypercar is ready to take on the likes of the Bugatti Chiron and Pagani Huayra.
Well, it's almost ready. As bright as a solar flare, this lime green car is a pre-production prototype rather than the finished product. It's in the UK for a short time for late-stage testing, mostly in low-speed driving conditions, and also to drum up some interest in the hunt for deposits. We'll have to excuse certain shortcomings for the time being, then. What we're searching for is potential.
It looks as though Lockheed Martin has had its first crack at a performance car
The TS1 GT either looks like it's been lifted straight out of an arcade game, or as though Lockheed Martin has had its first crack at a performance car – I can't decide which. Whatever, it's quite the thing to behold with its gaping intakes and impossibly ◊ ∆ low glasshouse, but also cohesive and well-rounded. What's most impressive about the way the car looks is that you couldn't attribute it to any other supercar manufacturer; it isn't at all derivative.
There's a flattened hexagon design theme on the outside that builds to a mad, six-sided frenzy within the cabin. There are hexagons everywhere you look, from the sat-nav screen surround to the stitching in the seats, as though hexagons spread like a virus if left untreated. It isn't unattractive, actually, but Zenvo should have dropped the whole hexagon thing when it got to designing the steering wheel. The milled-from-aluminium switchgear and speaker grilles look the part, meanwhile, and they are at least bespoke to this car, but somehow the cabin just doesn't feel as exceptional as it should given the asking price. For £1.2m, I want to be blown away.
With 1163bhp, 811lb ft and a pair of superchargers, perhaps that's exactly what the engine will do. Zenvo's own design, it's a 5.8-litre V8. Zenvo realised superchargers were easier to cool than exhaust-driven turbochargers. Besides, using a pair of superchargers is unique and, I think, a big part of the car's appeal. The boost will be turned all the way up for production versions but, with the engineers focusing on drivability and low-speed manners for the time being, this engine has been wound down to a miserable 750bhp. Let's hope we don't happen upon too many steep inclines…
There are a number of transmission options including, believe it or not, a six-speed manual. There's also a paddle shift gearbox with conventional synchromesh or, if you want the rawest experience and the quickest shifts possible, a dog ring paddle shift transmission. That was the option fitted to the test car and, as we'll find out, there's still an awful lot of development work to be done.
The TS1 GT drives its rear wheels via a Torsen limited-slip differential. This car also has optional carbon-ceramic brakes from Brembo, with Michelin Pilot Super Sport rubber on 19in wheels on the front axle and 20s on the rear. With launch control, 62mph is dispatched in 2.8sec. Suspension is by double wishbones all round with passive KW dampers.
Unlike just about every other car that dares reference that word 'hyper', the Zenvo is built around a conventional steel and aluminium monocoque, rather than a carbonfibre tub. Despite fully carbonfibre bodywork, the TS1 GT is therefore a little on the flabby side, weighing in at 1710kg.
Talking of flab, Zenvo knows very well that most people who can afford to drop £1.2m on a plaything are very often not undernourished. That's why the door openings are quite large and the cabin is fairly spacious. The TS1 GT isn't a difficult car to get into or out of, and there's even a useful 135-litre storage compartment beneath the front clamshell. For now, the seats are set a little too high and you don't sink into them at all, which means you feel like you're perched up on a stool.
Zenvo's marketing literature describes the car as a hyper-GT; it has been developed, supposedly, to be luxurious and comfortable over long distances. On bumpy Buckinghamshire B-roads close to Super Veloce Racing, the first appointed Zenvo dealer, the TS1 GT felt tight and fidgety, but never unreasonably stiff or crashy.
Ignore the constant fidgeting and secondary patter and you do notice the poise and composure in the chassis, the taut body control and the fluid shrugging-off of compressions. The hydraulic steering is very good, too, or it is once you've got a little lock on. Around the centre point it's quite vague and glassy, but beyond that it becomes very direct with a natural weighting and rate of response. It allows you to lean on the massive front-end grip right away, the way you would in a smaller sports car. The TS1 GT feels well-balanced in corners and it has enormous traction despite the huge power and torque.
Even some 400bhp shy of its ultimate power output, the engine is a total monster. Without any smothering turbochargers, it has immediate throttle response and a rich, bassy soundtrack too. The progressive, linear power delivery is completely addictive, meanwhile, the rate of acceleration building to a panic-inducing rampage as the motor charges towards the 7700rpm redline. Lord only knows what this car will feel like with half as much power again. I can only guess that it would be terrifying.
It's a wonderful engine, no doubt, but for the time being it's mated to a less-than-impressive gearbox. On a wide open throttle in the upper reaches of the rev range, the shifts are quick and clean, but everywhere else they're lurchy and shunty. The ignition cut on half throttle upshifts is so abrupt that pulling the right hand paddle is like quickly jabbing the brake pedal.
There are other problems, such as the long, spongy brake pedal, but the biggest issue I have with the car is its asking price. Super Veloce Racing hopes to find between two and five buyers per year, so they're realistic about volumes. And while Zenvo will almost certainly make good improvements in the final stages of development, I'm yet to be convinced the TS1 GT will ever feel like an ultra-high-quality, crafted-by-artisans, jewel-like device, the way a Pagani does. Super-demanding clients will be even harder to convince.
DAN PROSSER

HOW ZENVO STANDS OUT FROM THE CROWD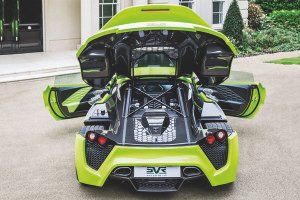 With its steel and aluminium monocoque chassis and passive KW suspension, the TS1 GT is very conventional in many ways. We're more used to cars with seven-figure price tags adopting the latest chassis and drivetrain technologies. However, there are one or two technical features that really do set it apart. The twin-supercharged V8, for instance, is an usual and characterful thing, while offering three transmission options is unique in this sector.
One particularly unusual feature allows the driver to set the power output to any level all the way up to 1163bhp. That should mean the TS1 GT will be relatively useable even on greasy roads. The standard-fit tyres, incidentally, are Michelin Pilot Super Sports rather than the more common track-biased Cup 2s, which are out of their depth in anything other than dry conditions.

Tester's Note

For now, the steering wheel-mounted gearshift paddles feel too spongy. A sharper, switch-like click would be much more satisfying. DP
Zenvo TS1 GT
Heady, addictive performance isn't quite sufficient to justify this hyper-GT's ambitious price tag


Price  £1.2 million
Engine  V8, 5800cc, twin- supercharged, petrol
Power  1163bhp at 7700rpm
Torque 811lb ft at 7700rpm
Gearbox 7-spd sequential
Kerb weight 1710kg
0-62mph 2.8sec
Top speed 233mph
Economy na
CO2 na
Rivals Pagani Huayra, Bugatti Chiron