[metaslider id="23323″]
Tested 18.9.17, PORTUGAL On sale DECEMBER Price £34,000
The latest T-themed SUV from VW is compact, a touch coupé-like and unexpectedly entertaining to drive
A new compact SUV. Does the world need another one? Yes, according to Volkswagen, whose new T-Roc slots in below the full-fat Touareg and the mid-sized Tiguan, because 27% of new cars sold in Europe are SUVs and, in five years' time, that figure will rise to 34%.
The T-Roc features a very wide, boldly barred front grille and MQB underpinnings from the VW Group's modular platform kit. But for all this underskin standardisation, and the strictures around car engineering in today's crash-regulated world, the T-Roc is an individual piece of design. It has a roofline sloping significantly downwards to the rear, polished aluminium hoops to emphasise that line and a shallow glasshouse, all to hint at a coupé look. It manages to look like a crossover without actually appearing tall.
Then there are the strong, straight lines across the nose and tail and tying together the bulged wheel arches. The sharpness of these lines, including the one crossing the front of the bonnet into the flipped-up ridges that head towards the windscreen pillars, is extraordinary. Precision is everywhere. Every line has a reason to exist. There are no gratuitous slashes here, no tension-sapping folds and wacky angles, none of the curious metal-shaping that ends up looking like the aftermath of a fender-bender that you see in too many new cars. The T-Roc manages to look smaller than it is, too, helping its owners to feel pleased with their VW purchase in the post-Dieselgate world.

Let's get one thing clear. In this top form, at least, the T-Roc is a great thing to drive
You can have it with one of four contrasting roof colours if you go for a T-Roc Sport (24 colour combinations in total), and it's obligatory in the T-Roc Style, which also has coloured dashboard and console panels and door-trim fillets inside. These come in Black Oak Brown, Ravenna Blue, Energetic Orange Metallic or Curcuma Yellow Metallic. I mention all this because it's central to what the T-Roc (it will 'rock' the segment, as well as being able, to a degree, to clamber over rocks) is all about, and is what its buyers will want to know.
They will also want to know that the two models mentioned – but not the base model, which might not be sold in the UK – have an Audi-like 'Active Info Display' instead of a regular instrument panel. This is configurable to show analogue dials, a full-screen sat-nav and various stages in between, working in tandem with the 8.0in infotainment display, which itself houses the usual VW Group menus, configuration options, alternative sat-nav screen and the ability to accept inputs before your finger has touched the glass. Apple CarPlay, Android Auto and Mirror Link are all there, of course. The keys supplied with a new T-Roc can be personalised to set each driver's preferences, too, such as radio-station repertoire and dynamics settings.
Now, the nuts and bolts. All the engines are turbocharged, as you would expect from their TSI and TDI designations. Three are fuelled by petrol – a three-cylinder 1.0 with 113bhp, the group's new 1.5-litre four-pot with 147bhp and a 2.0-litre with 187bhp. This last one is approximately a Golf GTI engine, as befits the T-Roc's stated role as the GTI of SUVs, but is tuned for a little less power. The diesels are a 113bhp 1.6 and a pair of 2.0-litre units with 147bhp or 187bhp. You will notice that the quantities and gradations of power are identical for petrol and diesel. The two 187bhp engines come with four-wheel drive and seven-speed dual-clutch transmissions as standard. The lesser 2.0 TDI has the four driven wheels but the DSG is optional.
Naturally, the full suite of mid-market safety systems is standard, and the parking sensors – be their use merely a warning or as part of a self-parking system – are cleverly hidden in the fake-mesh 'air vents' on the corners, those at the front ringed in the LED-lit daytime running lights.
Inside, there's an odd disconnect between what you see and what you feel. Nearly every surface apart from the seats, the carpets and the headlining is hard, albeit sophisticatedly textured, impeccably shaped and nicely fitted with perfect alignment and minimal gaps. It's very old-school to equate soft-touch surfaces – padding, even – with quality nowadays, we were told. Young buyers aren't worried by that at all. After all, an iPhone 8 isn't padded.
Those high sides and shallow windows make for a cocooning cabin, albeit one from which it is not easy to gauge the T-Roc's width in a tight spot despite the clues given by those bonnet blades. You can raise the seating position and steering wheel, of course, but that spoils the sense of a sporting demeanour. And the T-Roc has plenty of that.
Our test cars are all top-model T-Roc Sports with the 2.0 TSI engine, worth about £34,000 when they launch in the UK in December. That's some distance from the likely £19,000 of the entry-level 1.0 TSI and is a larger spread of prices in both directions than a similar-size Audi Q2 demonstrates. The choice of a petrol engine for these early test cars reflects both how the market is moving away from diesels and VW's desire to deflect attention away from the ghostly elephant that still stalks the conference room.
Let's get one thing clear straight away. In this top form, at least, the T-Roc is a great thing to drive. Its variable-ratio steering (its response speeds up towards extremes of lock) makes it engagingly agile on tight, twisting roads. It has tenacious grip – as it should have on tyres as large as 225/40 R19 – and it gets its power down brilliantly as you accelerate out of an uphill bend and the torque briefly heads rearwards.
The structure feels extremely rigid, allowing the suspension to be acceptably supple without allowing any shudder. There are three damper modes, but you would seldom want Sport other than to make a point, or Comfort except at low speeds on rough surfaces to soak up the serrations. Normal is the one, contributing to a dynamic togetherness, a tidiness through twists, not expected in what is essentially an SUV. A GTI of SUVs, indeed, especially in Sport guise with red brake calipers.
The engine is its familiar smooth, torquey self, with virtually no turbo lag, and the DSG gearbox's automatic mode is both smooth of shift and psychic in its ability to be in the right gear. There's a Sport mode here, too, but it just makes the engine hyperactive to no real gain. Small paddles behind the steering wheel trigger manual shifts, but again there's little point. The 4motion four-wheel drive comes with selectable modes for different surfaces and a hill-descent control. Not so welcome is the electric parking brake, which makes close-quarters manoeuvring on a rocky hillside harder than it needs to be. As for space, there's enough for a young family or a second couple, and a decent-sized boot entered via a powered tailgate.
The T-Roc is good fun to drive and practical with it. And in a sea of rounded, fussy-looking, overstyled SUVs of worryingly similar mien, the straight-lined, confident T-Roc stands instantly, VW-recognisably apart. As a way of winning back the approval of the car-buying public, it's a pretty good effort.
JOHN SIMISTER
WHERE DOES THE VW T-ROC FIT?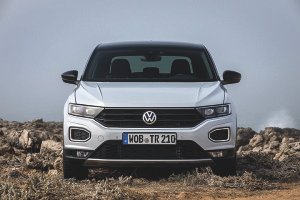 There are no precise size conventions in the compact SUV sector, and the pricing policy for different models is sometimes not what you might expect. A compact SUV can mean a Peugeot 2008 (£15,000-£21,000, 2538mm wheelbase) at one extreme or a BMW X1 (£26,000-£37,000, 2670mm wheelbase) at the other.
Size-wise, the T-Roc is in the middle ground of compact SUVs, between Nissan's Juke and Qashqai. Its spread of prices makes it seem good value at its entry point, ambitiously pricey at the top of the range.
Volkswagen cars have always been classless cars, somehow able to stand aside from conventional notions of mainstream or premium. This latest 'people's car' is another chip off the old block. To complete the range, a smaller T-named SUV is due next year.

Tester's Note
The inner LED headlights have a mesh in front of the light emitters. I've never seen it displayed quite so clearly before. JS
Volkswagen T-Roc 2.0 TSI Sport
The T-Roc looks good, is a great drive and, pricing of top models apart, should fit snugly into anyone's life


Price £34,000
Engine 4 cyls, 1984cc, turbo, petrol
Power 187bhp at 4180-6000rpm
Torque 236lb ft at 1500-4180rpm
Gearbox 7-spd dual-clutch auto
Kerb weight 1420kg
0-62mph 7.2sec
Top speed 134mph
Economy 41.5mpg (combined)
CO2, tax band 155g/km, 30%
Rivals Audi Q2, Mini Countryman Cooper S