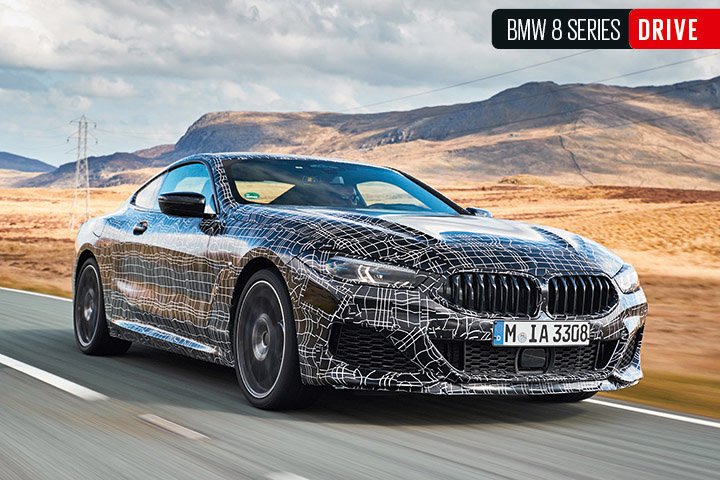 After almost two decades away, the BMW 8 Series is back – and on sale later this year. Dan Prosser drives a prototype M850i in Wales and says the long wait has been worth it
When the new BMW 8 Series goes into production towards the end of this year, there'll be a version that will be thumped along by a powerful twin-turbocharged V8 engine. The 4.4-litre motor will develop much more than 500bhp and it'll drive all four wheels. What you need to know about the car is that it's every bit as accelerative as that horsepower figure suggests, but it's also nimble and athletic. Far from being a wallowy old bus, it is actually a lot of fun to drive.
What's most remarkable about the pre-production 8 Series I drove for a few hours on the best roads in North Wales, though, is that it won't even be the fastest model. That honour will belong to the full-fat M8. We don't yet know when the M8 will arrive or exactly how much power it'll have, but you can bet your house on it being even faster and even more potent than the 592bhp M5. It will sit right at the head of BMW's model line-up, like a navy's flagship. The camo-wrapped M850i xDrive Coupé you see here? It's just the warm-up act.
"This is as close as we've ever got to a full M car with an M Performance model," says 8 Series line director Markus Flasch. I won't disagree. Do his colleagues across the way at the M division worry that it's encroaching on their territory? "Maybe," Flasch shrugs. "They will just have to up their game too!"
It's every bit as accelerative as its 523bhp output suggests, but it's also nimble and athletic
In the latter stages of 8 Series development, BMW has deployed a team of powertrain and chassis engineers, plus a small fleet of 8 Series development cars, to the UK. Over the course of a week or so, those engineers will pound around North Wales to make sure the chassis tuning and the engine and gearbox calibration actually work on our roads. "The UK is an important market for the 8 Series," says vehicle dynamics engineer Jos van As. "Your roads are often very narrow, sometimes only a bit wider than the car. That means you need the steering to be really precise. The roads are also bumpy and very undulating, so we need to make sure the chassis can deal with them."
Dutchman van As is ultimately responsible for the way the M850i drives. Encouragingly, his car-guy credentials are as impeccable as they come. Having rallied an Autobianchi Abarth while at university, he now owns an Ariel Atom, which he has fiddled with to improve its ride and handling. He also drives an E30-generation 325e and he laughs like a schoolboy when he describes the car's tail-happy handling.
The new 8 Series, he says, is a sports car and a grand tourer in one. It should slot into the sizeable gap between the Porsche 911 and the Mercedes-AMG S63 Coupé, a niche that has been curiously unoccupied for several years. It's important to note, though, that the 8 Series isn't merely a 7 Series with a rakish two-door bodyshell. Its multi-link rear suspension actually has more in common with the smaller 5 Series and it sits on coil rather than air springs. The new model is shorter than the outgoing 6 Series, both in terms of overall length and wheelbase. It is slightly wider, though, and it sits much further up the sports car food chain. Van As doesn't want you to think of it as a direct replacement for the 6 Series.
What should we make of his claim that the M850i is both a sports car and a GT, though? We're so used to marketing departments trotting out exactly that sort of unlikely declaration that we're immune to it now. However, when it comes not from a clean-cut office type in a slim-fit suit and pointy shoes but from a straight-talking engineer in a zip-up raincoat, it might just be time to sit up and take notice.
The M850i is so loaded up with intelligent control systems and cutting-edge chassis technologies that it could well be the cleverest car BMW has produced. It has adaptive dampers, of course, but also rear-wheel steering, an electronically controlled limited-slip differential in the rear axle and a four-wheel-drive system that can intuit exactly where power is needed and divert it there in double-quick time. It's also available with active anti-roll bars – the only one of the various bits of chassis technology that won't be standard fit – which can tweak the roll resistance at either end of the car in real time to make it more agile, or more stable.
It is more broadly capable than both the Porsche 911 and Mercedes-AMG S63 Coupé
It's all about reducing the compromise between long-distance comfort and back-road agility. Only with these various control systems can BMW possibly build a car that's cosseting and refined one moment, then sharp and responsive the next. It isn't enough just to bolt on lots of sophisticated hardware, though. More than anything else, the M850i is an exercise in integration; in making sure all of the systems complement one another and work together towards the same goal. It's the seamlessness of this integration of which van As and his team are most proud.
In fact, the new 8 Series is a matter of enormous pride to BMW's engineers. This is Flasch, van As and the rest of their colleagues showing the world exactly what they're capable of. Having driven a development car as quickly as I dared along the spectacular B4501, I can tell you they are capable of remarkable things.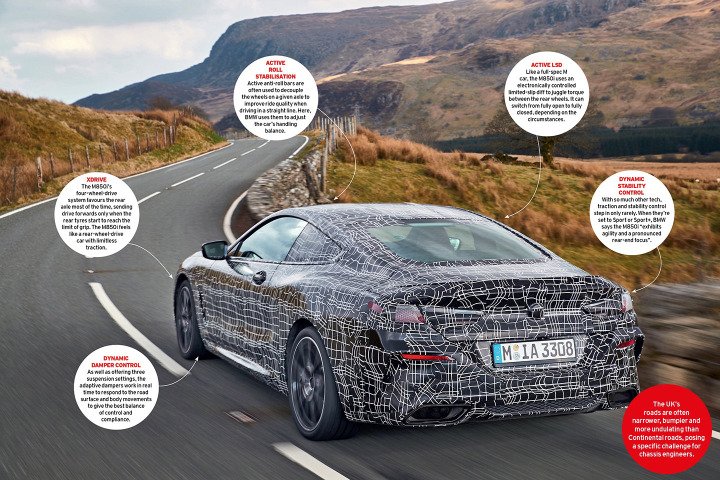 There is still a little fine-tuning and refinement work to be done, but the M850i already feels expertly judged. The ride quality is very good, even over rough patches of road, striking a fine balance between pliancy and composure. There is actually enough control and precision in Comfort suspension mode that you can whip the M850i along a winding Snowdonia road at huge speed and have fun doing it, but by switching into Sport+, you get tighter control and sharper responses. The firmest damper mode has been tuned to work on the road as well as the racetrack, so it isn't hopelessly stiff.
The very top of the brake pedal is unnecessarily sharp right now and the electronically assisted steering is perhaps not the most intuitive right away, but it does at least allow you to position the car on the road precisely where you want it. The four-wheel-drive system, however, is a triumph. At road speeds, you simply aren't aware that the M850i drives both axles. It feels like a rear-driven car with infinite traction. The 523bhp V8, meanwhile, is enormously strong and it sounds purposeful without being obnoxiously loud.
There is no doubt a 911 is sharper and more engaging still and the S63 Coupé is even more luxurious. I am certain the M850i is more broadly capable than both, though. If BMW's M division doesn't pull out all the stops with the M8 – if it doesn't produce a car of once-in-a-generation quality – it is in very real danger of being beaten at its own game. A