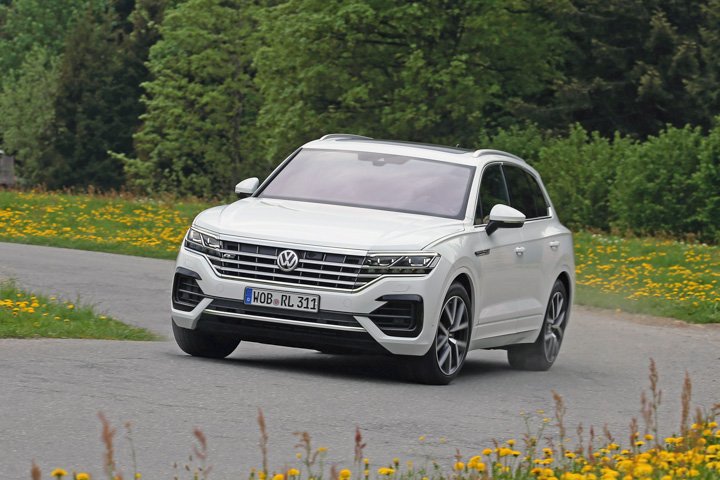 Tested 10.5.18, Austria On sale June Price £52,000 (EST)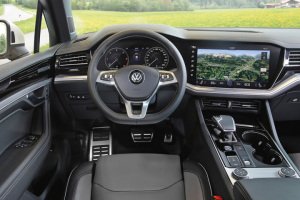 Common platform strategy must work out rather well for the Volkswagen Group, but for the Volkswagen brand its positive effect looks less clear. If your potential customer knows just enough to know that a VW Golf and a Seat Leon share a platform, after all, that knowledge is inevitably going to make the cheaper vehicle in the equation look like the smarter buy.
With the new VW Touareg, however, the boot's on the other foot. The cars this third-generation luxury SUV is related to are mostly more expensive. The Touareg's active roll cancellation system uses the same technology you'll find on a £140,000 Bentley Bentayga, and its four-wheel steering system is shared with a £165,000 Lamborghini Urus.
But if you bought a new Touareg on the basis that it's some kind of bargain-hunter's super-SUV, my guess is that your smug face wouldn't last very long. The Touareg remains a surprisingly functional and relatively simple sort – and that's in spite of VW's attempts to give it more glitz. Though the car handles better than its predecessor, it's a long way from having the agility of a Porsche Cayenne; and while the interior has high-quality materials and high-tech ingredients, the Touareg lacks the richness or design appeal of either a Range Rover Velar or a Volvo XC90.
It will be available in the UK later this year with a choice of V6 diesel engines and a V6 turbo petrol, while both a V8 diesel and a petrol plug-in hybrid come later. We tested the more powerful V6 oil-burner, and our test car had two-chamber air suspension, active anti-roll bars and four-wheel steering, all of which are likely to be optional fit at least at the bottom end of the range. Its centre diff-based four-wheel-drive system and eight-speed automatic gearbox, however, will be standard.
The Touareg's a five-seater with a boot that'll swallow up to 810 litres of cargo before you start flopping over backrests. It has plenty of room even for larger adults in both rows, and up front the cabin looks and feels solid, classy and expensively hewn, though it retains a functional ambience.
The wow factor comes from its large duo of instrument and infotainment screens, which butt up against each other similarly to Mercedes' current orientation. The system's complexity makes it less intuitively usable than some; it's nonetheless slick and impressive.
On the transmission tunnel you'll find the rotary dials controlling the car's adjustable-height air springs and its driving modes. Having sampled several of them, you'll find that Normal and Comfort suit the car best on the road, since they combine the Touareg's first-rate refinement and isolation with a settled, comfortable ride; and handling that melds intuitive drivability with wieldiness and precision well.
In other modes, the Touareg is agile for a car of its size but isn't a particularly enticing drive. Our test car's active suspension and variable ratio steering systems seemed to combine to take some of the predictability out of the handling around tighter bends, that steering's directness quickening quite suddenly at about a quarter turn of lock and with only artificial extra weight.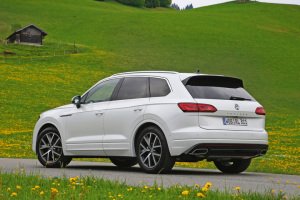 In a pattern of typical use more typical of a big SUV, the car works very agreeably, a shortage of centre feel on that steering and an inconsistency in its weight and provision of feedback being only minor dynamic bugbears. The engine hauls the car along smartly and with performance in reserve, and it's quiet and smooth with it, only very occasionally being tripped up by a slightly hesitant transmission.
By and large, this is the same understated, competent Touareg, known and loved for its fuss-free sense of ease of use since it first appeared in the UK in 2003. It's not likely to be anyone's must-have of 2018 but it is a very nice car and has a rare unpretentiousness among the ever-increasing luxury SUV ranks.
Tester's note
The derivative, unadventurous styling is its biggest disappointment to me. Wolfsburg has to wise up and realise that 'progressive' design doesn't work at this end of the price scale. MS

Volkswagen Touareg 3.0 V6 TDI 4Motion R Line
Gestures towards ritziness and sportiness don't impinge on this functional luxury SUV's vast appeal


Price  £52,000 (est)
Engine  V6, 2967cc, turbodiesel
Power  282bhp at 3500rpm
Torque 443lb ft at 1500rpm
Gearbox 8-spd automatic
Kerb weight 1995kg
0-62mph 6.1sec
Top speed 148mph
Economy 40.9mpg
CO2, tax band 182g/km, 37%
Rivals Volvo XC90 D5 R Design, Audi Q7 3.0 TDI