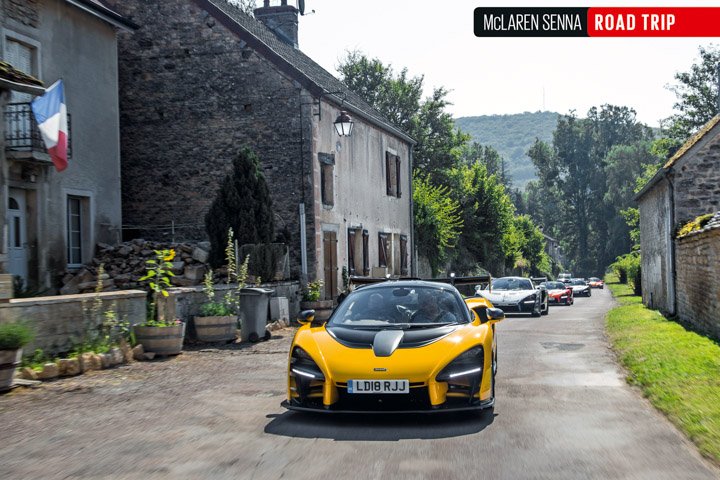 The Senna is the most track-focused McLaren yet, but does it work on the road? Matt Prior finds out by taking one on a road trip from the car's Surrey birthplace to the south of France
What's it like? What's it like to be among them, to live like they do? To spend the money. Have the life. The money. The sponds. The houses, the luxury.
And, of course, the cars.
David has a car. We'll call him David because that's his name. Nice man, trader, works hard, but he's relaxed – as you, too, might be if you'd just picked up your £1 million hypercar, a McLaren Senna, chassis number 001. You'd taken delivery at the factory from the boss of the factory and then nipped for brunch at the Dorchester, to experiment with a spot of light instagramming.
Now, though, David's at the Eurotunnel terminal in Folkestone, having "not stopped smiling all morning", on his way to a Pure McLaren track event at Paul Ricard circuit, near Marseille, to experience his car fully on the road, and then for a weekend on the circuit.
Of course the engine boosts a bit. It shifts gear with rapid precision, too
Standing in the searing July sunshine, away from his car, which is resplendent in a colour scheme that threatens to make a Senna look not-ugly, David could be any 40-something bloke going on holiday, but for the £150,000 Richard Mille watch on his wrist (the watch comes with a Senna almost like an optional extra), plus the convoy that has accompanied him and his car.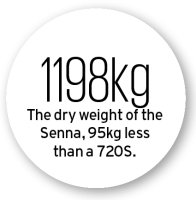 Because David's a McLaren kinda man but not just any McLaren man. There are different grades to these things; you buy more, you are invited to buy more. And even then there are levels. Buying a 570S doesn't get you brunch with the chief operation officer and the engineering director.
It's the same with Ferrari. Be consistent, be good – has Sir considered buying a Maserati? – and you can have a 488 Pista. Or, if you're a racer in Ferrari's Challenge Series, you can have a Pista Pilota. Be a serial buyer, a subscriber, and maybe you can have an F12 Tdf and keep at that and maybe you might get the one, the special one, the holy grail one that makes it all worthwhile. A LaFerrari. An Aston Martin Valkyrie. A McLaren P1. Oh, you'd like a P1 GTR? Ha! Let's not be silly. Keep at it.
Then perhaps one day you're David, with a Senna, which, when you suggest you might pick it up from Woking and drive it to France, triggers a few people to say they'll join you. Chassis 001 is accompanied by three pre-001 Senna prototypes (which, unsaleable, will later join the Pure McLaren fleet or development fleet), a prototype 600LT, a production 720S, and some support cars for the luggage and wotnot.
The Senna's cabin is stripped, but not raw. It feels beautifully put together
Variously, they're crewed by the people who've developed them. And Bruno Senna, Ayrton's nephew.
Then there's us. Ever felt a bit out of place? Yeah. Anyway, we're there to see what it's like. No agenda, no preconviction for sycophancy or hatchetry. Just to go, fit in and wonder: with all the money in the world, would you? Would you do it? Would you buy a Senna? 'Discuss', as the examination paper might say.
There's a sub-plot, too. We've driven a Senna on a circuit before, but not on the road. This long journey down the length of France gives me a chance to have a go in the prototypes, but time will be tight, roads will be mostly autoroutes, and a road trip like that isn't the way to find out all you need to know about McLaren's most extreme modern supercar. Hypercar. Whatever. Ultimate Series car.
Not literally 'ultimate'. Five hundred of these Ultimate Series Sennas will be built, but then there'll be 75 track-only GTRs. Each road car is £750,000, basic, but most will visit MSO, McLaren Special Operations, for finishing.
Some MSO parts can be fitted on the production line, which is currently creating two Sennas a day, but other bespoke options – like the paint on 001 – need post-build attention. 001's is an interesting colour scheme. Blue and white work on it, as it did on the cars that this is now reminiscent of: a Rothmans Porsche, a Senna or BMW-era Williams F1 car, maybe a Maserati MC12. Tony Pond's Metro 6R4?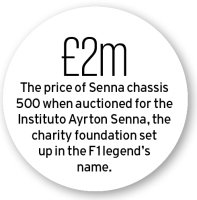 Anything, in fact, but a McLaren, apparently not uncomfortably for all involved. It's your car, Sir. Do what you like. And owners are optioning them flamboyantly. Maybe it's because of the way the Senna looks. One is not, to steal a phrase, painting a moustache on the Mona Lisa. But then none of the most exclusive Ferraris since the F40 has been a beaut and it doesn't seem to have mattered a bit, either.
What matters is hardware. Or, more pertinently, whether there's £750,000's worth (before options). Multiply that by 500 and you're on the way to McLaren's revenue of £667m. Yes, tooling's expensive, development is expensive, hand-finishing production is expensive, so you can only guess at the profitability, but per unit, I suspect there's rather more in this than a 570S, which is a fifth of the price, but such is the law of diminishing returns.
Of course, objectively, it's not five times better than a 570S, but whether it's 'worth' it just depends on your outlook. Buying a £1m car is unthinkable to some who've got a £500,000 house, which is unthinkable to some who've a £50,000 motorhome, unthinkable to some £500 handbag owners, and so on, and less so, until you find people for whom having enough food is unthinkable. We all sit somewhere along the scale, each looking down too infrequently, and looking up and picking a point where we think 'I'd do that'. The higher up you are, the more people want to put your things on Instagram.
Attention, and particularly online attention, follows a Senna around like flies to summer wildlife. There are those on 'social meeja' who want to collect all of the chassis numbers that go with limited-production cars. Which, for companies who might be inclined to produce more than they say they will, might be awkward later. I don't think McLaren's one of them, by the way. I suppose it's train or plane-spotting for a new generation: look round the back of Harrods. Collect the set. I suspect the constant attention would make me think twice about one. More than the price would, because the integrity of the engineering is obvious.
You can feel it on the Senna. Sense it. Integrity oozes from it, as it always has on a McLaren, even back in the early days of the MP4-12C, with its weird flat seats and mild understeer followed by holy-moly oversteer.
Beneath it all was the justification for the price. As somebody who knew the build price of a McLaren and a key rival once told me: "Our cars are just expensive to build".
Since then, the carbonfibre tub, a material that underpins all McLarens, has changed shape and strength and is joined, inside the Senna, by a raft of other carbonfibre bits, but the overwhelming sense of solidity remains.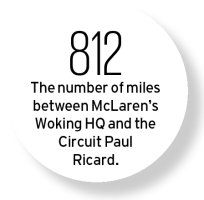 The Senna's cabin is stripped, but not raw. Perfectly woven fibres feature across the dashboard and interior surfaces, less flamboyantly than they did in the P1, sadly – because that car's interior is one of the finest of all time – but it feels beautifully put together. The doors swoosh open like McLarens' always do, but the extra girth of the Senna and the tiny rear-view panel is compensated for a bit by the glass panels – the ones in the lower door particularly helpful for placing the Senna's wide extremities during parking manoeuvres. They're so popular that 90% of owners have specified them. There are other comforts, too: navigation, a stereo, an air-con system that only one Senna has been ordered without (by McLaren's press department).
It'll be sweatier than this one, then, but no louder or quieter. Carpets make a bit of a difference to the yellow car I'm driving but be in no doubt: this is a track car. Sure, the driving position is pure McLaren road car – long, low, straight and wickedly adjustable, with a terrific, round, wheel – but it makes a right old racket on bad surfaces. Strong, hollow sections like carbonfibre tubs are, as you'll know if you ride an aluminium or CFRP bicycle, stiff and noisy. On concrete stretches of road, there's a proper echo chamber thing going on, and the Senna also doesn't use sound-deadening tyres – there's foam inside the tyre rim – as most McLarens do.
But it rides; acceptably enough, anyway. It retains three modes for ride and retains the linked hydraulic suspension system that's the mark of Ultimate and Super Series McLarens, and that's sufficiently complicated that I have to be reminded how it works every time I think about it.
There are helper springs to retain a static ride height. For everything else, hydraulic springing and electronically controlled dampers do the job. Andy Palmer, McLaren's Ultimate Series director, for a man who has made rather more of his University of Hertfordshire engineering degree than I have, is at least on the same wavelength as me when it comes to the settings on the road: he leaves the dampers in their softest setting and turns up the powertrain a bit.
It's a boosty engine. This car has a 4.0-litre twin-turbo V8 and makes 789bhp at 7250rpm. Of course it boosts a bit. It shifts gear with rapid precision, too, if you control gearshifts yourself. But leave it in too low a powertrain setting, and in auto mode, and it's rather keen on lugging things out at low revs, sending resonance through the cabin and through the fixed-back, thinly padded carbonfibre seat as it does so.
Beyond all this, the Senna's steering remains consistent, retaining, as McLaren has, a hydraulically assisted rack that manages to be around the same number of turns lock to lock as a Ferrari (at two) but considerably less hyperactive. Straight-line stability is great, but so is cornering stability. Not that you'll feel a lot of corners on a journey like this. But unsurprisingly, motorway slip roads completely unflap a car that makes peak downforce of 800kg.
That aero is the thing that, above all else, marks out the Senna's behaviour as different from other McLarens, such as a 675LT, on a circuit. On the road, it's the ambient noise and girth. Next up, in both conditions, the speed. And at rest, the interior finish and the appearance.
Is that enough? Over a 720S, the Senna is not, for example, as marked a difference as the P1 was over a 12C, and there is the risk of criticism that McLarens come and go too quickly, and are too indistinct: all V8s, all turbocharged, with many differences unseen. The owner of Senna 001 also owns a 650S MSO HS, a car I had literally forgotten even existed. Palmer and I mull it over. The Sports Series is due for replacement in a couple of years. The 720S has just put clear performance air between it and a 570S. Part electrification is coming. I wonder if different engine configurations are. Palmer confirms nothing.
Ultimately, whatever cars McLaren matures into making, the integrity seems to be there, as it'll have to be, because people who are obsessed with making enough money to buy Sennas are not those who give it away lightly.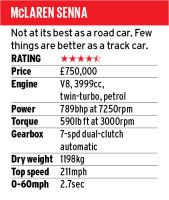 They spend a million (which, being savvy, of course, they might get back, with interest, by selling the car later). Their reward is a track car with intense levels of pace and solidity. And more fanfare. I buy a G-Shock watch and a page in the handbook congratulates me on being an owner. You drive a Senna to France and the a welcoming committee turns up outside the hotel, as if you've just returned from the moon.
The relationship thereafter, among other Pure McLaren punters and the people who run the show, is a curious one. In a way, it reminds me of the way a film show presenter described interviewing a film actor: you both need to be there but aren't entirely sure who, if anyone, if you think too deeply, is taking advantage of who. At which point, I slip away, still uncertain about whether I'd ever enjoy the rigmarole that makes it all happen, but, knowing that cars like the Senna come out of it, glad somebody does. A