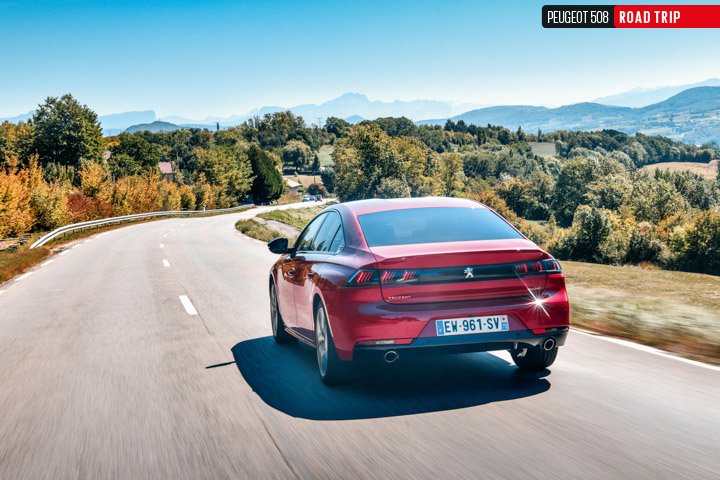 Could the sleek new Peugeot 508 mark the comeback of the family saloon? Steve Cropley drives one along the scenic old route nationale 508 in France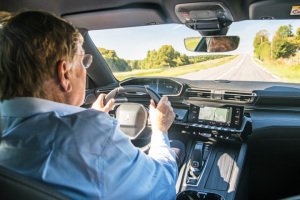 A few years ago, you'd have said a mainstream manufacturer trying to give its staple D-segment saloon model an extra-special persona would be better off trying to land one on Uranus. Big four-doors were what every self-respecting family had on the drive, the commonest sight in school-day queues for the local roundabout.
Today, the vogue is SUVs. Family saloons have begun acquiring a comparative sleekness and delicacy, assisted by new-age aerodynamics and the latest in lighting design. They're also becoming almost exclusive on our roads. The once ubiquitous Ford Mondeo has been a stranger to the UK's bestseller list for a decade, and the Peugeot 508 has been ranked a way below that.
Now there's a new 508 and, admirably, Peugeot has viewed this change as an opportunity. It started producing '5-oh-something' models exactly 50 years ago with the legendary 504, a car so distinguished that it effortlessly eclipsed its peers on the grounds of comfort, sophistication and durability. It was so loved in Africa that it lasted until 2006 in Nigerian production. In Europe, however, after an indifferent 505 launched in 1979, the company shelved the 'five-oh' idea until the first 508 of 2011, a slightly fat-bodied saloon tasked with replacing both the 407 and the 607. That was a tough test, and understandably the car didn't exactly excel.
The 508's lowness and sleek outline promise something saloons usually do not
Viewed from the UK, where the new 508 is about to begin flowing through dealerships (First drive, p35), you might argue that this first one needed no replacement at all. Yet Peugeot bosses were aware of a continuing strong demand for saloons at home and in eastern export markets led by China, so they decided to launch another one and make it special, adopting the design style first brought by the SR1 concept car of 2010. The result is the shorter, lower, lighter and far more beautiful new-generation 508, just launched in France and generously praised in first tests.
How to mark this important moment? Well, it just so happens that the new model's return to class-leading status has occurred exactly half a century after its iconic ancestor, the 504, also established a plethora of new standards. After reflection, we decided on a sojourn to France to collect a new 508 and drive the length of the old route nationale 508 that runs south-east from Annecy through some of France's most breathtaking scenery, connecting two wonderful, mountainous national parks. And it just so happens that route D1508 (as it is now known) is within comfortable driving range of the Musée de l'Aventure Peugeot at Sochaux, which lays out Peugeot's entire 200-year industrial history, and is itself close to Mulhouse, the flexible manufacturing plant from which new 508s emerge, along with other models that use the PSA Group's flexible large-car platform.
We'd fly to Lyon, collect the car, then drive down the eastern side of Lac d'Annecy to join route 508 halfway to its south-eastern extremity near Ugine, directly below Geneva. Then we'd head 80 miles north-west to the top of the old route, continuing north to Flammerans, near Auxonne, to stay the night. Next day we'd turn due east towards Sochaux, the museum and Mulhouse, then to Basel airport and home.
Two things strike you about the new 508 when you drive it for the first time in its natural habitat – with your head definitely not in road-testing mode. The first is how rakish it is, literally lower than everything else that isn't a sports car. It's 6cm lower than its predecessor, plus 8cm shorter and 100kg lighter. Survey the new 508's cab-forward screen, and frameless doors, and your instant impression is that this car has been styled to be beautiful in its own skin, not as a slightly dowdy mothership for a svelte coupé and a capacious estate that take the glory. Sure, a 508 estate is coming, but the promise is that'll be beautiful too.
The other thing you notice is the lack of Germanness. Volkswagen, Vauxhall-Opel and the rest seem to have taken conservative command of fascia design in recent years, but the 508's best-yet version of Peugeot's i-Cockpit concept, dominated by a prominent set of piano keys in the centre (allowing logical shortcuts to infotainment functions), provides a complete break from that. Interesting snippet: possibly motivated by Peugeot's success, the VW Golf will move to something like this in its next generation.      
Drive the D1508 and you soon get a clue to why this ancient road came to be. At its south-westerly extremity, where our journey officially begins, it meanders gently along a flat-bottomed valley with towering, sometimes sheer rock faces either side. Those road builders of yore must have found it difficult to believe their luck, given such a ready-made route between crags that remain too steep for any vehicle to scale.
Curious onlookers grinned as they acknowledged the 508's star quality
As so often in France, the D1508 is a superbly surfaced, well-engineered road that perfectly demonstrated the refreshing lack of elbow waving required by the low-mounted small-wheel set-up unique to modern Peugeots and best expressed so far in the 508 because you have a perfect view of the instruments over it. The surface is quiet, so we had no opportunity to prove the 508's low road noise compared with, say, an Audi – although the opportunity did come quite soon on the autoroutes we tackled. Neither did we yet notice the 80-90mph wind noise, an apparent foible of the frameless doors.
Our car was a high-spec GT, but left-handed and of French-market spec, so it wasn't quite the 508 we're getting in the UK. It was powered by a 221bhp version of Peugeot's admirably downsized 1.6-litre petrol four-cylinder, driving through a standard eight-speed dual-clutch gearbox. The curves and straights gave good opportunities to swap between manual-select and self-shifting modes, and it soon became clear how intelligently the latter have been calibrated. Change your own gears and you're occasionally aware of lower-end deficiencies in the small engine's power delivery. Let the gearbox choose and you'll never think of it again. You faintly hear them, but barely feel them. Glance at the tacho and you'll usually be surprised how few revs you're pulling, especially for a 1.6.
After Annecy, and through all the miles beyond, we were aware of the attention of French passers-by. Even if you don't know cars, the 508's lowness and sleek outline promise something saloons usually do not. Towards the top of the D1508, where we paused at a roadside café at lunchtime, proof of the car's hero status in France became clear. Workmen from surrounding factories and farms began to gather at this place to eat, as they clearly do every day. Pick-ups swirled into the dusty car park. Curious onlookers approached the 508, accepted our offer to try the driver's seat, chatting, grinning and nodding as they acknowledged the 508's star quality. Their knowledge of its spec, let alone its existence, greatly impressed us. So did their enduring love of all French cars, especially saloons.
Out of the distance at scarily high speed exploded a man and his son in a six-year-old 508 diesel, phoned by friends to come and see. The old man jumped kerbs and swerved to the wrong side of the road in his haste to park beside our new car, then spent fully 20 minutes of valuable eating time with the rest of them, trying the new 508 and posing beside it. As a 508 owner, he had a special status among the others and, like them, his verdict was unalloyed admiration. No cynics lived here.
It was a fascinating experience, and instructive. Bigger saloons might not be traffic-stoppers in the UK but, in rural France, they're just that. We completed our drive, enjoying the sophisticated cruise and comfort of what is now one of the best saloons on the market, especially at the money. In the Sochaux museum, we spent time with Peugeot's earliest cars, especially the 504 that remains so special, and even enjoyed a close encounter with the Instinct shooting brake concept that is supposed to be a radical guide to a 508 wagon.
However, my best memory of this trip will be of an excited old man called Gaston, sitting in our new 508 beside the national route that carries its name, drinking coffee and replying excitedly to my comments about the new car's equipment and specification in fractured French. It's not often the simple sight of a new car makes somebody else's day. A
PHOTOGRAPHY OLGUN KORDAL

PEUGEOT'S FIRST 200 YEARS

One of the refreshing things about a visit to the superb Peugeot museum at Sochaux in eastern France is learning that the Peugeot family's business did not begin – as nearly everyone else in early cars or motorcycles did – as a story of overwork and inspired ignorance by seriously underfinanced young men. The motorcar may be a mere 133 years old, but Peugeot has a 200-year industrial history. Well before Daimler and Benz, the Peugeot family had a thriving business making women's fashions (25,000 crinolines a month between 1850 and 1870), kitchen and cooking gadgets, surgical instruments and precision workshop tools. Indeed, Peugeot's lion emblem was intended first to embody the suppleness of a particularly successful range of quality wood saws and the sharpness of their teeth.
In 1870, young Armand Peugeot, eventually to become the pioneering 'car guy', was sent to the UK by his family to avoid the Franco-Prussian war. He became involved in the cycle industry, which led so many into motorcycles and motors, returned to France, produced the Peugeot-Serpollet Type 1 in 1891 (using a Panhard engine) and never looked back. He became one of the leaders of France's pre-eminent early car industry, involving the company in early motorsport. It's all laid out with perfect clarity in Sochaux, where there is also a superb collection of far more modern Peugeot road and competition cars. It's a walk-in proposition and is well worth a visit.