James Attwood visited CES in Las Vegas to try the latest car gadgetry, and separate the gimmicks from the game-changers
The Consumer Electronics Show dwarfs any motor show you've ever visited. It is vast: sprawling over 2.3 million square feet of event space spanning three huge convention centres in Las Vegas, with a fourth required simply to hold press conferences.
First held in 1967, CES is the world's biggest trade show for anyone involved in the technology industry. And, in recent years, it's grown to become one of the biggest motor shows you probably haven't heard of.
Car companies started going to CES to exhibit their infotainment and audio systems, but now they go to showcase their drive towards autonomous, connected and electrified cars – and to do deals with the technology firms that can help them get to the future faster than their rivals.
The automotive section at this year's CES was full of displays showing off autonomous software and hardware, and bold concepts revealing how motorists might use self-driving cars in the future.
Here is some of the interesting tech that was on display – some of it outlandish, and some of it closer to reality than you might think.

Nissan's Leaf-Powered Coffee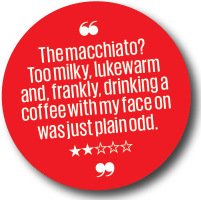 Nissan demonstrated its vehicle-to-home charging concept, where energy can be taken from a Leaf's battery and fed back into your home, by using a new Leaf to power a macchiato machine (and, bizarrely, a printer that could render your photo onto the frothy top). It doubtless proved useful when the Las Vegas Convention Centre suffered an extended power cut on the second day of CES.
WHEN IS IT DUE?
The vehicle-to-home system is available now and can provide energy back to the grid, potentially cutting your bills. Deliveries of the system will be by 2019.

OUR VIEW
Vehicle-to-home charging could be vital in coping with the growth of EVs


Yamaha's Golf Cart Goes The Extra Mile
The term 'last-mile mobility' refers to vehicles that can cover short journeys where cars, buses and taxis can't go – for example, from your car park to your office – and is particularly beneficial to the disabled or elderly.
The challenge is making such an autonomous machine affordable. Yamaha's solution is the 06GEN, capable of 12mph and based on a golf cart platform. Alongside a 3D Lidar scanner to detect objects, a camera is mounted on the bottom of the vehicle pointing to the ground. It matches the pictures with stored mapping data, allowing it to navigate accurately.
WHEN IS IT DUE?
It's already out testing. If it works, it can surely be applied to more than just autonomous golf carts.
OUR VIEW
Great tech, but it's still a golf cart



TuSimple's Autonomous Lorry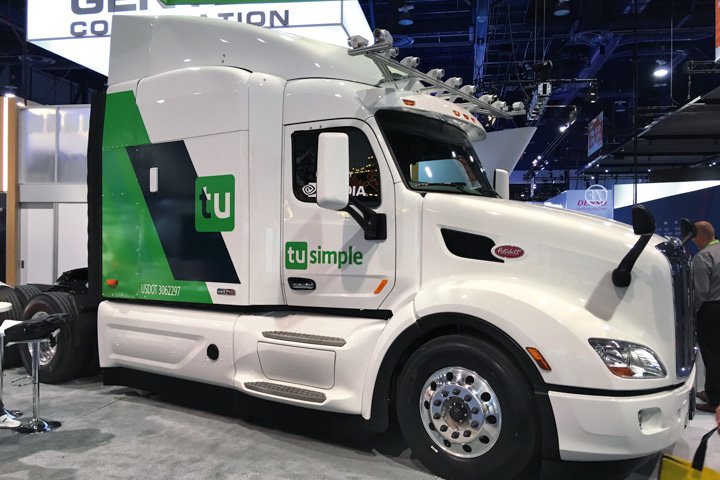 The biggest self-driving vehicle at CES – in terms of physical size, at least – was TuSimple's specially modified Peterbilt. Designed for Level 4 autonomous driving, the Chinese firm's three trucks, developed in partnership with Nvidia and Peterbilt, have already completed more than 10,000 miles of testing on the roads of Arizona.
WHEN IS IT DUE?
The aim is for the autonomous trucks to start taking paying loads – initially between distribution centres in Arizona, with humans taking over for the final deliveries – by 2019.
OUR VIEW
Autonomous tech could have a huge impact on long-distance hauling. Safety must be fully proven, though



Mercedes-Benz's Three-word Navigation

Navigation system What3Words has been in development since 2013 but, with the launch of the Mercedes-Benz User Experience, CES was our first chance to try it in a mainstream production car.
Essentially, What3Words carves the world up into three-metre squares, with each assigned a unique three-word code – easier to remember than postcodes, and opening up navigation in places where such things don't exist. Simply say the code and the voice-controlled MBUX will guide you to that square.
What3Words also featured in the self-driving Olli concept at CES (p66). In case you were wondering, the three-word address for Autocar Towers is 'discouraged spout value'.
WHEN IS IT DUE?
What3Words works now in app form, or you can wait until August for the new A-Class to go on sale.
OUR VIEW
It could be practical, but we can't stop randomly looking up three-word names for places. Cocktail spill mining, anyone?


Harman's Shape-Shifting Speakers
Samsung subsidiary Harman has developed a configurable entertainment system, designed to ensure passengers in Uber, Lyft and other ride-sharing services can enjoy their audio preferences.
The most dramatic part is the firm's shape-shifting speakers. Users can take a picture-based personality test to determine if their preferences match the Harman Kardon or JBL hi-fi brands – with the speakers changing shape accordingly. No, really, there is a difference: a JBL speaker features a deeper cone, giving it a more bassy sound. Honest.
Another Harman concept was the Moodscape system that adjusts the in-car experience, complete with an OLED Moodroof screen. After all, why have a sun roof when you can watch a 'visual experience' on a massive TV above you instead?
WHEN IS IT DUE?
The tech exists but, given much of it is developed for autonomous cars, we wouldn't expect to see 'OLED Moodroof' on a spec sheet too soon.
OUR VIEW
Cool tech, but our ears aren't finely tuned enough to tell much difference


WayRay's Augmented-Reality Holographic Head-up Display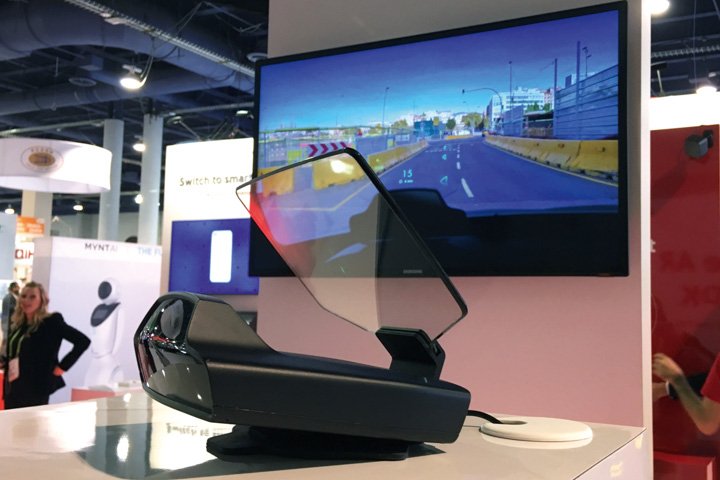 Head-up displays are getting fancier and several firms at CES showed off systems that can overlay live data such as directions, speed limits and so on onto your window, creating an augmented-reality display.
Swiss firm WayRay has developed a system that uses 'smart glass' embedded in the windscreen, allowing the projected image to fill it. The device uses a front-facing HD camera and mapping data to display directions and other information.
On top of that, WayRay is aiming to work with third-party developers to produce apps that could, for example, highlight where the nearest branch of a certain coffee shop chain is.
WHEN IS IT DUE?
Mid-2019, depending on WayRay striking deals with car manufactures or large fleet customers (the special windscreen has to be embedded at production). This year, WayRay will launch Navion, an app- and gesture-controlled aftermarket AR system.
OUR VIEW:
It makes real driving look more like a computer game. Hard to appreciate fully in a show environment, though



Kia's 5G Connection
Kia's stand featured a series of interior dashboard concepts for autonomous connected cars. One demonstrated the marque's 5G mobile technology, using it for a live link-up with Kia HQ in Seoul. The ultra-fast 5G connection would allow for incredibly quick data transfer to and from a car, essential for self-driving vehicles (and for streaming TV shows for people not driving them).
Exciting stuff, then, although it could be some time before the infrastructure is in place to support it.
WHEN IS IT DUE?
Here's the problem: mobile connectivity boffins haven't even agreed a standard for 5G yet, let alone a roll-out date. It's likely to be at least 2020, and quite possibly later.
OUR VIEW
Live link looked good – and we welcome anything that will allow us to file our copy faster


3D Printed Autonomous Shuttle
Olli is a self-driving autonomous taxi developed by US firm Local Motors. It features two 3D-printed carbonfibre shells mounted onto a manufactured chassis and is capable of a 25mph top speed and a 40-mile range. Because it is 3D-printed, it can take just three months to design and manufacture a new shell.
A scheme has been launched to crowdsource ideas on how to open Olli, and mobility in general, to all.
WHEN IS IT DUE?
Olli is running now and you can suggest ideas to make it better using the hashtag #AccessibleOlli.
OUR VIEW
Worth celebrating for innovative production method and for encouraging greater social mobility


Ford's Self-Driving Pizza Delivery Car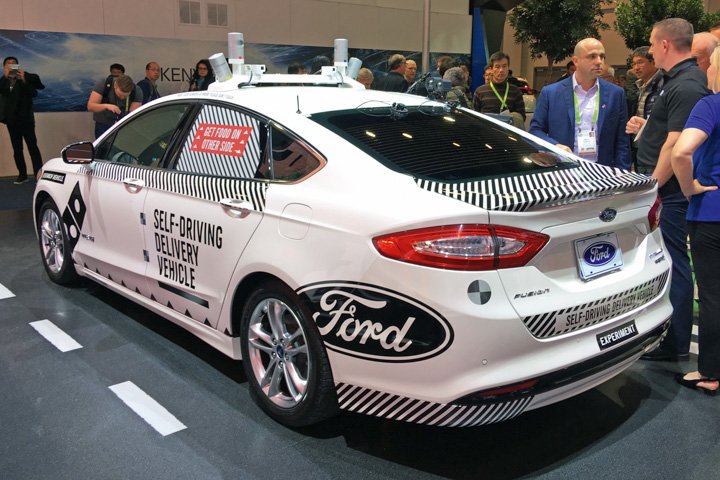 Ford didn't unveil any new cars at CES, but the firm had a high profile with boss Jim Hackett delivering one of the keynote speeches. He unveiled a series of bold plans to help develop the connectivity framework essential for autonomous cars in the future.
Various projects announced involved working with Qualcomm to develop CV2X (Cellular Vehicle to Everything – essentially ensuring cars can talk to other internet-enabled devices) and with Autonomic to develop the Transportation Mobility Cloud. The latter is an attempt to create an open platform to allow city-based transport systems to communicate with each other. Another deal was with Postmates, an app-based courier network, to expand self-driving delivery technology.
These are big things that Ford attacked. All too much to take in? Well, a real-world application of autonomous tech was on display on Ford's stand: a self-driving Fusion that was used to trial autonomous Domino's Pizza deliveries in Michigan. The future might be complicated, but it's also covered in tasty cheese and pepperoni…
WHEN IS IT DUE?
Ford has more than 700,000 connected vehicles and is aiming to have them linked to its nascent network by 2019. Postmates trials begin this year. A Domino's pizza can be delivered in 30 minutes (but probably by a man on a scooter).
OUR VIEW
Self-driving cars can't deliver to your door – you have to go and get the pizza from the car. Outrageous


Panasonic's Living Space Autonomous Cabin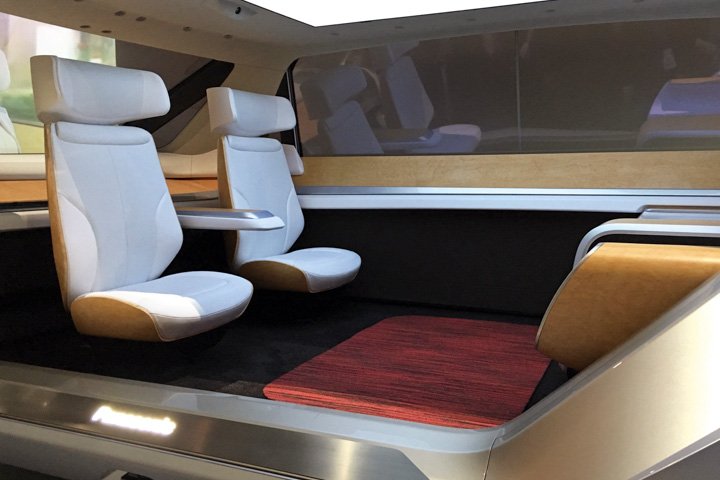 Panasonic had three interiors on display, showcasing ideas for Level 3, 4 and 5 autonomous cars. The Living Space Autonomous Cabin previewed the latter, for potentially around 2030. The four-seat design featured an in-built office, climate control that could adjust to each passenger's needs (showcased by a night vision-style thermal display on a huge screen built into the ceiling) and windows with built-in OLED touchscreens. As well as being able to display films, these could be used to write on – yes, it's a more advanced version of a misted-up window…
WHEN IS IT DUE?
The touchscreen OLED tech works now but the concept was a vision for 2030, so don't expect to be scribbling on your windscreen any time soon.
OUR VIEW
Won't feature much scenery, as we'll be scribbling on our windows



WHAT GOES ON IN VEGAS…
Away from the car stands, CES was full of stylish smartphones, amazing televisions and some incredible audio systems. But some of the products featured were downright weird…
OMRON'S PING-PONG ROBOT
Forpheus is Omron Automation's latest robot, combining cutting-edge AI with incredible engineering. And what does it do? Play table tennis. And it does it very well, it must be said.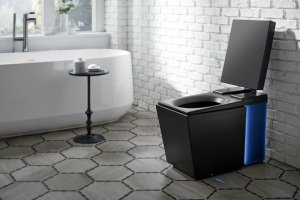 KOHLER'S VOICE-CONTROLLED TOILET 
It's a loo that has a heated seat, plays music via built-up speakers and can be voice-controlled by Amazon's Alexa. Oh, and it sprays deodorant after it has been used.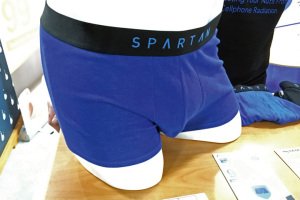 SPARTAN RADIATION-BLOCKING BOXER SHORTS
Concerned that radiation caused by all this wireless technology is harming your chances of fathering a child? Then you need Spartan boxers, whose silver fibres block 99% of radiation. Apparently.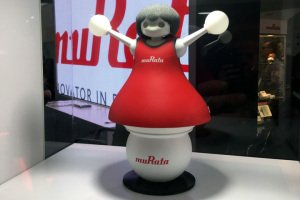 MURATA ROBOT CHEERLEADERS
Remember Weebles, those toys that wobble but don't fall down? Now imagine a squad of them turned into robot cheerleaders, complete with LED pom-poms. Terrifying.