MODEL TESTED: D4 AWD First Edition
Price £39,905    Power 188bhp    Torque 295lb ft   0-60mph 8.5sec   30-70mph in fourth 9.7sec
Fuel economy 38.3mpg   CO2 emissions 135g/km   70-0mph 50.6m
WE LIKE
Quiet diesel performance and frugality  ● Classy interior  ●  Relaxed Volvo dynamics
WE DON'T LIKE
Shortage of rear seat accommodation  ●  Smaller boot than average  ●  Premium pricing of early cars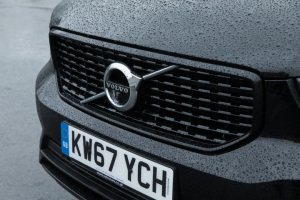 Volvo has more or less accidentally discovered that it's an SUV company. Perhaps that shouldn't be a surprise, given that it's a car maker founded on the virtues of strength and stability, but where once it was famed for its blocky, spacious estate cars, today those have given way to more dynamic-looking saloons and estates and the values of spaciousness and pragmatism are instead found more in its SUVs.
Which is handy, given that 4x4s, crossovers or anything with a hint of rufty-tufty will likely find itself as one of the faster-growing and more profitable market segments there is.
Having long offered an XC90 and XC60 but benefiting from a vast and rapid range renewal under Chinese owner Geely, Volvo has an SUV range that now accounts for more than half of all the cars it sells: the benchmark at which it accepts it is primarily a maker of 4x4s. Those two larger off-roaders are based on the same modular platform, which also underpins the S90 and V90, and continue the same theme – although with vastly more confidence – as the XC60 and XC90 always have.
This new car, though, promises something different. The big-three German car makers have had this section of the market – the premium compact SUV sector – pretty much to themselves until now, with cars that ape their larger siblings. They'll soon be joined by the Jaguar E-Pace and the DS 7 Crossback, too, but the XC40 joins this ever-growing market with a car that's wilfully different from its larger stablemates. This is a younger market – both of itself, and in regards to the people who buy cars in it – so Volvo allowed its designers to cut a little more loosely when it came to sculpting this 4.4m-long vehicle.
The XC40 will eventually be offered with three petrol and two diesel engines, and two-wheel or four-wheel drive, and with six trim levels, but from the off, you can get a well-loaded First Edition model. Our test car is one of those, powered by a 188bhp diesel and all-wheel drive.
Most compact SUVs tend to adopt a Russian doll approach to design and styling compared with larger models in their makers' ranges, but Volvo has liberated the XC40 from the more sensible, formal design of the bigger XC60 and XC90. It's a great deal funkier, chunkier, more outgoing and striking; perhaps the biggest diversion from Volvo normality
since the 480 coupé – and certainly since the C30.
Beneath that skin sits a new Volvo vehicle platform, CMA (Compact Modular Architecture), which will also underpin every smaller Volvo from now on. There'll be S40 and V40 models, and perhaps cars smaller than those, too.
As with the platform for Volvo's bigger cars, CMA is a primarily steel monocoque, with a front-mounted transverse engine driving either the front wheels or, as tested, all four of 'em, and here through an eight-speed automatic gearbox.
Later on, you can expect the range to grow to encompass more engines, transmissions and electrification mated to a three-cylinder petrol engine, but for now, there is a range of 2.0-litre four-pot motors. Our test car's makes 188bhp at 4000rpm and its torque output is a healthy 295lb ft, generated from just 1750rpm.
Although Volvo is happy to offer a diesel now, the cost and complexity of making diesel engines meet ever more stringent emissions regulations incline the company's engineering chiefs to believe that, not long into the next decade, it'll stop offering them on new cars, as ever reducing battery costs will mean that a petrol hybrid will be not just as efficient but also cheaper to make than a good diesel. Volvo's diesels haven't recently been as competitive as some rivals, but we'll see how it goes here.
The four wheels that it drives are suspended by MacPherson struts at the front, and a multi-link rear that gets, unlike larger Volvos, coil springs rather than a composite transverse leaf. In the UK, however, you can't get the adaptive Four-C dampers that are available in other markets.
Applying the same themes and approach that brought us the airy, lounge-like interiors of the XC90, XC60 and V90 to a class whose last words on cabin sophistication have thus far been the Audi Q3 and Range Rover Evoque has delivered an interior for the XC40 that looks and feels luxurious, expensive, informal and very pleasant.
The approach employed is similar to that of Volvo's larger and more upmarket SUVs, but with a touch of added visual flair and youthful exuberance. The car's stylised, narrow air vents flanking the Sensus infotainment system and its patterned dashboard decoration foils (which reflect the light in the daytime and are backlit in the same pattern at night) draw the eye and invite it to linger. This serves partly to draw attention away from some slightly cheaper-feeling fixtures (the window switches and the buttons on the steering wheel spokes) than those you'll find in Volvo's bigger cars, but the XC40 is a more affordable proposition, after all. Even allowing for their presence, then, you won't feel as though you're being short-changed as far as quality is concerned.
Space is good, too. At 2702mm, the XC40's wheelbase is only 72mm shorter than the XC60's, so although this might be a smaller car, it doesn't come with a huge practicality compromise. Adults will find a reasonable amount of head and leg room in the back seats and won't wince at the idea of a long-distance trip. However, the shape of the XC40's rear seats and the shortness of its seat cushions do force taller adults to sit a little uncomfortably, with their thighs propped up in mid air. Thankfully, this being the kind of SUV in which the back seats will be more commonly occupied by teenagers and kids, we needn't dwell on that, except to note that several similarly sized SUV options have more comfortable second rows.
The XC40's 432-litre boot, meanwhile, will swallow a couple a suitcases without any trouble, but it's hardly generously sized by class standards: a Volkswagen Tiguan's is almost 50% larger. Still, it's certainly a deep, intelligently laid-out and useful carrying space, with retaining straps, a flat floor, an under-floor storage area and a power outlet. Our test car also featured a retaining partition net, allowing you to prevent high-stacked loads from sliding forwards into the cabin.
[metaslider id="25388″]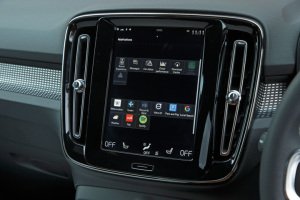 Volvo's Sensus infotainment system is fitted as standard across the XC40 range. The 9.0in portrait-orientated touchscreen has pride of place in the middle of the dashboard and is used to operate the majority of the XC40's functions. These include the entertainment, satellite navigation, heating, ventilation, air conditioning and vehicle settings.
A row of buttons sits beneath the screen, providing quick access to the volume, heated windscreen and heated rear screen. The display screen itself is clear and responsive enough, and also relatively easy to fathom, but the absence of physical buttons for features such as the climate control is a bit of a pain because altering settings while on the move does require you to take your eyes off the road.
Although this switchgear-lite approach does lend the cabin a clean-looking, decluttered design, you can't help but feel that Volvo may have ever so slightly placed form above function – at least until you're used to working the touchscreen intuitively, at any rate.
Given that Volvo's Drive-E 2.0-litre diesel engine has shown something of a vulnerability on mechanical refinement when we've tested it in the current-generation XC60, XC90 and S90, there's a pleasant surprise when you start it up in the XC40. A slightly grumbly oil-burner, squeezed into an even tighter space, leads to a low expectation of engine isolation here.
And yet the XC40 is, somehow and most of the time, as hushed and smooth a diesel-powered compact SUV as you're likely to find. Its engine is a little bit noisier than some when starting from cold and when working hard, granted, but it settles down at a cruise very demurely and, in our test car, allowed the XC40's cabin to be fully 2dB quieter than that of an X1 at both 30mph and 50mph. Traditional Volvo customers will like that about the car, you'd imagine, just as comfort-motivated premium SUV buyers ought to respond to it.
However, Volvo has also plainly come to understand that ploughing its own furrow with the driving experience of its cars doesn't excuse it from the need to also make them just as responsive and strong as their rivals in outright terms. The XC40's slightly laid-back accelerative step-off is one of the dynamic hallmarks of a car that offers no apology for its pragmatism. Like so many Volvos, it wants to ease you into motion smartly but is in absolutely no hurry to do it. And so you have to build some torque up against the car's brakes to make it get away with real urgency. And when you do, the torque and acceleration come in plentiful supply; the automatic gearbox ushers the higher intermediate gears into train quickly and seamlessly; and the timing gear confirms that the XC40 would be a match for most of its rivals in bald performance terms. It's no slouch by any stretch.
There's clearly a rounded and refined car here, ready to meet any number of needs and to mould itself around your mood on the road perhaps better than any other current Volvo. And yet the XC40 still retains a particular character that Volvo regulars will recognise and that Volvo has become practised and expert at creating: that of the relaxing, pragmatic, comfortable and straightforward modern family car, tuned to be absolutely at its best at everyday speeds, on everyday roads and driven in a very undemanding, matter-of-fact way.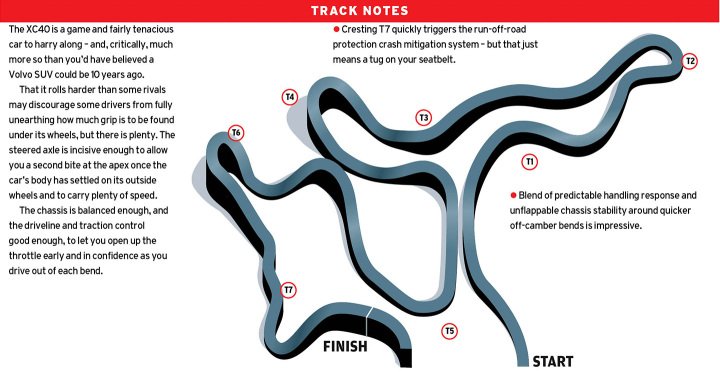 Running on optional 20in wheels and fitted with the stiffened suspension that R-Design models have as standard, our test car was about as sporty as it's possible to make the XC40, but neither its ride nor its ease of use seemed any the worse for it.
Volvo's claim may be that the car's handling is more energetic and invigorating than that of either of its bigger SUV siblings, but it also lets on that it would never have seriously contemplated positioning the XC40 among the most driver-focused SUVs on the market. Instead, it has cleverly engineered in just enough grip, body control, directness and handling agility to make the XC40 feel usefully sharper, smaller, fleeter of foot and easier to place than its bigger relations around junctions and down country lanes – but not a shred so much as to disturb the settled calm of the cabin or to make the car in the slightest bit physically or mentally trying to drive.
The steering is, therefore, ever consistent with its medium pacing and weighting, and light on feedback but thoroughly isolated from the influences of bump and traction. Its body control is good, although it permits more body roll than some; typically, though, only enough to help you gauge how hard the chassis is working rather than to adversely affect grip or balance. The suspension is supple and works well to keep the body level and settled at A-road and B-road pace. There's a bit of lateral fussiness to its ministrations over rutted urban roads, which can cause an occasional moment's unwanted head toss and slightly excitable under-damped feel to the wheel control, but it's fleeting.
On the motorway, meanwhile, the XC40 has an excellent, fluent and quiet ride to match its impressive cabin sealing, and its Pilot Assist lane keeping and radar cruise control systems work as well as they do on Volvo's bigger cars to very effectively and discreetly help you to keep the car centred in its lane and governed at a safe distance from the car in front, taking the strain out of a long-distance commute better than almost any other manufacturer's equivalents.
As a more premium offering in the compact SUV market, the XC40 understandably comes with a higher asking price than equivalently sized SUVs from volume brands. An entry-level Momentum model with a T3 petrol engine and front-wheel drive will set you back from £27,905, while our flagship First Edition test car with a D4 diesel engine and all-wheel drive comes fully loaded at £39,905.
Even at the entry level, standard equipment is strong, with 18in alloy wheels, automatic LED headlights and Volvo's 9.0in touchscreen infotainment system with DAB radio, satellite navigation and Bluetooth connectivity all present and correct. As with all Volvos, a suite of advanced safety systems is also included.
First Edition cars, meanwhile, benefit from larger, 19in alloy wheels, a premium Harman Kardon sound system and a range of packs otherwise found on the options list. Although these launch models command a notable premium, used price expert CAP expects residual values on them to be strong. The typical transaction price on an XC40 once the initial launch interest has died down, meanwhile, should be around £35,000 so, sure, it's fairly pricey but it is not in the Range Rover Evoque's league.