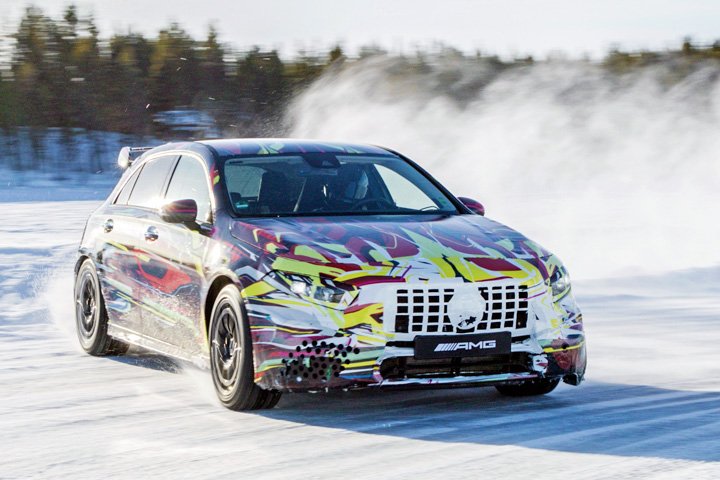 The only information AMG will officially divulge about its second-generation A45 4Matic four-wheel-drive mega-hatch ahead of its unveiling later this year is that it will drift.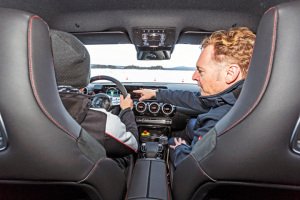 With its three-stage ESP disengaged and the push of a driving mode button as well as some steering wheel paddle protocol used to engage its advanced rear differential, its rear end will go sideways just like that of the rear-wheel-drive BMW M2 Competition.
This I can confirm, because I've ridden in the new A45 4Matic. And, yes, it does attain seemingly impossible slip angles with all the rabid throttle-induced cornering ambition of a high-powered rear-drive supercar when the driver wants it to… on ice.
In fact, much of my time in AMG's latest model was spent peering out the passenger side window as Reinhold Renger, head instructor at the company's driving academy, worked his magic behind the steering wheel. He was displaying the effect of that rather special new differential around a giant test track etched into a frozen lake in the north of Sweden.
From what I experienced, the new range-topping A-Class model is a more multifaceted machine, with seemingly greater maturity than before. As always, however, proof of this will come when we get to drive it later this year.
This much we know about the new A45 4Matic, even if AMG is yet to confirm it: it runs a new transversely mounted turbocharged four-cylinder 2.0-litre petrol engine mated to an eight-speed dual-clutch gearbox.
In standard form, it delivers 383bhp, which is quite an achievement in itself. But with added turbo boost pressure and other yet to be revealed tweaks in the new range-topping A45 S 4Matic+, its output increases to a rather exceptional 416bhp. This equates to 209bhp per litre – 46bhp more than the specific litre output of the twin-turbo 4.0-litre V8 engine used by AMG's headlining GT R.
However, the real secret to its performance lies in the adoption of a new four-wheel-drive system developed in a partnership between AMG and Magna Powertrain. The active system uses electro-hydraulic actuation instead of the electro-mechanical operation of the old reactive system used by the previous A45 4Matic.
It retains much of the hardware used to dole out drive to the front wheels, but it replaces the single rear differential with two separate clutches that are capable of apportioning up to 100% of power not only to the rear axle, but also individually to each rear wheel depending on factors such as prevailing traction, throttle position, yaw angle and steering angle.
Mercedes-AMG has clearly left nothing to chance with the new A45 4Matic. Intent on remaining at the head of the mega-hatch ranks, it has provided it with the world's most powerful series-production four-cylinder road car engine yet as well as the transmission hardware to make it a truly remarkable car.
Its new four-wheel-drive system is one of the most advanced set-ups, if not the most advanced, yet featured on a transverse-engined road car. On this showing, it not only looks to have provided the new AMG model with the ability to drift with greater eagerness and precision than ever before but also with an unbeatable advantage in terms of traction and outright driving ability.
GREG KABLE