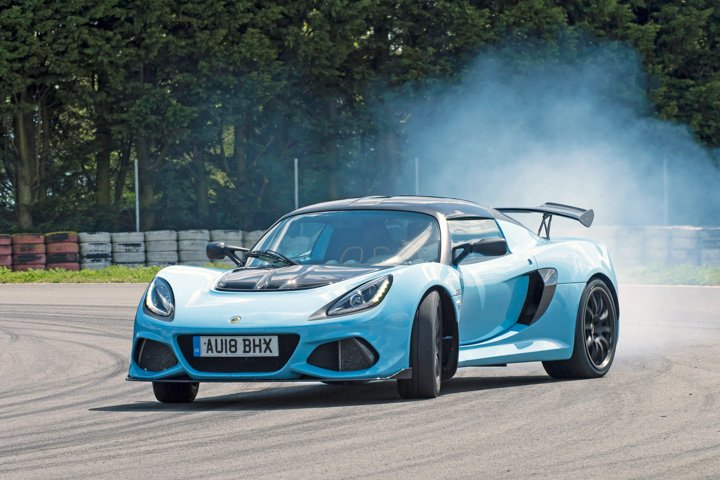 Tested 10.5.18, Norfolk On sale now Price £85,600
Hethel's rocket adroitly blends road manners with race pace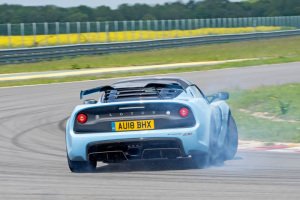 The six-year journey that ends with this final instalment of the third-generation Lotus Exige is somewhat convoluted. First we had the V6 S, which was replaced in 2015 by a lighter Sport 350 model.
A year later the fabulous Sport 380 arrived. Toyota's 3.5-litre V6 had been stoked, yet more kilos were trimmed thanks to a generous helping of carbonfibre bodywork and there was an aero package.
Then, last year, we drove a hardcore Cup 430 version. With revamped suspension, even more downforce and even less weight, it was the quickest street-legal Exige that ever was. It cost £100,000, was utterly beguiling on track but rightly compromised as a tool for the road.
Which brings us to the last-of-the-line Sport 410. Think of it as a de-tuned, road-ready Cup 430 rather than an enhanced Sport 380, the car it replaces in the range. With various carbonfibre options fitted on top of the standard composite shell seats and elements of the silhouette, its dry weight is a paltry 1054kg.
To match the consequent power-to-weight ratio, Lotus boss Jean-Marc Gales reminds us that you would need to furnish a Porsche 911 with roughly 600bhp. Interrogate the graphs and you'll notice power delivery isn't quite a peaky as it is in the Cup 430, but then the torque curve is now more or less flat from 3000rpm almost to the redline.
On the road, the effortless pace a ducking, weaving Sport 410 can generate is nothing short of obscene, but the big change is the switch from two-way to three-way adjustable dampers, which can be manually adjusted not only for rebound but also for high- and low-speed compression. This car's road manners are such that you can really get on top of the performance. On the sun-drenched black-top near the firm's Hethel factory, the notion of running an Exige Sport 410 as a daily driver seems entirely reasonable.
Perhaps the most surprising thing about this Lotus is how affable it is. There's a single-mass flywheel but easing off the mark is a doddle. The steering is perma-busy but usefully light, and on the move it weights up to provide a telepathic connection with the front axle. Meanwhile, the chiselled blare of the exhaust only erupts when a valve opens at 4500rpm. Until then, it's manageable.
Its manners are remarkable for something so profoundly involving, so rabidly quick, and that feels so very special when you do decide to uncork that lurid-sounding engine.
RICHARD LANE
Lotus Exige Sport 410
Lotus says this car will 'bury' the forthcoming Porsche Cayman GT4. For sheer immersion, perhaps it will


Price £85,600
Engine V6, 3456cc, supercharged, petrol
Power 410bhp at 7000rpm
Torque 310lb ft at 3000-7000rpm
Gearbox 6-spd manual
Kerb weight 1108kg
Top speed 180mph
0-62mph 3.4sec
Economy 26.6mpg
CO2, tax band 240g/km, 37%
Rivals Porsche 911 GTS, BMW M4 CS