TESTED 15.5.18, SPAIN ON SALE Autumn PRICE £37,600
New compact estate ramps up the comfort, practicality and Scandi-cool. Should Audi, BMW and Mercedes-Benz worry?
Leon, a writer for a music paper in Tony Parsons' novel Stories We Could Tell, is on his way to review a predictable band called Leni and the Riefenstahls, when he has to dodge a gang of punks who want to beat him up. In doing so, he misses the gig but, knowing there are pages to fill, files his story as if he was there anyway. Because he knows how it'll go.
How 'Leni' predictable is the new V60, you wonder? I know, fictional punk band/middle manager's Volvo, but go with it: if you saw one, then, you might be in the market for the other, now. It's another great-looking Volvo wagon, based on a big-Volvo platform, and it'll go head to head with the BMW 3 Series and Mercedes-Benz C-Class, blah, etc, and so on: how close would we
call it if we had to phone it in? Not that we would, obviously. Don't send letters.
Meantime, here we are, with the fifth model based on Volvo's SPA (Scalable Product Architecture), and each new one comes with an increasing dose of familiarity. Nothing wrong with that, mind you: they're efficient, they're elegant and, as Volvo discovers how to get the most out of the hardware, each is a little better than the last.
Beyond the Nordic cool, 

this is a traditional, old-school Volvo
It's three years since Volvo launched the XC90, which it has rapidly followed with the XC60, S90 and V90 (and XC40, on a smaller platform). So Volvo's quite busy. Now the V60 estate, then, of which there'll be an S60 saloon version in the summer, thus rounding out the big SPA range.
Same story as other SPA cars, then? Technically, certainly. The V60 is a mostly steel monocoque, with double wishbones and coil springs at the front, an integral link with transverse, composite leaf spring at the rear, and transverse front-mounted engines of nothing more than four cylinders or 2.0 litres driving the front wheels through a six-speed manual or eight-speed automatic gearbox. Two different plug-in hybrid versions are in the pipeline. Four-wheel drive comes later too. So far, so Volvo.
For now, you can get 148bhp (D3) and 187bhp (D4) diesels and a 247bhp petrol (T5, auto only), all available in Momentum, Momentum Pro, Inscription and Inscription Pro trim levels. So far, we've driven only the D4 automatic Inscription, from £37,600 and 69.2mpg, although our test car's 19in wheels take those to £38,150 and 60.1mpg.
The brand's consistency does not end there. Externally, this could be nothing but a modern Volvo, which is fine. Better than fine, even. The 3 Series/C-Class/Audi A4 class is for thrusting executives, so this "smallest and lightest" of the SPA cars, designer Lisa Reeves tells me, has been sculpted accordingly: strong belt lines, extreme raked edges to the lower grille, "determined, interlocked" headlights and horizontal accent lines to emphasise the car's width. "It's not super-muscly but toned," Reeves says, because Volvo doesn't do aggression, per se. Perhaps that's why, as CEO Håkan Samuelsson says, Volvo owners crash 50% less often than the average driver, and have a 50% better credit rating than average. Honestly, who does this
kind of research?
Anyway, neither is the V60 aggressive inside. The doors open to an interior that, while smaller than a V90's, feels just as light. There's 15mm more glass height in the doors than a V90, and the panoramic sunroof (£1200) is straight off the V90 too, which saves them a few quid creating a different one and lets loads of light into the cabin.
You could write what the overall theme is like from your bed 1200 miles away. It's a beautiful, minimalist interior made for Scandi-drama detectives to brood in while contemplating how they've allowed yet another flipping murder to happen on their patch. It's clean, crisp, clear; an automotive lapping shoreline of big round stones and driftwood. Most of the infotainment is dealt with by the portrait-oriented touchscreen – only Tesla does these better – complemented by some necessary buttons that a Tesla would benefit from.
Among this there are V60-specific details too. It's more driver-oriented, they say, so the dashboard trim doesn't extend onto the doors, focusing the mind on the dash, where horizontal bits of wood and strong lines across it take some of the visual bulk out of it. I think that works, and it all feels great. Who does sweeter interiors at this price? I think nobody.
The front seats are big and can sit you lower than in a 90 and the steering wheel has masses of reach. Big, digital dials can have a map screen between them and comprehensive steering wheel buttons deal with what's displayed there, including Pilot Assist (radar cruise with lane assist). The centre screen shows less immediate things.
The transmission tunnel gets a conventional auto gearlever (hybrid cars have a diddy glass-effect lever) and oddments storage. Rear passengers have loads of leg room (the 2872mm wheelbase is 62mm longer than a 3 Series', plus the transverse engine makes for compact packaging) and really good head room.
And whereas the rear window of a V90 is raked to take some of the visual bulk out of it, allowing style to win over substance, the V60's is more upright, more traditional: hence, Volvo says, the biggest boot in the class, at 529 to 1441 litres. It should be: the 4.76m-long car's longer than a C-Class (4.70m) and 3 Series (4.63m) and around 40mm wider too. There's a flat boot floor, well-finished load-bay sides, luggage hooks in the floor, hooks on the window ledge, an elastic strap on the side and cut-outs at the back for wide loads. Beyond the Nordic cool, this is a trad, old-school Volvo.
The same is true, mostly, of the way it drives. The SPA themes are all there but, more than that, more than a predictable amount, the SPA's progression is there. The D4, just a little grumbly at idle, quiet as speeds rise even under acceleration, is good but hampered, at times, by the eight-speed auto. Possessive over its 60mpg-plus economy, the V60 is reluctant to downshift, and although you can take control via the gearlever, this is a car that offers steering wheel heat but not paddles. You can alter it to a more dynamic setting, but then that can leave the engine spinning too fast at a cruise.
You can affect the suspension setting too. Unlike with the largest SPA cars, there's no air suspension option, but the mechanical springs are mated to adjustable dampers; although I doubt there's a person in the world who routinely drives around in the firmer mode.
I'd be intrigued to try one on 18in wheels with 235/45 tyres rather than the 235/40s of the 19s, but it rides pretty well as is and steers accurately with 2.4 turns between lock and with more linear build-up of response than other big Volvos, which makes it easier and more relaxing to steer on twisting roads. You wouldn't call it engaging in the same way you would a 3 Series or Jaguar XE yet, at the same time, it's not boring. And it's free of some of the harshness of ride, and lack of steering linearity, and diesel clatter, that afflicted, say, the XC90 at launch.
Big Volvos have been getting progressively more comfortable while retaining better and better body control, and here they've got it to their best setting yet. I'd want a back-to-back test against the key rivals, but it feels more comfortable if less dynamic, to me, than a BMW or Mercedes. And that's just dandy, if that's where it wants to be.
The V60 drives the SPA story notably onwards; best experienced, not phoned in. Leon gets fired, by the way. Leni cancelled their gig. Maybe try it with an Audi instead.
MATT PRIOR
VOLVO IS REALISTIC ABOUT AUTONOMY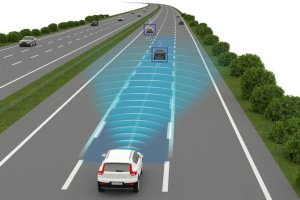 Volvo's Pilot Assist system, which constitutes adaptive cruise control and automatic steering in lane, has been improved for the V60 but, as with all these level two systems, still needs improvement. It works pretty well on motorways, it's no longer momentarily flustered by slip roads and its lane positioning is good. Tighter sweeps can still cause it issues, but it's what it is: you have to keep your hands on the wheel and your attention largely to the road. In our experience, though, it still reduces fatigue.
Volvo is pretty conservative compared with some car makers when it comes to claims about autonomy moving forward. The time it takes for a driver to regain full awareness from a hands-off, eyes-off level of automated driving gives CEO Håkan Samuelsson concerns. And, let's face it, this is a company with an enviable safety record. When it talks about this, others should listen.


TESTER'S NOTE
Volvo's stop-start system still needs a bit of work. Tending to cut as you approach a stop, it makes coming to a halt harder work than it ought to be. MP
VOLVO V60 D4 INSCRIPTION AUTO
Spacious and comfortable, the V60's Scandi-cool design meets with traditional Volvo wagon attributes


Price  £37,600
Engine  4 cyls, 1969cc, diesel
Power  187bhp at 4250rpm
Torque 295lb ft at 1700-2500rpm
Gearbox 8-spd automatic
Kerb weight 1669kg
0-60mph 7.6sec
Top speed 137mph
Economy 62.9mpg
CO2, tax band 125g/km, 30%
Rivals Audi A4, BMW 3 Series, Mercedes-Benz C-Class