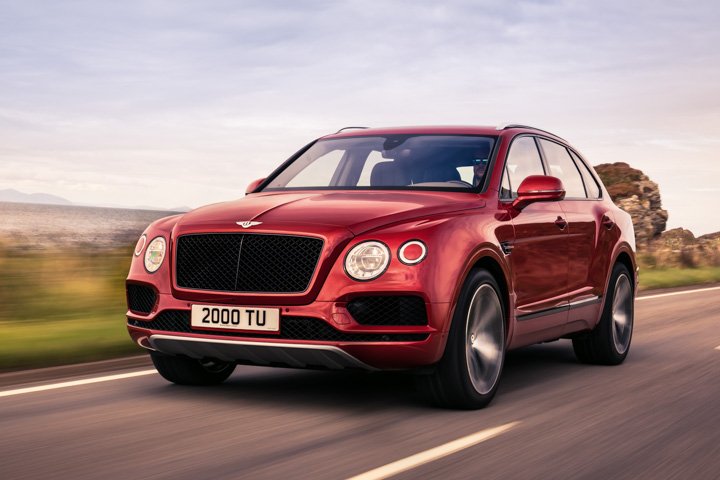 Super-luxury SUV's 4.0-litre, twin-turbocharged petrol V8 develops 542bhp and 770Nm of torque
Bentley's first official SUV, the Bentayga, is now offered with a V8 engine that produces 542bhp and 770Nm of torque. It takes just 4.5 seconds to hit 100km/h from standstill and has a top speed of 290km/h.
The four-wheel drive can be configured with four-, five-, or seven-seats. There are new interior options: high-gloss carbon fibre in place of the traditional wood veneer finish; a wood and hide steering wheel and a new red leather, Cricket Ball, joins the existing range of 15 interior colours and five colour splits currently offered by Bentley.
There are new equipment options for the Bentayga V8 like carbon-ceramic brakes. Tornado red brake calipers are available for those who opt for the standard iron brakes. There are also all-new 22-inch five-spoke wheels with black painted and polished finish, one of 11 wheel designs offered.
As with the W12, the 48V-motor powered Bentley Dynamic Ride, electric active roll control technology is fitted, for countering body roll instantaneously when cornering. Other features as standard are Drive Dynamics Mode, multi-mode air suspension, ESC, Traction Control and Hill Descent Control. As with the W12, All-Terrain Specification is an option, eight modes of which four are on-road and four are off-, to manage Snow & Grass, Dirt & Gravel, Mud & Trail or Sand Dunes, and transform the Bentayga from luxury SUV to mountain-climbing limousine.
Driver assistance features like Adaptive Cruise Control monitor the road conditions ahead using navigation data, sensors and cameras to improve comfort and improve fuel economy. Driver aids available in the Bentayga V8 are Park Assist autonomous parking aid, Night Vision, rear crossing traffic warning, Head-Up Display and an all-round camera system that shows the vehicle's surrounds called Top View.
The Bentayga has a eight-inch touchscreen infotainment system with navigation, 60GB hard drive and 30 language options. Rear seat passengers have the Bentley Entertainment Tablet, a removable 10.2-inch Android-based tablet with multiple high-speed connectivity options. Three different sound systems are offered: Bentley Standard Audio, Bentley Signature Audio and the top-of-the-range 1950 watt, 18-speaker and super-tweeter Naim for Bentley Premium Audio.
The Bentayga V8 is now available in Malaysia, priced from RM1,580,000 after duties (before options), and available for viewing at Bentley Kuala Lumpur, +60 3 2165 1688.