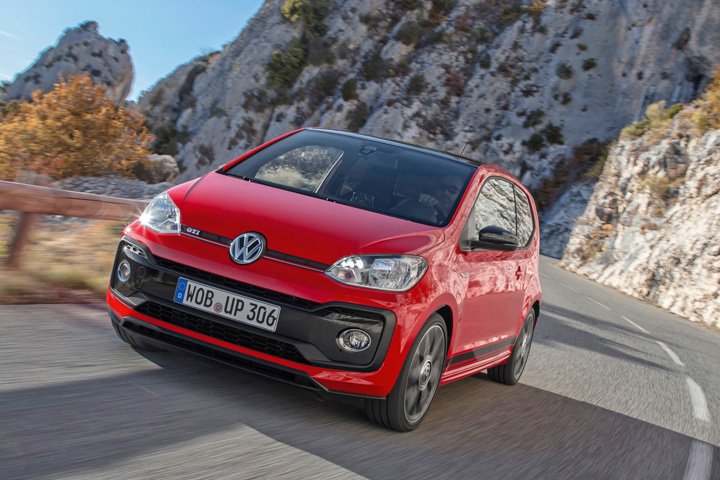 Tested 18.1.18, France On sale February Price £13,750
City car takes go-faster pills. How will its punchier engine and sportier suspension sit with the Up's more mature character?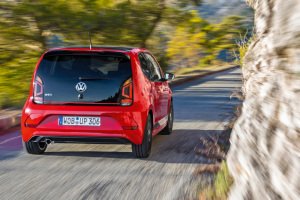 You're going to read a lot about the Volkswagen Golf GTI Mk1 when you read anything about this latest Volkswagen Up GTI because VW has pitched it as some kind of homage to its original (perhaps not the original) hot hatch.
The Up and that first Golf have a similar level of power, for example, and not dissimilar performance figures, and all of the original's design cues have been replicated here; just like they've been replicated on pretty much every GTI from every manufacturer since 1976.
Most notably, though, the Up is meant to have the sparkle, the entertainment, the breath of fresh air that came as standard with that first hot Golf. Talking of fresh air, the Up is among the first cars to have a 'close-coupled petrol particulate filter', which, VW says, reduces particulate emissions by up to 95%.
So it's nice to know the company hasn't lost its sense of humour.
Anyway, during all this homage business, there's one figure they don't reference, which is that while the Up GTI weighs 1070kg, the first Golf GTI weighed 810kg, despite this city car being not just one but two entire classes lower than the Golf small family hatch.
What a cool package, then. It's fun. It's rewarding
But that's okay, you know. I'm not going to get all prickly about that, because it's just the way of things. Sure, an Up is heavier, but it would also be better than a Mk1 Golf at coping with a really cold morning, or a really warm afternoon, or letting you listen to Radio 4, or being driven into a tree. It's just how it is.
Anyway, 1070kg is still sufficiently light that you can make this a warm hatch by giving it a 999cc triple engine, making a modest 114bhp at 5000rpm, and a more immodest 147lb ft, which is generated from just 2000rpm thanks to the fact that the motor's turbocharged. Driving the front wheels through a six-speed manual gearbox, it's enough to propel the Up GTI from a standstill to 62mph in 8.8sec.
I rather like the mostly subtle look of it, too, especially in the three-door form you find here. That the suspension has been dropped by 15mm over a standard Up's, and that it gets 17in alloy wheels with 195/40 tyres, probably does it no harm.
There are changes beyond the ride height. The electrically assisted steering rack and ventilated brakes are Polo derived but modified, the torsion beams at the rear and MacPherson struts at the front have stiffer top mounts, with new-shape lower arms on the front too. There are no adaptive dampers or such like – this is a sub-£14k car – but being a small, light car, it shouldn't need them. Let's see.
VW always gets some things right. Doors close with a thunk, interior materials and their layout are sensible and clear. The front seats are big, sweetly patterned and somewhere nearer flat than hugging, but the ergonomics are the sort of thing you don't really notice (a good sign), to the extent that you could comfortably replace your Golf or Passat company car with an Up and drive it without noticing most of the time, except there's less behind you.
Our first drive, meanwhile, begins on some towny roads on the way out of an airport, during which the ride seems a curious mix of mostly absorbent but with occasional brittleness over sharper bumps: otherwise sensible suspension settings meet low-profile tyres, you wonder. Those roads give way to some motorway driving, during which the stability is where it ought to be for a German car, with low wind and road noise levels too.
But it's beyond those kinds of roads where life gets more interesting, and are where the Up GTI also feels very well suited; although, to be honest, mountain hairpins are great looking but rarely particularly exciting to drive. Few cars make them entertaining. A nicely judged brake pedal feel makes the approach to a corner enjoyable in the Up, as does its light but extremely positive gearshift. The throttle's high for easy heel-and-toeing, although right-hand-drive cars might have better-spaced pedals. But really, hairpins are all about braking, then turning but without challenging the chassis' limit of lateral grip except at the front, waiting a lot, and then getting into a winding off of lock versus application of throttle compromise, and visibility is usually terrible too. As a scientific endeavour, it's fine, but it takes a pretty special car to make bends like that exciting, and one usually driven by the other pair of wheels.
It's in faster corners where chassis get to show what they're capable of, where you can load them up and where both front and rear wheels come into play and where, when there's enough lateral grip, the steering takes on some weight and tells you what it's doing beyond just understeering under power while you try to get the car straight.
The Up GTI is really good on roads like these. The pliancy you feel at lower speeds doesn't relate to a loss of body control – because there's only a lightweight body to control, I suppose – while the relatively modest width of the tyres delivers grip to an 'about right' level. The performance does too: you can use what performance it has without irritating other people.
[metaslider id="25148″]
The GTI's steering is accurate and quick and gathers useful weight, so even though it doesn't bristle with feel, it's rewarding, and the chassis' inherent balance is pleasing too. Eventually, you'll find understeer if the corner's clear enough and you've gone looking for it, but mostly you'll just have fun, driving up to sensible limits that are a similarly equal level of its and yours and the road's, at a giggly and entertaining rather than sweaty-palmed pace.
The engine and 'box lend themselves to this kind of driving too. There's no dual-clutch option at this price, but you won't be so busy or surly that you can't be bothered to shift yourself. There's a little lag at low revs, despite peak torque arriving at 2000rpm. I don't doubt that it does arrive then – but down there, you need to ask for it a second before it really gives it to you. A sound symposer adds to the three-cylinder's thrummy soundtrack that has, here, been made more sporting than I expected, with a bit more rort on the way to the soft rev limiter.
What a cool package, then. It's fun. It's rewarding. It's a bit like a Suzuki Swift Sport but with more ride maturity and a less immediate motor.
Is it like the original Golf GTI? Not really; at least not dynamically. Remove the visual cues and they could be from entirely different makers.
But that's fine too. Judge the Up GTI against an 810kg hot hatchback and it's always going to suffer for the comparison. But compare the Up GTI with what you can buy today, at the price you can buy it for today, and it comes across as a fizzing, willing, compelling little proposition.
MATT PRIOR
Tester's note
The Up GTI is the first VW to comply with new WLTP (Worldwide Harmonised Light-Duty Vehicles Test Procedure) and RDE (Real Driving Emissions) tests, which replace the old (and easier to fudge) New European Drive Cycle (NEDC) economy and emissions tests. MP
VOLKSWAGEN Up GTI 3dr
Funky, light, enjoyable and even reasonably priced, this is a car to be appreciated on its own terms


Price  £13,750
Engine  3 cyls, 999cc, turbo, petrol
Power  114bhp at 5000rpm
Torque 147lb ft at 2000rpm
Gearbox 6-spd manual
Kerb weight 1070kg
0-62mph 8.8sec
Top speed 119mph
Economy 49.6mpg
CO2, tax band 129g/km, 24%
Rivals Abarth 500 1.4 16v T-Jet, Renault Twingo TCe 100 GT
SHOULD WE EXPECT MORE HOT VWs?
Volkswagen has built up a heritage of small, fast cars, starting with the original Golf GTI of 1976 and continuing with the 113bhp, 840kg Polo G40, which, across several generations, morphed into a promising Polo GTI this year.
A Lupo GTI in 2001 took the GTI brand back to its roots with dimensions close to those of the original Golf GTI, albeit with a massive power hike. It's the last time VW toyed with the GTI brand at the city car level.
The small, fast hiatus between 2001 and 2017 was filled with promising non-starters like the EcoRacer and BlueSport concepts – roadsters both, with 134bhp and 178bhp respectively, and feathery kerb weights to boot. The 200bhp Ducati-engined XL Sport concept is the latest lightweight sports car concept to titillate VW enthusiasts.
That leaves us with the Up GTI completing the three-prong GTI brand, then, while VW tests out expanding its R brand with small(er) models like the T-Roc and Polo, with working prototypes of both undergoing evaluation.
The sports car route is almost certain to remain firmly in concept car territory, as VW's new, more emotional product strategy doesn't offer a compelling enough business case for a market in decline. Small, fast cars, though? You bet.