German brand's US comeback begins in earnest with a seven-seat SUV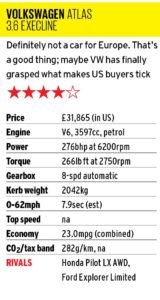 Volkswagen's latest bid to be more than a niche player in the US begins with the Atlas, a three-row SUV intended to rival established players such as the Honda Pilot and Ford Explorer. VW hasn't had a seven-seater in the US since the unloved Routan – a thinly disguised Dodge Grand Caravan – was dropped a few years ago.
The Atlas grew out of the CrossBlue concept seen at the 2013 Detroit motor show. It was conceived specifically for American families and is built alongside the US-market Passat at the newly expanded plant in Chattanooga, Tennessee. It's the largest model to be built on the familiar, flexible MQB architecture.
VW has done its homework this time. First up, the Atlas is big enough for the American 'mid-size' SUV segment; at 5036mm in length, it's 241mm longer than the Touareg, as well as being 49mm wider.
A long wheelbase helps to translate that size into lots of usable space. The middle-row seats flip forward to ease access to a third row that will seat two adults in comfort, although you'll struggle to fit all seven passengers' luggage in with them.
The Execline model tops the range in Canada and roughly translates to SEL Premium in the US. The fake wood door trim does nothing to establish a premium feel, but the interior is well equipped. There's an excellent Fender/Panasonic 12-speaker stereo, a clear, fully reconfigurable digital instrument cluster and an 8.0in touchscreen with high-res navigation graphics and Apple/Android connectivity.
The more powerful of the two engine options, as driven here, is VW's long-serving, narrow-angle 3.6-litre petrol V6, mated to an eight-speed automatic gearbox and 4Motion four-wheel drive. Numerous drive modes help to keep you out of trouble on and off the road. The V6 is smooth and quiet and has enough in reserve for a quick merge onto a crowded highway, but a 23mpg combined fuel consumption figure is short of the 26mpg recorded by Honda's newer motor. For life in the suburbs, the front-drive-only, 235bhp 2.0 TSI might make more sense.
However, the heavy-duty drivetrain endows the Atlas with another prerequisite for Stateside success: decent towing capacity. The SUV's 2270kg kerb weight is on a par with what the Pilot and Explorer have to offer and a tow hitch is standard.
Ride comfort is a mixed bag. In true US style, the Atlas feels softly sprung and less aggressively damped than would be the case on a European model, so it takes a couple of bounces to settle after big primary inputs such as undulations in the road.
However, it also thumps over sharper, secondary stuff, such as potholes or exposed manhole covers, with less sophistication than you'd hope for. The extra mass and shorter sidewalls of the Execline's 20in alloys (18s are standard elsewhere) probably do the Atlas no favours here.
Roll and pitch are well suppressed, though, as is road noise. The electrically assisted steering is light (less so in Sport mode) and devoid of feel, but it is at least precise.
The Atlas has what it takes to impress consumers in the US and Canada: generous proportions, chunky styling, practical features, a top safety rating and a competitive price. On top of that, it's well built and decent to drive.
Whether it'll be as successful as Volkswagen hopes will depend partly on the extent to which long-term consumer faith in the brand has been damaged by the diesel scandal. A standard six-year/72,000-mile warranty for US buyers (four years/80,000km for Canadians) is designed to help rebuild that trust.
GRAHAM HEEPS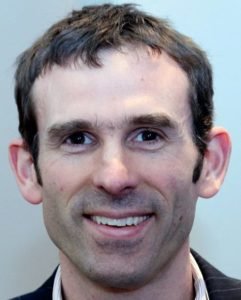 TESTER'S NOTE
Pity the second-row seatbelts aren't adjustable for height, particularly when extra adults are on board. The optional 'captain's chairs' aren't the most supportive, either. gh