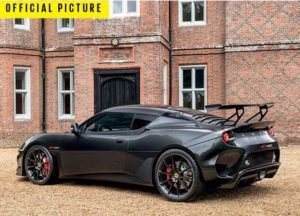 Lotus has revealed its most powerful road-going car yet, the Evora GT430. Just 60 examples will be made at a price of £112,500 each. With 430bhp, it has a top speed of 190mph and covers 0-60mph in 3.7sec — 0.6sec quicker than a Porsche Cayman GT4.
The GT430 is 26kg lighter than the standard Evora and, thanks to upgraded aerodynamics, produces 250kg of downforce at its top speed.
Lotus claims the GT430 equalled the lap time at its Hethel test track of the Lotus 3-Eleven, which is lighter and does 0-60mph in 3.3sec.