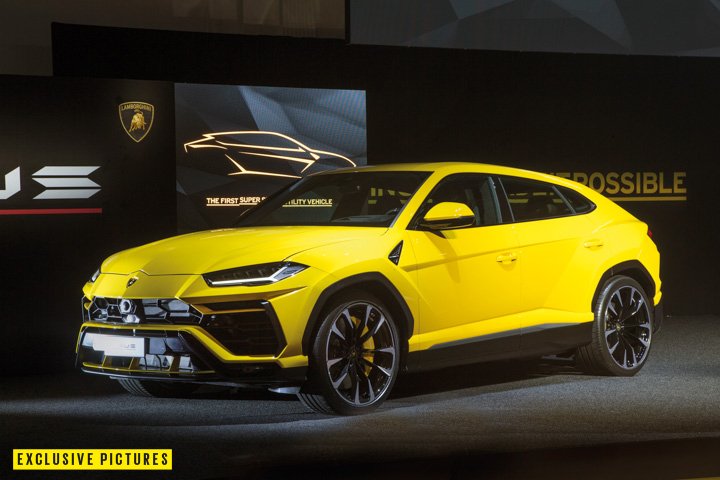 Italian manufacturer expects new super-SUV to double its annual volume here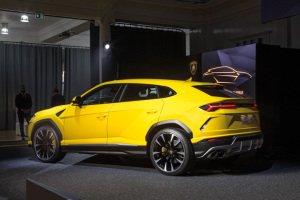 Lamborghini boss Stefano Domenicali expects sales of the new £165,000 Urus super-SUV to more than double the company's annual UK sales volume to around 700 cars when it arrives in May.
The Urus is the first Lamborghini to be launched in right and left-hand-drive forms at the same time. Domenicali said this is because the company believes a positive UK market reaction is "fundamental" to the early global sales prospects for the ground-breaking model.
Speaking at last week's London launch of the 641bhp, 190mph Urus, Domenicali  said the entire first year's production — tipped to be around 3000 cars — had already been sold. "We will have to revisit our allocation of cars to the UK because demand has been so strong," he added.
Around two thirds of Urus orders so far, including those in the UK, have been from buyers new to the Lamborghini brand, Domenicali said. Two more UK dealers will be appointed by the end of this year, bringing the total to 10, and all dealerships will be upgraded to cater for the much greater volume and faster service turnaround.
"We are moving from a super-sports car world where many owners drive only about 4500 miles a year, to a world where utilisation will be much greater, perhaps 15,000 to 20,000 miles a year," he said. "This is a completely different game, especially since we are now providing levels of infotainment and connectivity that our sports car owners traditionally haven't cared much about."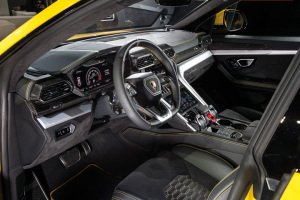 Domenicali, who was Ferrari's Formula 1 team principal from 2008 to 2014, joined Lamborghini's parent company Audi in 2015 and succeeded Stephan Winkelmann as Lamborghini boss the following year. He has previously said recent expansion of the factory at Sant'Agata Bolognese should lift production to around 7500 cars a year by next year, and hints now that the company could move to a second manufacturing shift at the factory if demand for the Urus is strong enough.
Accommodating the Urus has already involved unprecedented expansion, the CEO said. Lamborghini's sales volume last year set a record with just over 3800 cars sold, but with the Urus set to be in the range for only half of 2018, this year's figure is only expected to be about 5000 units. Sales should top 7000 next year, however, with the new SUV expected to account for around half the cars built by Lamborghini.
Last year around 10% of sales, or 353 cars, were in the UK, which made our market Lamborghini's third largest after the US (1095) and Japan (411). But with an SUV on offer, Domenicali believes this hierarchy could change. The Urus will give Lamborghini better chances in markets such as Russia and India, where road conditions don't suit the firm's current models. The company is seeing growing demand from China and other regional Asian markets, although Domenicali isn't expecting much demand from China for chauffeur-driven Lambos. Asian customers have so far been very young, typically aged between 30 and 45, and there is a growing trend for these people to prefer to drive themselves.
Lamborghini wants to expand its model count beyond the Aventador, Huracán and Urus. Ferrari's output is around 9000 cars per year, and Aston Martin is aiming for 12,500 per year once production of its DBX electric SUV begins.
"Lamborghini must be flexible enough not to lose this new opportunity to grow," said Domenicali. "But it must grow in a stable way, consistent with our exclusive brand values. It is easy to grab opportunities to expand, but much more difficult to get smaller again, if that became necessary."
Developments such as a high-performance SV model, a Lamborghini tradition, are "a possibility", but Domenicali has been reluctant to say any Urus needs more than the standard car's 641bhp.
Lamborghini will not launch a fourth model line "until at least 2024", said Domenicali, adding that Lamborghini already has plenty on its plate besides the Urus. He has previously revealed that successors for the current mid-engined Aventador V12 and Huracán V10 models — under development now — will be plug-in hybrids ("a full electric solution will not be in place"), and that these cars will keep the big-capacity normally aspirated engines that are becoming an increasingly exclusive Lamborghini feature.
The new sports cars will use their part-electric power both to boost performance and to provide battery-only range for the city centres, such as London and Shanghai, that are on course to require it. Only the 4.0-litre V8 Urus will have a turbocharged engine.
"We will spend the next couple of years bringing Urus up to speed and stabilising our operation," Domenicali said. "Only then will we decide what car and what technology will help us make the next step towards a volume of 10,000. Expansion always involves investment. It's vital for a business like ours not to over-commit."
STEVE CROPLEY
MOTORSPORT PLANS FOR NEW URUS

Lamborghini is planning an all-roads competition programme for its front-engined four-wheel-drive Urus but won't yet reveal where the turbocharged V8-powered model will compete. Sources say an announcement is likely towards the end of this year, once Urus production has hit its stride at Sant'Agata.
The company denies that it will follow Bentley, which has just revealed plans to run a Bentayga at the famous Pike's Peak Hillclimb in Colorado, although it acknowledges that Bentley's performance "will provide us with a benchmark".
"Lamborghini welcomes challenges, but whatever we do will be quite different from other brands," said Stefano Domenicali. We will choose a form of competition intended only for our class of vehicle. Our car has many faces. You can enjoy its beauty, it is very fast on the track, very fast off-road and very fast on gravel. We will choose something that combines all of these things."