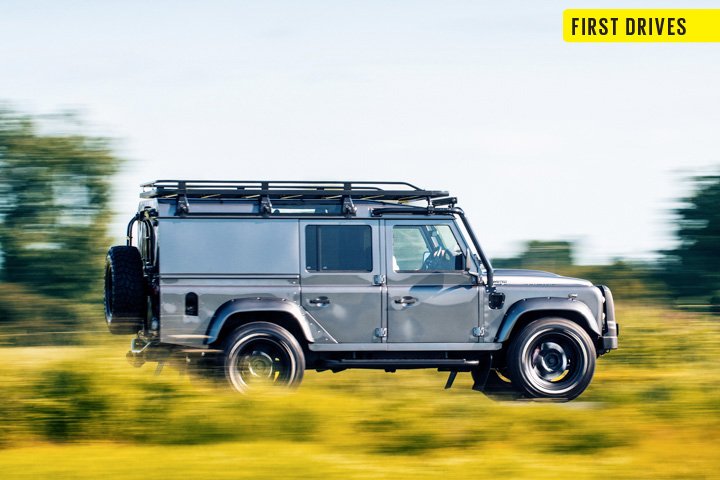 TESTED 19.10.18, HERTFORDSHIRE ON SALE NOW PRICE £160,000
A 430bhp Defender from top to toe in leather? Twisted indeed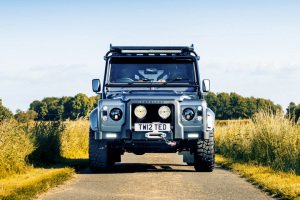 When Land Rover chose to discontinue the Defender after 67 years, Twisted Automotive purchased 240 late-build cars straight off the bat. Adapting the British icon to be faster (this one does 125mph) and far more luxurious (think floor-to-ceiling leather) has been the Yorkshire outfit's stock-in-trade since 2002 – and without stock, there's no trade.
Not long ago, those 240 cars would have accounted for four busy years of production – the wholesale changes Twisted makes to the oily aspects and the interior are wrought by just 10 technicians – but with customers ever keener for greater levels of customisation, it's now enough for six. After that? Well, not every Defender Twisted breathes on has to be box-fresh, and given that three in every four cars ever built are still in working condition… You get the picture.
The revised 110 Utility tested here is an exhibition of what Twisted can do for you in 2018. It uses the ultra-versatile Corvette LS3 crate engine developing 430bhp. All that power in a Defender? You can have 520bhp if you really want it. Throttle response is a touch baggy and there's a hiatus in the torque delivery as the six-speed auto lines up another ratio, but what theatre. Admittedly it's not the sweetest calibration, but it's not bad. Sticking to the manual would make it even more involving and easier to ride this throaty engine's torque.
Further upgrades include differentials, prop- and driveshafts, a big-bore twin-exit exhaust, Alcon brakes and air suspension from Dutch firm VB Air. The last of those not only allows the body to be usefully lowered but contributes to rolling refinement levels that are nothing short of mesmerising compared with a factory-spec Defender. The near-vertical windscreen and atrociously indirect steering (though the fitment of a smaller and more elegant Moto-Lita piece helps) never quite let you forget what car it is you're driving, but then you wouldn't want that.
On the road, this is a car to have parents hurriedly guiding their kids back from the pavement's edge – a task made tougher by these little blighters craning their necks to get a closer look. Go beyond the bull-bars and the Cooper tyres, however, and you'll see this is not some modified monstrosity. The sheet metal is just lovely – utterly smooth, unpretentious and with crisply contrasting rivets. Elsewhere, there are few indications of this car's aftermarket roots, but that's where Twisted excels. Fierce but unassuming, and totally desirable if you can stomach a price to match that of a Lamborghini Urus. Naturally, rational minds need not apply.
RICHARD LANE
TWISTED DEFENDER V8 110 UTILITY
Sumptuously appointed within and not as hairy to drive as the spec-sheet suggests


Price £160,000
Engine V8, 6162cc, petrol
Power 430bhp at 5900rpm
Torque 425lb ft at 4600rpm
Gearbox 6-spd automatic
Kerb weight 2500kg
0-62mph 6.5sec
Top speed 125mph
Economy 18mpg
CO2, tax band 282g/km, 37%
Rivals Mercedes-AMG G63, Lamborghini Urus