TESTED 26.11.18, CALIFORNIA, USA ON SALE EARLY 2019 PRICE TBC
Long-standing SUV enters a new generation with improvements across the board
Toyota's efforts to add interest to the styling of its cars takes another step forward with the all-new, fifth-generation RAV4 SUV, which is certainly more distinctive than its bland predecessor. Some of the polygon-inspired sculpting about this latest RAV4's flanks might look strange, but the overall effect is of a more dynamic and individual machine.
But the overhaul is about a lot more than styling. This new RAV4 uses Toyota's highly versatile Toyota New Global Architecture (TNGA), which is 57% stiffer in this application, lowers the car's centre of gravity and provides the sophistication of double-wishbone rear suspension, improved steering feel, optimised weight distribution and a suite of safety features. In spite of the lower centre of gravity, ground clearance increases by 15mm, and the overhangs have been trimmed by extending the wheelbase within a fractionally shorter length.
Visibility has been improved, too, by slimming the A-pillars, lowering the beltline, enlarging the side windows, repositioning the door mirrors and optionally offering a camera rear-view mirror that virtually removes the headrest and pillar structures obscuring your view.
The effect of all this is to create an airier cabin, and one of subtly and satisfyingly improved tactile quality. There's more soft-feel trim, interesting upholstery that actually features some colour (a novelty for Toyota), a rubber finish to the door pull handles and climate controls and a leather-capped gearknob. It's not quite premium, but this is a more interesting, well-made interior and a vast improvement on RAV4s past.
The drivetrain is more interesting, too, if you opt for the 2.5-litre hybrid. There's a 2.0 petrol with manual or automatic gearboxes, but our test car was the 2.5, its lighter, more compact fourth-generation hybrid driveline providing all-wheel drive via a motor/generator on the rear axle. It allows up to 80% of the torque to go to the rear wheels.
In this form, the RAV4 promises to be a usefully more able off-roader. It's also more able on the road. Crisper steering, more eager turn-in and plenty of grippy security make this RAV4 feel quite car-like through twists, aided by effective body-roll containment. It's hardly a riot but it's assured enough to be enjoyable.
Toyota continues to improve the refinement of its hybrids' CVT transmission, whose plunging and soaring is less obvious than it used to be. You can still hear the rises and falls but they're fainter and can further
be limited by using Sport mode. You also get Trail mode with the AWD version, which provides limited-slip differential control,
the familiar Eco and EV modes also present.
The RAV4's versatility extends to its cabin, too, which provides generous space on a back bench whose cushion is well angled for comfort. There's plenty of on-board storage and a decent-sized boot, making this a properly practical family car. It's further civilised by a clear infotainment system, a very good stereo and a fair ride. Sharp bumps could be better absorbed, but this RAV4 is rarely uncomfortable.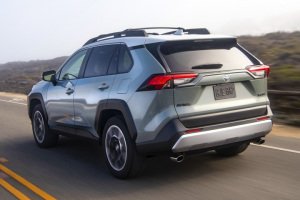 As ever with a hybrid, there's extra entertainment to be had from conserving fuel, building up your battery reserves and scoring points for your eco-driving skills, your efforts revealed by scrolling through the driver information screen. The kind of consumption these efforts might yield we've yet to determine, and it certainly won't be the 61.4mpg NEDC figure. Usefully more than 40mpg should easily be feasible, though.
All of which adds up to a RAV4 of considerably more substance than the outgoing model. It's more robust, promises more off-road capability, has a chassis agile enough to satisfy and its design, particularly inside, is interesting enough to divert and be convenient with it. You wouldn't call it pretty, but this new RAV4 hybrid is a pretty good SUV.
RICHARD BREMNER 
The RAV4 is a massive seller. Some 8.1 million have been sold since 1994. It was the biggest-selling SUV in 2017 and the fourth-bestselling car as well. RB
TOYOTA RAV4 XSE HYBRID
More athletic, efficient and aesthetically appealing RAV4 makes quite a compelling case for itself


Price  tbc
Engine  4 cyls, 2487cc, petrol, plus two electric motors
Power  216bhp at 6000rpm
Torque 163lb ft at 4400rpm
Gearbox CVT automatic
Kerb weight 1645kg
0-62mph 8.1sec
Top speed 112mph
Economy 61.4mpg (NEDC)
CO2, tax band 105g/km, 22%
Rivals Nissan X-Trail, Seat Ateca