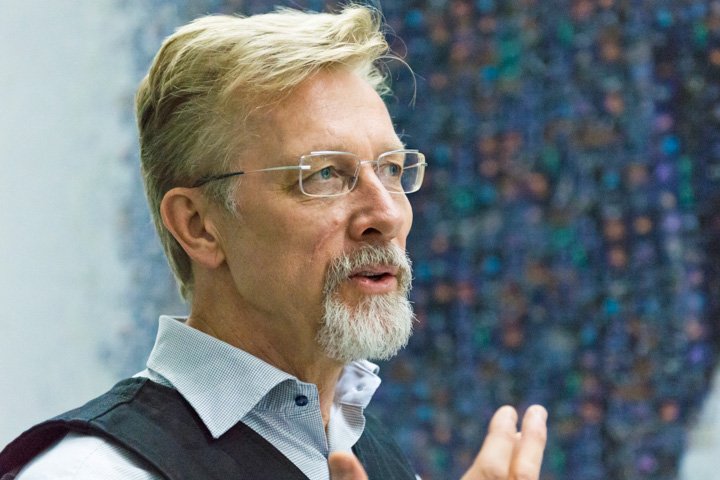 The at-times controversial car designer Chris Bangle has resurfaced with a fresh new automotive project. Rachel Burgess asks what else he's been up to
Infamous car designer Chris Bangle, known for models such as the divisive fourth-generation BMW 7 Series and the more widely regarded Fiat Coupé, has been off our radar since leaving BMW in 2009. That is until now. Bangle has reappeared with a very different project to all that have come before: a wacky Chinese city car concept called Redspace, which intends to reimagine the idea of space in the car.
Revealed at the LA motor show in November, the car, which Bangle and his team have been working on since 2014, is likely to make production by 2020. Bangle is optimistic that its design will change little, although he acknowledges that cost could be a hindrance.
So why did Bangle leave BMW? "I decided I had to leave BMW after 15 years – in the end it was 17. Not because I didn't like BMW but because if I stayed, I knew I was going to change and it was not going to be pretty. Many car design chiefs I've known, they all end their careers badly. People get bitter, they hang on tooth and nail to keep control of their creativity."
I want to help car design move forward. I want it to get out of its preconceived ideas
And so Bangle hatched a plan to set up his own design consultancy in Italy. BMW did ask that he didn't design cars for a couple of years, and Bangle was happy to oblige.
"For me, car design has very little to do with four wheels," he says.
One of his first projects was overhauling a nursing home in Hiroshima, after its boss happened upon Bangle's Italian studio. "A huge amount of car design thinking was in that project," he says. "The place is booked out." The unexpected projects don't stop there. Bangle has designed packaging for Hennessy VSOP, saying the design had to be sympathetic to the cognac brand's status as "an untouchable icon". He likened it to Mini's successful relaunch, in which he was involved. The cognac project worked: "Hennessy love it. It's one of its most lucrative offerings." There have been superyachts too, even spaceships – the latter done "in full scale".
A curious, ongoing project is a cartoon brand called Arky Arch, complete with website and podcast. Its intention is educational, sharing the creative process of cartoons, encouraging creativity in children and showcasing a positive side to the internet.
Bangle's consultancy team is now eight-strong, although he will take more people on relevant to specific projects, including ex-BMW designers and engineers.
It's hard to pin down Bangle's view of his best work: "The further away you get from being the physical creator of it and more the manager, the more you're proud of your team. For example, the Z4 to me was spectacular because it was the first time we had two women [Juliane Blasi and Nadya Arnaout] doing a major sports car for a major production house. I don't think anyone else has done that in the past 30 years.
"The last car I actually penned was the Fiat Coupé, which I really like. The more I see it, the more I like it!"
And what of his latest project, the Redspace? "I am super-proud of this car," he says. "This is a big deal to me that we were able to do something which is new to car design."
The project will remain key to Bangle until it goes into production, but what else does he want to achieve? There are plenty of potential projects Bangle won't divulge but, speaking more broadly, he reveals more of his altruistic side. "I want to help car design move forward," he says. "I want it to get out of its preconceived ideas of what it is
and what it can be.
"Right now, we are at a crossroads [with design] which is going the wrong way. Designers have helped convince the world you will prefer things made by machines rather than people; you will prefer perfection over character. That unfortunately is disenfranchising a huge amount of this planet's population."
BANGLE'S BENCHES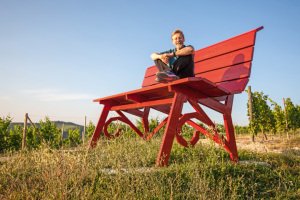 According to Bangle himself, his biggest achievement is his Big Benches project. "You may know me as a car designer but, where I live, I'm the bench guy," he says. What started as a desire to have a 2.5m by 3m bench for him and his wife to enjoy is now a non-profit organisation called the Big Bench Community Project.
Bangle gives the patented plans away for free so long as the benches adhere to strict criteria. For example, it has to be set up where it won't upset anyone and in a place where people want to go. There are now 44 Big Benches in Italy and New Zealand and there have been enquiries from the UK, Germany and the US. He says: "In front of our house on a good weekend I'll have 200 cars parked for people to sit on a bench. I'm so proud of it. The key rule is no public money, only private donations or volunteers. That's not typical in Italy. This is a private-funded concept for the public. This is wonderfully effective."