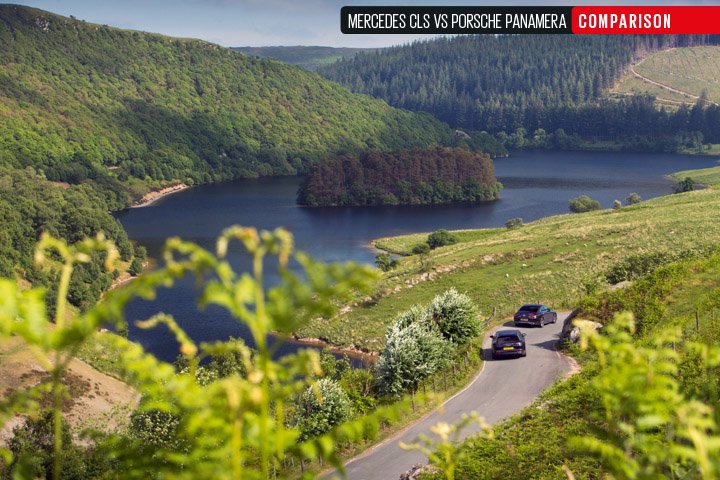 Which of Porsche and Mercedes' bludgeoning electrified luxury cars can deliver the knockout punch? Richard Lane commentates
Displacement-defying frugality? Given Mercedes-Benz is, as you digest these words, amid the ordeal of recalling nearly a quarter of a million cars by order of the German government, you might be surprised to learn we're not talking about electronic 'defeat devices' here. What we're actually contemplating is less nefarious. That's because with the CLS 450, its integrated starter-generator betwixt straight-six engine and nine-speed gearbox is said to improve not only performance but also economy. It's a defeat device, all right, but only if your foes are lethargic throttle response and redundant combustion at a cruise.
In one form or another, such 48V mild hybrid systems are destined to become commonplace in the near future. Mercedes' EQ Boost set-up is relatively new to the brand, having only seen action in the S-Class prior to this third-generation CLS. In the 450 driven here, it feeds an additional 184lb ft into the driveline under hard acceleration, then allows for engine-off 'coasting' when you come out of the throttle at a canter. This particular approach is designed to make the car more versatile as a whole, although manufacturers get to pick their battles. In the SQ7, for instance, Audi deploys a 48V system specifically to drive a compact electric supercharger that mitigates turbo lag. Bentley needs the extra voltage to actuate a pair of active anti-roll bars in the Bentayga SUV – useful when you have 2.4 tonnes to manage. Meanwhile, Volkswagen, Peugeot, Volvo et al see the technology as a quick, affordable, reliable fix in making petrol an attractive mass-market alternative to ostracised diesel. Every car thus outfitted is also able to power more general features such as the air conditioning and complex safety systems more efficiently than is possible with lower-voltage systems, leaving a greater proportion of the engine's exertions free to fling you down the road. Understandable, then, that a fifth of new cars sold globally are predicted to make use of the technology within the next six or seven years.
The Panamera seems hewn from granite in a manner akin to the Elan's Victorian bridges
We're loping west for a rendezvous in the Elan Valley with a Porsche – one that, as we'll discover, makes much more of a virtue of its hybrid status than the Merc but is a similarly niche offering. The 240-mile route is protracted enough to unearth vexations in a car that should never vex, and encompasses motorway drudgery, fast A-roads and even some rural rat-runs that'd probably pass for 'green-laning' among residents of certain postcodes in London. Today, we have an opportunity to examine everything a sleek, luxuriously sporting four-door saloon – the sort that dons not only a smoking jacket but also running spikes – should have in its £60,000-plus locker.     
How, then, does mild hybridisation manifest in the Mercedes CLS 450 4Matic AMG Line? In unremarkable fashion, frankly, which is of course the intention. Were it not for a small 'Power/charge' gauge in one of the digital displays – impressive in their scope but not for the subtlety of their integration into a dashboard largely lifted from the E-Class – you might remain wholly unaware of this car's hybrid status for, well, ever. A straightforward geometric extension of the firm's four-cylinder engine it may be, but this 3.0-litre six is a supremely balanced device and sensationally quiet. As a consequence, there's precious little by way of a sensory cue as the engine flicks in and out of dormancy while cruising along in the outside lane of the M4. The flip side is that this leaves you free to contemplate a ride that on 19in wheels is much improved over CLS models we've previously tested – ones touting 20-inchers – but still isn't as good as you'd expect. This AMG Line car breathes with the topography well enough despite a 15mm drop for its traditional steel-sprung suspension, but variations in the quality of the road surface intrude. There's a fidget, a slight jostle and though it's delicate enough to be put to the back of one's mind, it's hardly a trivial matter at this esteemed end of the market. An E-Class doesn't do this, and neither does an Audi A6, but an A7 Sportback – the only true rival for the CLS – absolutely does. It seems beyond the wit of the manufacturers to safeguard ride quality when the car's roofline gets a bit racy.
The interior is handsome, mind. Moreover, while there isn't quite the same impression that you wouldn't know even where to start pulling it apart (as you don't in an A7 Sportback), it's sturdier than we've become accustomed to from Mercedes. It's also flamboyant. The slightly perched seats are bespoke for the CLS and mimicked in the back, which now has a central berth for the first time; grainy wooden trim encircles the cockpit in a manner that, along with the generous transmission tunnel, puts me in mind of the 550 Maranello; and the vents do a light show corresponding to the air temperature they're vending. Along with privacy glass and the metallic paint, this car has but two options: the £3895 Premium Plus and £1695 Driving Assistance Plus packages. The former includes the top-spec Comand Online infotainment, a 590-watt Burmester sound system, keyless go, a sunroof and Mercedes' 360-degree camera, which is useful for a car longer, wider and taller than the one it replaces. The latter equips the CLS with a gamut of safety technology, some it useful (active blind-spot assist), some of it not (active lane-keeping assist, essential for half an NCAP star…). Should it be thrown in for 'free' at this level? You might think so.
Our ride-related concerns notwithstanding, by the time those wide-spaced headlights are steering onto the meandering smoothness of the A479, the CLS has done precious little to discredit itself as a strident family grand tourer. Leading north-west from Crickhowell and into the startling green of Wales proper, it's on this road that the Mercedes then cements itself as a worthy all-rounder. It goes unnoticed on the motorway but 362bhp and, more tangibly, 369lb ft from only 1600rpm is enough to give a two-tonne exec a slap-bang turn of real-world pace. This engine will spin to the 6250rpm redline, too, though you'll find yourself inhabiting its torque-rich mid-range because that's how a CLS 450 likes to be driven. The steering is well weighted and predictably geared (no guarantees of that on full-fat AMG models), allowing you to place a big car with satisfying ease. The predominant sensation is satisfaction rather than delight, the dynamic complexion being one of competence rather than exuberance. Driven within itself, this chassis is poised and wants nought for traction. Up the ante and a front axle languid in its response, coupled with no small amount of suspension float, tells you all you need to know.
There's the sense that, just maybe, Porsche has bitten off more than it can chew
In shooting-brake Sport Turismo form, the Panamera 4 E-Hybrid awaiting the CLS seems hewn from granite in a manner akin to the Elan's Victorian bridges. The Mercedes is dainty by comparison and it's a similar story on the spec sheet. Both cars use electric and combustive force to drive all four wheels through their gearboxes, though in the Porsche a 2.9-litre twin-turbo V6 and electric motor combine to deliver 456bhp and 516lb ft. We know the Panamera has a terrific, communicative chassis too, so it's no contest, surely?
Not at first it isn't. After the CLS, slumping into the Panamera's low-slung seats feels like slipping into a suit of armour. The steering rim is slim, firm and rotates with meaningful resistance and crisp response. The instrumentation – digital, save for the central tachometer – is slick, even if the glass touchscreen does show up fingerprints. The cliff-face dash and high scuttle instil something of a fortress mentality and when you step off the mark, you do so in near silence as the drivetrain defaults to electric mode. The Sport Turismo is a likeably offbeat beast, its black form resting close to the road on adaptive air suspension and decked out with little fluoro-green details.
When the Birmingham Corporation Water Department constructed these reservoirs, you can bet they didn't reckon on anything this wide using the bridges. The Panamera seems to expand into any available road space on offer, and even on A-roads it's not uncommon to see a puff of dust kicked up by a gutter-grazing rear tyre. It's a 2.2-tonne kerb weight that does for the camel's back in the end, though. There are several modes for powertrain and suspension, and when the V6 wakes up, it does with charming belligerence, but there's no escaping the sense that, just maybe, Porsche has bitten off more than it can chew with this car. What 30 or so miles of pure electric range adds in terms of economy and, in truth, novelty is to the detriment of its dynamism from the surplus bulk and boosted spring rates.
It's clear neither of these cars is without notable fault. The Panamera has tremendous breadth – such that perhaps only Porsche could deliver – and doesn't let hybrid blubber prevent its attempts to appeal to drivers. That appeal is sullied a touch, however, because the physics-defying panache the Panamera summons along a stretch that's quick, broad, smooth and predictable enough to play to its strengths is simply too intermittent. The rest of the time, you're left with an overtly firm car that struggles to take a resolute stance through corners. Turn-in must be instigated just so, and the upper-body workout can become draining, though it remains comfortably the superior driver's car.
But the better car to live with? Not this time, because the Mercedes is just happier in its taut but comparatively ordinary skin. It's also the more economical car and easier to guide along British roads. If its suspension could only conduct itself as fluently as its crankshaft, it would be the comfortable victor. As it stands, it scrapes the win, though both Stuttgart and Weissach have room for improvement in the electrified luxury car game. A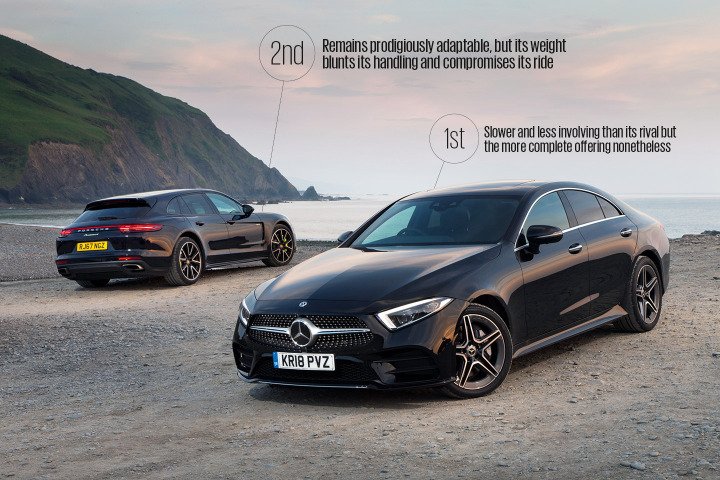 PHOTOGRAPHY Luc Lacey
FOUR-DOOR COUPÉS ON A BUDGET
Can't stretch to either of our glam new cars? Here are some used alternatives that are rather more affordable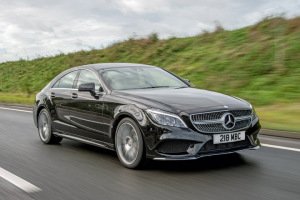 MERCEDES CLS
Prices for our test car's predecessor start at £11k — barely believable given the glamorous looks and boutique hotel interior. Even a sound 350 CDI with thumping V6 diesel, low mileage and full history can be had for £14k.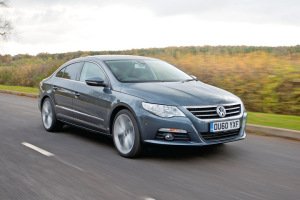 VOLKSWAGEN PASSAT CC
These early CCs are more than just a melted Passat. Adaptive suspension guarantees a comfy ride and, of course, you get a top-quality interior with loads of toys. Yours for just five grand with respectable mileage and history.
BMW 6 SERIES GRAN COUPÉ
If you don't fancy an oil-burner, the big Six is the one to have. Mind you, the diesels are pretty good too, so you can't go wrong. Bag a 640i with history and an average mileage for £22k, or a 640d for a smidge less.