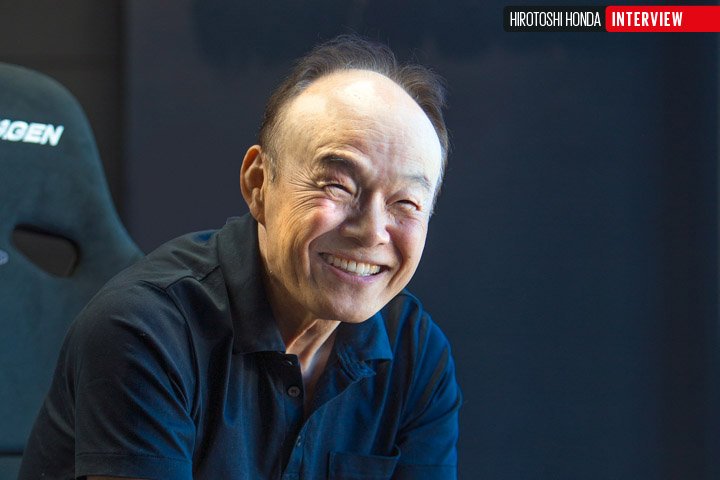 Rather than remain in the firm established by his famous father, Hirotoshi Honda decided to go it alone. Steve Cropley meets a man who loves doing things differently
Hirotoshi Honda is half an hour late. We're supposed to meet at the UK headquarters of the Mugen Motorsports engineering company he founded in Japan more than 40 years ago, but he's nowhere to be seen. Mugen's UK HQ, where we wait, is a large, high-fenced industrial unit in the back-blocks of Milton Keynes, just across the road from a bigger unit wearing Honda signage, which seems the correct order of things. I have just been reading that Honda-san has been the biggest shareholder in the mighty Honda Motor Company since his father, Soichiro, died in 1991.
He's usually very punctual, his staff say. On the other hand, we're only a couple of days beyond the week-long TT motorbike racing programme on the Isle of Man, where Mugen's Shinden battery-powered bikes have won again. It's possible Honda has taken a diversion to visit his friend John McGuinness, the injured motorbike racing legend everyone hoped would be able to ride the electric bike at the TT year.
As things turned out McGuinness couldn't make the grid but another Mugen factory rider still managed to set a new course record at an average speed of 121.824mph, which is amazing when you consider that when they started six years ago, the bikes couldn't crack 100mph. These things I learn while we wait. Mr Honda arrives with smiles and apologies (there has been a simple diary mix-up) and we settle down to talk.
I was brought up not to expect a place in my father's company
Honda is the son of the legendary Soichiro, who founded the Honda car and motorcycle empire back in 1948 by building low-powered motorbikes for himself and neighbours. Despite the largest shareholder status, he is nothing like your usual heir to a global engineering dynasty. He has never worked directly for Honda, and started Mugen (in Japanese it means 'unlimited') in his late 20s with the specific wish of being independent of his father's company. The only Honda products he owns are a lawn mower and a monkey bike; he drives around Tokyo in a BMW i3 and eschews all efforts to bring him into Honda corporate life. "I don't think about my position," he says. "I just don't care about it.
"I was brought up not to expect a place in my father's company when I was young," says Honda. "He had seen other sons become big failures in their family's businesses and didn't want that to happen to us. This was lucky, because I didn't want to join the company anyway. I wanted to travel, and I did. My father had followed his own dream and he taught me about freedom."
Hirotoshi acquired an enthusiasm for cars, motorbikes and especially racing almost from birth, but he had a restless youth, rebelling against his father's wishes "nearly every day" and wandering the world in search of car-based inspiration. A special love of Italian design took him to Italy where he visited Pininfarina, Bertone and Giugiaro in their pomp, and met Enzo Ferrari. He still managed to graduate from university despite the considerable distraction of building a Honda S800-powered sports car of his own design at the same time.
Mugen officially opened its doors in 1973 to make special parts for motocross bikes, but as Honda's car activities expanded, so did Mugen's, albeit on a deliberately much smaller and frequently experimental scale. Yet the relationship is close: Mugen has made and sold body and engine parts for every Honda Civic ever built.
Yet as vociferously as ever, Honda – who at 76 looks eerily like photographs of his father at the same age – insists that this is an independent racing company that has some road-going car and bike activities. Think of it like AMG or Alpina in their early days. He has extensive GT, single-seater and Formula 1 experience – plus the bikes – to back the claim, and these days his Milton Keynes place (staffed with around a dozen British and Japanese people) is a staging post for Honda's F1 engines, and features an impressive bank of dynamometer cells used for all kinds of Honda engine development. When we visited, they were testing a bike engine so secret it couldn't be viewed even by our non-technical eyes.
Honda also intends to buck the trend by keeping Mugen Motorsports small. He has always admired small companies, he says, especially those with command of very special technology, citing UK race tech companies as examples.
"They may have small workforces, but their people think big and act fast," he says. "Many people insist big is best. I believe they're wrong about that. If you want to stay efficient, don't grow. Monsters die…"  A
PHOTOGRAPHY Stan Papior
HONDA ON ELECTRIFICATION
Why is Hirotoshi Honda so dedicated to electrification? He believes his interest began with an interest in science fiction and a love of "new things".
Then he went to the Isle of Man TT, the scene of some of his father's greatest achievements, and was shocked: "I thought 'why haven't I seen this before?'. I was keen to be involved. There were two ways to challenge the future, through internal combustion engines or electric motors. That's when I made my choice.
"As for electric cars, I am convinced the revolution is coming. Every sensible mobility solution seems to have the electric motor at its centre. At present, we're a bit like the branches of a tree looking for solutions in many directions. But in 10 years, maybe less, everyone will be going in the
same direction.
"Power generation [to produce the electricity that charges the batteries] is still the big thing, of course. Like many in Japan, I hate nuclear powerplants. But even so, the electric revolution is coming."