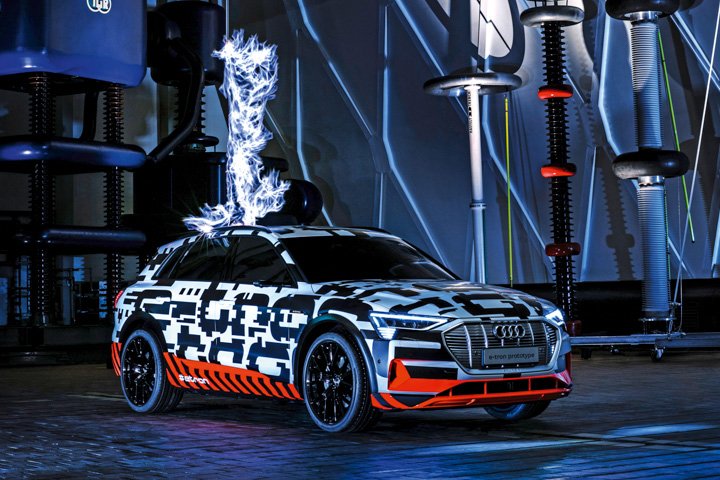 Audi has revealed the battery and charging tech it believes will set new EV apart
Audi has sparked its e-tron all-electric SUV into life by revealing further technical details about its battery and charging system ahead of its launch in August.
The e-tron was electrified last week at a Siemens engineering centre in Berlin, where a dramatic 500,000 volt spark was discharged from an 'impulse generator' – a piece of lab equipment more normally used to test heavy-duty electrical switchgear.
Audi stressed that the two-second high-voltage impulse of electrical energy was not part of a standard testing programme, more a symbolic stunt to demonstrate its first long-range battery electric vehicle jumping into life.
More significantly, Audi confirmed for production a two-motor layout – one per axle – and a departure from the concept's two-rear, one-front motor set-up.
The production battery will be 95kWh, using pouch-type cells supplied either by LG Chem or Samsung.
Audi claims the e-tron will be "the first car on the market that can charge at up to 150kW". Tesla superchargers are rated at 145kW, and a maximum of 120kW per car at a two-berth charger.
The 150kW figure is half of what Audi announced in 2015 at the launch of the e-tron concept. However, charging at 800V/300kW is a future development, said the firm.
JULIAN RENDELL