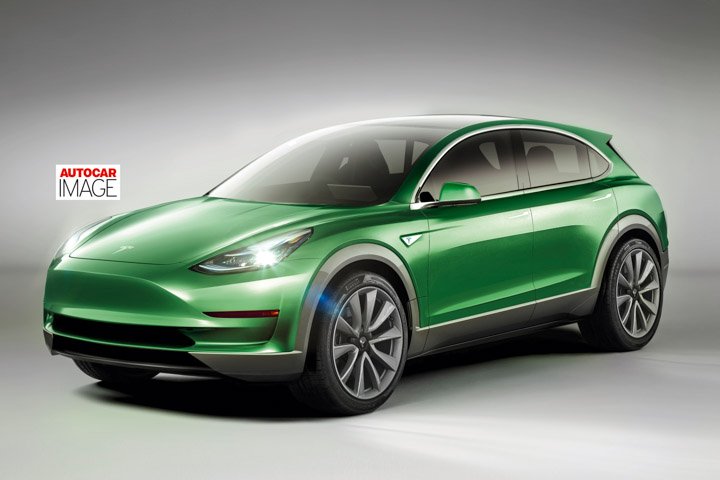 Crossover will take the fight to the Jag I-Pace and Audi E-tron with radical new tech 
Tesla's upcoming Model Y crossover could be the company's most important model yet, finally propelling it into a long-promised self-sustainable future, according to the latest information from the supply industry and hints from company boss Elon Musk.
Although the Model Y is set to be based on the structure that underpins the existing Model 3 saloon, the fourth vehicle in Tesla's range will be produced in a radically different way to its predecessors.   
Autocar understands that the Model Y could be built outside the US, is likely to feature a new electrical architecture and will be more thoroughly resolved from a manufacturing perspective. Perhaps most importantly, though, it will compete in a much bigger market segment than the troubled Model 3. Industry experts believe the demand for pure-electric crossovers will explode
in the coming years. TheModel Y will fight for market share against the likes of the Jaguar I-Pace and Audi E-tron (see separate story, below.
The announcement of a 2020 launch for the Model Y came in early May during an earnings call with analysts, during which Musk came under fire for an eccentric performance. The company CEO's insistence that the Model Y was only "24 months" away from launch exasperated some who felt Tesla should be concentrating on getting production of the Model 3 back on track. There was also bafflement about the prospect of adding a new model because, as Musk himself said, Tesla's Fremont factory is already "jam-packed".
However, a solution could be found in China. On 10 May, Tesla registered a new company called Tesla (Shanghai) Co Ltd, which is intended to deal in EVs, batteries and spares. The move comes after the Chinese government recently announced that it will phase out the rules that require foreign car makers to forge 50:50 manufacturing partnerships with local companies. Tesla had been trying to get permission to build a factory in Shanghai without a Chinese partnership, but had failed to convince the Chinese authorities.
The ownership restrictions will be lifted first on electric cars, a move scheduled to happen later this year. Tesla currently sells cars into the booming Chinese EV market but suffers a 25% import tax.
Also on 10 May, Tesla's battery partner Panasonic unexpectedly revealed that it was poised to build battery packs with the car maker in China as well as in the US, although these plans were later said to be "not set in concrete". Analysts say Tesla and Panasonic are both in tight financial situations and significant investments will have to be weighed carefully, which might explain why any formal announcement of a Chinese factory is scheduled for the end of the year.
It seems that Tesla is already working on leap-frogging the Model 3 technically and getting the Model Y ready for May 2020. Executing a 24-month launch plan would be easier in China than in the US and Tesla would also be manufacturing in the country that buys 50% of all EVs made.
Although it will be based on the Model 3's steel and aluminium hybrid structure, Musk said the Model Y will use new 'Flex circuit' technology. Flex circuits replace enormous lengths of conventional cable with extremely thin conductive elements sandwiched between flexible plastic mouldings. This technology will be used on the Model Y to dramatically reduce the amount of wiring in the car. While the Model 3 is said to have 1.5km of wiring, the Model Y's new flex circuits could reduce that to just 100m.
Its also highly likely that the production line for the Model Y will be different to that for the Model 3. While the flex circuits will allow greater automation by eliminating the extremely complex (and heavy) wiring looms from the production line, Tesla will remove other automated processes.
Musk recently said that the Model 3 line is over-automated and major changes are being made at Fremont to relieve 'robotic bottlenecks'.
HILTON HOLLOWAY
CARS TO BEAT