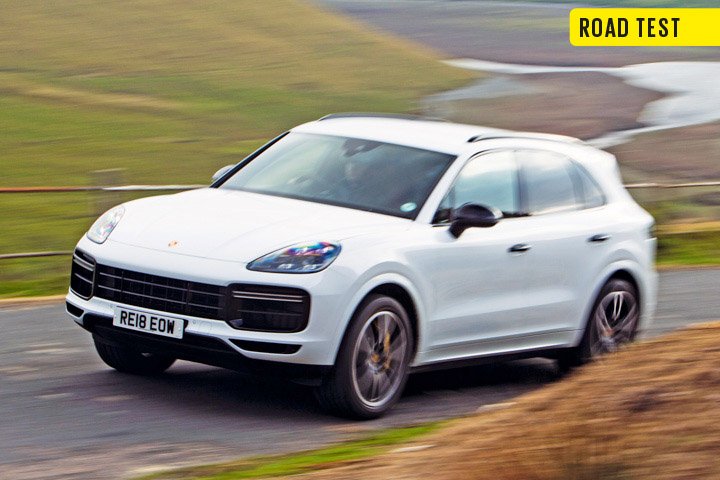 The need for a hot SUV to stand out has never been greater. Is the new Turbo up to it?
MODEL TESTED TURBO
Price £99,291 • Power 542bhp • Torque 568lb ft •0-60mph 3.9sec • 30-70mph in fourth 5.9sec
• Fuel economy 20.7mpg • CO2 emissions 267g/km • 70-0mph 44.5m •
WE LIKE
Volcanic straight-line performance • Tidy, well-appointed interior • Impeccable ride quality
WE DON'T LIKE
Not as dynamically outstanding as its forebears  • Muted V8 soundtrack • Still not a looker
The automotive landscape into which the third-generation Porsche Cayenne Turbo is now emerging is very different from the one into which the 2003 original exploded, like a lump hammer bludgeoning its way through a plasterboard wall. Today, the idea of a 542bhp luxury SUV ready to handle like a super-saloon at one moment, before disappearing off the beaten track and over the mud the next, isn't that hard to contemplate. Several brands offer one. In 2003, however, there was nothing in the world quite like this car. And although some still don't like to admit as much, there were very few more powerful tributes to the growing engineering might of the company that made it.
So now that we're all accustomed to the idea of two-tonne luxury SUVs with this much performance purpose, and the market for them is established beyond any doubt, what next for the car that started it all? Can the Cayenne ever reproduce the incredible impact it had back then? Can the suspension and powertrain technology available to today's car makers allow a company like Porsche to push the hot Cayenne's physics-goading handling envelope even further without compromising the comfort and convenience we all expect of a luxury SUV?
It sheds speed almost as impressively as it piles it on
Or might it in fact be time to retune, rethink and reposition the Cayenne Turbo's character and role a little bit? To allow it to mature with its customers, perhaps, and move towards the notional centre ground of the super-SUV class it coined but remained on the margins of judged purely on fieriness of dynamic temperament, perhaps.
Now's the time to find out. After something of an unexplained hiatus in production, the earliest right-hand-drive examples of the new Cayenne Turbo are now in the UK and you're about to find out, in the usual gory detail, exactly how fast, fiery and fine-handling they are.
If you're not growing tired of reading about luxury SUVs based on the Cayenne's MLB-Evo Volkswagen Group platform, you probably haven't been paying enough attention to the pages of Autocar recently. We can only apologise for the monotony. The third-generation Cayenne does at least provide a bit of respite by becoming the first SUV of its particular family to adopt the short-wheelbase version of that platform. As such, it's 100mm shorter between the axles than an Audi Q7 and Q8 and a Bentley Bentayga (shorter still than a Lamborghini Urus). Among its immediate relations, only the Urus has a lower roofline and, at manufacturer's claimed kerb weight figures at least, only the Urus is lighter. Our test car tipped the scales at 2307kg full of fuel and with plenty of options on board, making Porsche's 2250kg kerb weight claim entirely believable.
The car is constructed out of a body-in-white made chiefly of aluminium, with more of the stuff accounting for its bonnet, tailgate, doors, roof and front wings. It sits on aluminium-rich multi-link suspension configurations at both axles, the Turbo using wider axle tracks than its sibling models. And whereas lesser Cayennes get steel coil suspension and passive dampers as standard and three-chamber height-adjustable air suspension and PASM adaptive dampers as an option, the Turbo gets the trick air springs as standard. It also gets 21in alloy wheels and new 'surface-coated' steel brakes (dubbed PSCB by Porsche) as standard, the brakes getting a coating of tungsten carbide to improve stopping power and fade resistance and to reduce of wear. However, our test car had optional PCCB carbon-ceramic brakes instead of the standard PSCB stoppers.
That is, of course, just the jumping-off point for the mechanical suspension configuration of the car because you can add a torque-vectoring eDiff for the rear axle, active anti-roll bars and active four-wheel steering, all at extra cost; and our test car had all of those apart from active four-wheel steering.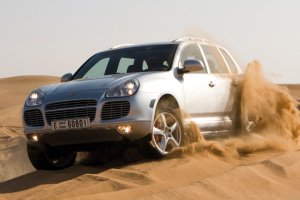 Powering the Cayenne Turbo is the same 3996cc V8, complete with twin turbochargers mounted inboard of the cylinder banks, that powers the Bentayga V8. The 542bhp and 568lb ft it produces are improvements on the vitals of the last Cayenne Turbo. Although they're a way down on what you can get in terms of power and torque from this car's key rivals from BMW's M division, Mercedes-AMG and even Land Rover Special Vehicle Operations, we must consider that Porsche is leaving room for both a forthcoming Turbo S and a Turbo S E-Hybrid to slot in above this in the months and years to come, so the deficiency is nothing for Cayenne diehards to get too despondent about.
Power is channelled to the road via an eight-speed ZF gearbox and a clutch-based four-wheel-drive system that is apparently capable of sending more torque rearwards than the Torsen centre differential fitted to several of the car's platform relations can – and also of doing it more quickly into the bargain.
The Cayenne executes the same trick as the Panamera saloon, and that is to feel comfortingly analogue while operating at the bleeding edge of in-car technology.
The SUV's instrument binnacle stubbornly retains a physical tachometer front and centre but it's now flanked by superbly crisp variable digital readouts, and the central touchscreen is integrated slickly into a slim dashboard (although the optional carbonfibre inserts do absolutely nothing for it). Look down and you'll notice that where in the second-generation model there was plastic switchgear, there are now glass-fronted buttons that sit flush within a panel atop the transmission tunnel.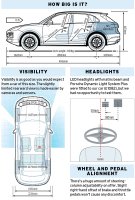 At the same time, the Cayenne retains its triangular grab handles for off-road rough and tumble, superb driving ergonomics and a sense of solidity underpinned by an understated interior architecture. This is a cosseting and spacious cabin, not to mention a quiet one – our test car suffered less from tyre roar and wind noise at a cruise than a Q7 3.0 TDI – in which to while away miles, and we particularly like the grey Alcantara roof lining, which is standard on the Turbo.
Also standard are Porsche's 18-way adjustable sport seats, which are more generally supportive than they look and just as adaptable to a range of body types as their name suggests, and seat heaters for those in the front and the rear. Meanwhile, head room aross the second row remains generous, not least because Porsche has lowered the seating position to compensate for a more athletic roofline, although leg room is merely adequate for a car of this size. The boot of the Turbo is a touch less capacious than those of lesser Cayenne models but, at 741 litres with the seats up, somehow still offers a significant improvement in volume over the previous model's.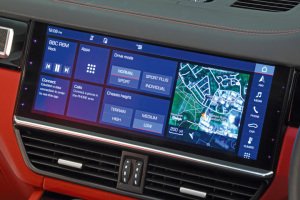 So seamlessly is the Cayenne's 12.3in touchscreen display assimilated into the dashboard that you might not initially appreciate its vast dimensions. This is the latest iteration of the Porsche Communication Management system and it's set up to operate much like a smartphone, with app widgets pertaining to media and navigation, various operating parameters for the car and performance collated on a customisable homepage. The graphics are terrifically sharp and there's barely any latency following commands, although some icons are quite small for on-the-move use.
As for smartphone connectivity, only Apple CarPlay is offered, but taking and making calls and choosing music can be achieved easily enough using the standard Bluetooth connection. There are also two USB ports in the centre console compartment, with two more located in the rear.
The Turbo also gets a 710W 14-speaker Bose surround-sound system that's a marked improvement over the standard 150W set-up.
It's a measure of how potent this SUV feels from behind its thin-rimmed wheel that our first thought was to dig out the road test figures recorded for the latest BMW M5. Unsurprisingly, there's daylight between the two, the Porsche setting a 0-100mph time of 9.3sec versus a blistering 7.5sec for its super-saloon compatriot and a fourth-gear 30-70mph time of 5.9sec versus 4.0sec, but when you're marshalling 2307kg and sitting so far above the road, the larger car's rapidity is nevertheless startling. A fairer comparison can be made with the Range Rover Sport SVR, which in 542bhp pre-facelift guise (an identical output to this Cayenne Turbo) could manage 'only' a 0-100mph time of 10.3sec with 30-70mph in fourth dispatched in 6.4sec. Our only real criticism is that the Porsche wins the pace race with so much less in the way of pomp and aural excitement than the supercharged Brit.
The abrupt manner in which that speed is shed is almost as impressive as the way the Cayenne piles it on in the first place. Carbon-ceramic front brake discs of 415mm, gripped by no fewer than 10 pistons at the front axle, helped to bring the car from 70mph to a standstill in 44.5m – a car length sooner than its Range Rover Sport SVR rival – and with minimal nose dive. Indeed, it is the Cayenne's stability and predictable nature under even the very heaviest braking that allow you to exploit
the performance of the engine without hesitation.
For the most part, ZF's eight-speed transmission is almost imperceptibly fluent and better resolved to the car's character than a dual-clutch set-up could ever be. Several testers nevertheless commented on the powertrain's conspicuously languid response and conservative gear selection at suburban speeds when left in its default Normal mode. As such, you need to be ready to squeeze the left-hand gearshift paddles to pull into a gap in traffic, for example. As part of the Sport Chrono package, there are three modes: Normal, Sport and Sport Plus. A Sport Response button also primes the powertrain for hair-trigger reactions for up to 20sec, although with so little in the way of turbo lag at higher engine speeds, it's hardly required.   
Adding to the Cayenne Turbo's impeccable long-distance credentials is a touring economy of 31.5mpg, which is very acceptable for a 2.2-tonne SUV with a twin-turbo 4.0-litre V8. Together with a 90-litre fuel tank and aided by the car's ability to decouple the engine and transmission for periods of off-throttle coasting, that allows a touring range of almost 625 miles.
As impressive as the Cayenne Turbo's straight-line performance figures are, the manner in which it manages to mask its immense size and weight through the corners is equally as admirable.
There are three primary contributing factors to this ability: the steadfast lateral body control provided by the chassis and trick air suspension, an ESP system that's seemingly far happier to work with you than against you, and the ability of its four-wheel-drive system and Pirelli P Zero tyres to enable the Cayenne to cling to the surface of the road long after your brain tells you inertia should have seen you carry on in a straight line. That's not to say understeer has been entirely removed – you'll still find it if you purposefully look for it – but, for the most part, the Cayenne's is an impressively keen, precise and incisive front end.
However, for all of this third-generation model's dynamic ability, there is a lingering sense that it isn't quite as sharp or engaging as its predecessor; that the additional athleticism that car had over and above its immediate rivals has perhaps been pared back in this latest Cayenne.
Its steering, for instance, while still pleasingly weighted and direct, isn't quite as talkative or involving as it once was. And where that earlier car seemed quite happy to send a lump of torque to the rear axle to unsettle its back end on the way out of a bend, this Cayenne comes across as a more neutral machine.
The result is a Cayenne that's unquestionably still good to drive, but also one that seems to have sacrificed some of its inherent dynamism in favour of additional refinement and comfort. It's a more grown-up and luxurious product, then, but also one that is – dare we say it? – ever so slightly less of a Porsche.
Still, its primary ride quality is excellent. Undulations and pockmarked roads are generally ironed out when travelling at speed, although low-speed shudders aren't entirely absent.
As the current flagship of the Cayenne line-up (a Turbo S or S E-Hybrid aren't unlikely future propositions), the Turbo requires a suitably large financial commitment from potential new owners: £99,291, to be precise, or £1279.57 per month on contract hire.
And those sums come before options. Our test car included, among other features, Porsche Dynamic Chassis Control (£2315), PCCB (£4217), PTV Plus (£1052), black roof rails (£413) and a two-tone leather interior (£422). All up, the additional kit fitted to it cost an extra £15,269. Still, rivals have the ability to be just as expensive: a Range Rover Sport SVR starts at £101,145.
At least the Porsche should fare relatively well in terms of depreciation. Our experts predict that, after 36,000 miles and three years of ownership, the Cayenne will still be worth 60% of its original asking price. The Range Rover Sport is tipped to retain 55% of its value.