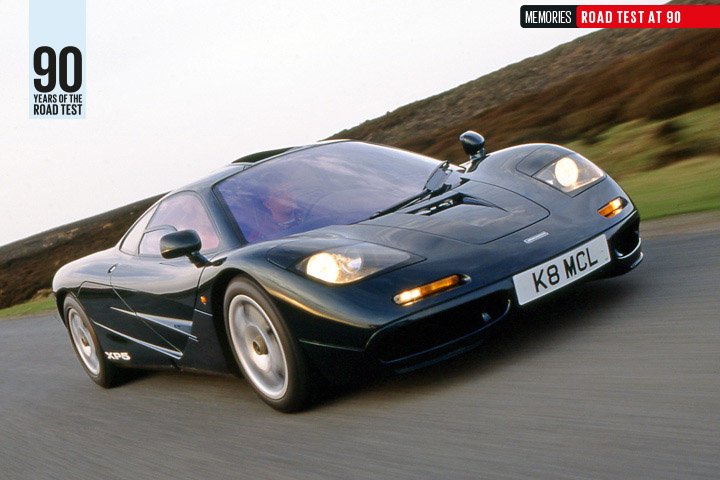 Autocar's early testers are unfortunately no longer with us, but some of the magazine's more recent alumni are here to share their memories
John Barker
"I was a bit surprised to find myself going backwards at 100mph. One moment I was steering the Nissan Maxima gently left onto the wet asphalt apron at the end of Millbrook's mile straight, the next I was fast reversing towards a steep grass bank, bracing for impact…
"An impact that was thankfully soft. I got right to the top of the 30ft bank, the wipers gave a flick, I breathed a sigh of relief – and then gravity asserted itself and we started back down on the wet grass. The Maxima nosed heavily into a French drain and was stuck but, incredibly, unscathed. The recovery truck driver said as much, before adding 'we found this on the driver's seat' and presenting me with a sizeable turd that was, in fact, part of the soil sample the Maxima's tailpipes had made on impact and chugged out on the way back down."
Chris Chilton
"Tyres tests were an Autocar regular in the early 2000s and as a junior road tester, I was tasked with taking a Transit full of fresh rubber to Michelin's Ladoux track in the middle of France in preparation.
"Naively/stupidly taking as read Chris Harris's dubious assertion that I'd easily be able to get there, dump the tyres and get back to Teddington in a day, I set off for France with no spare clothes, no hotel and, this being 2002, no smartphone to book one. By the time I'd arrived, the facility was closed and I spent the night driving back and forth between autoroute toll booths to stay warm.
"Years later as road test ed I made up for it, sending my rookie to deliver the rubber and then flogging the lot to a part-worn tyre dealer three weeks later."
I drove at 180mph on autobahns and zipped through France on N-roads
Gavin Conway
"It's May 1994. The McLaren F1 Autocar was testing sat before me, V12 ticking as it cooled on a remote Welsh road. At the time, road test supremo Andrew Frankel said the magazine would never run figures on a faster car (he hadn't anticipated the Bugatti Veyron). The F1's 627bhp magnificence could reach 100mph in 6.3sec and top out at 240mph, and 25 years ago it cost a staggering £627,000 (we also didn't anticipate that today you won't get change from £11 million if you want a good one).
"I hadn't been a road tester for much more than a year and I didn't really expect to be more than a passenger in the McLaren. So I was baffled when the half dozen or so road testers and snappers piled into the support van. The last of them, Autocar superhero Steve Cropley, walked over and handed me the keys to the F1: 'See you back at the hotel. And take your time.' Alone, with the keys to a McLaren F1 – I don't believe I've been so trusted since then. Thank you, Autocar."
Jamie Corstorphine
"In 2008, I was running a long-term Caterham 7 and, in search of a destination for a farewell journey, I ended up touring the Isle of Man. I was so impressed by the quality of the roads and hospitality of the locals that I returned with a pitch to base our annual Britain's Best Driver's Car contest there. The fact that the local officials had offered to close a road sealed the deal with the editor.
"It turns out that closing a road on the Isle of Man is as simple as completing a form, turning up at the transport depot to pick up a few cones and 'Diversion' signs and setting to work yourself. At the time, the whole thing felt somewhat unreal. Five of the year's best driver's cars and one spectacular mountain road all to ourselves. Even the rain held off.
"Until the next morning, that is, when a huge storm blew in, resulting in the single worst ferry journey I have experienced."
David Vivian
"Two enterprising guys – I forget their names – had travelled to Germany to buy an Amphi-Ranger, a sizeable, angular amphibious 4×4, with a view to marketing the vehicle in the UK. After taking delivery, they drove it back to Blighty. Thing is, when they came to the English Channel, they didn't stop, and spent the next 21 miles dodging ferries and cargo ships. How could we resist the offer of a spin to the Isle of Wight?
"A day that starts with a bump across a Portsmouth pavement and a sandy slither past open-mouthed beach dwellers towards the sea has a certain surreal promise, although the anxiety aroused by the sight of my hosts' legs dangling through the open sunroof and a brick on the accelerator to provide forward thrust was rivalled only by the urgent flashes of bilge pump warning light. No matter. We gatecrashed Cowes week, trundled across Ryde and eventually, back in the briny at low tide, got stuck on a Solent sand bank. At which point I opened the door, removed my shoes, leapt into six inches of water and walked to the nearest pub."
Andrew Frankel
"It's the launch of the original Ford Mondeo in 1993. For Autocar readers, the first group test was probably the story of the year and, as road test editor, it was my job to deliver it. Ford had hired the Byblos hotel in St Tropez, so we drove the rivals down for the showdown the next day. Then an American called Jack Daniels got involved, after which I remember nothing.
"The next day, I was so ill I'd pretend to take each car for a blast in the hills, only to drive out of sight, park and sleep for an hour. Then one of our number inverted the Primera, while another threw up three times on the way to the airport. Proud? No, and 25 years later I still cringe at the thought. But we got the test done and, most importantly, got the verdict right. That Mondeo was a landmark, so much so that not even the hangover from hell could disguise it."
Chris Harris
"June 1999. I flew into Stuttgart and took a taxi to Zuffenhausen – home of Porsche and a place I'd wanted to visit all my life. Just seeing the signs near the factory triggered spasms of joy, but the reason for my visit was almost too much to comprehend: to collect a new sports car called the GT3, a faster, more track-savvy version of the water-cooled 996. I signed the collection document and primed the map book to take me to Calais via every possible type of road. I drove at 180mph on autobahns and zipped through France on N-roads before landing in the UK, in the first GT3 ever to do so. I was 24 and thought – still think, in fact – that I had the best job in the world.
"These would go on to be the cars I would grow to love above all others. That was one of the happiest days of my life, because I was never happier than when I worked at Autocar. I still have that collection document."
Simon Hucknall
"There's a reason why Autocar uses one of the UK's two proving grounds for recording road test numbers: both have arrow-straight sections of at least one mile, allowing testers to pick off important 'accel' figures with ease, including the standing kilometre. But neither was free the day I had to run figures on the then new Maserati 4200 in 2002, so I headed for the Longcross test track instead. Longcross doesn't have a mile straight; in fact, the only straight section it has is barely a kilometre, ending in a banked 180deg bend. Overshoot and you're on the M3. The near-400bhp Maser was, Chris Harris assured me, a 'sub-24-second car' over that kilometre. At 125mph, I was two seconds shy of that target; at 130mph, I nearly spun braking so hard into the turn; and at 132mph/24.7sec, I received a 'reckless' warning from track control and had to call it a day. So, close, Mr Harris, but no cigar."
Matt Prior
"Sometimes, when we performance test extremely fast cars at MIRA, its maker will send a support crew, who diligently check pressures and temperatures and offer new tyres every few minutes. Occasionally, they even send a driver to advise how to get the best from the car. Once Ferrari sent 'Marc', who turned out to be Marc Gené (who was utterly charming and thought our wet handling circuit was hilarious).
"When Porsche said it would support the 918 Spyder test, then, we thought we knew what to expect – which wasn't one bloke in a 4×4 with some wheels in the back that stayed precisely where they were. His idea of checking the 918's tyres was to put a cigarette down for just long enough place a hand on a tyre to see how warm it was and shrug.
"Thus approved, the 918 went around our dry handling circuit a full second faster than a McLaren P1."
Matt Saunders
"Morgan's elegant 'Aero' series of flagship sports cars had escaped the full road test treatment until 2012, when Matt Prior and I took delivery of one of the factory's 'supersport' Aero Coupés at MIRA.
"We watched it roll off the delivery trailer. It looked lovely. We cracked on with our numbers – until halfway through our dry handling lap times when there was a nasty lurch, the engine cut out abruptly and the brake pedal went worryingly dead. Turns out an engine mounting had failed, and the wayward motor had snagged and tugged loose the car's brake lines while it was thrashing around. And so, contrary to our plans, it left MIRA the same way it had arrived.
"Three years later, I was figuring Radical's RXC500 Turbo when, at almost precisely the same point on MIRA's Dunlop circuit where the Morgan came to rest, the Radical's gearbox seized, ejecting me off across the damp grass, at speed, towards the tyres (which, pleasingly, I missed). It's not my favourite corner.
"You will recall reading neither test, because neither car completed the process, neither could be photographed and so neither appeared. That's the thing with low-volume British sports cars: you never quite know what's going to happen."