New images show next-gen Aston close to production form ahead of V8 launch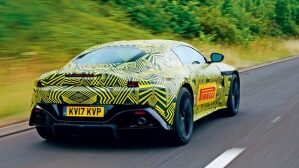 These are the first pictures of the new Aston Martin Vantage, which will officially be revealed by the end of the year.
The images are understood to closely resemble the final production car and show clear differences to the DB11: previously spotted Vantage mules have run underneath the body of a cut-up DB11.The baby Aston Martin is instead influenced by the DB10 – designed for the James Bond movie Spectre – and the Vulcan hypercar.
The new Vantage uses a new generation of aluminium architecture that is a shortened version of the DB11's. It is expected to be lighter and more torsionally rigid than its predecessor, improving agility.
The entry-level Aston will first arrive as a V8, adopting the Mercedes-AMG engine recently launched in the DB11. The 4.0-litre twin turbocharged V8 is expected to produce about 500bhp in the standard Vantage. The engine is supplied as part of a technical collaboration between Aston Martin and Mercedes-AMG and will use the former's software. That extra power over the existing 430bhp in the current V8 Vantage is set to help undercut the outgoing 0-62mph time of 4.8secs, edging closer to 4.0secs. The top speed will exceed 190mph.
Aston Martin is expected to offer the new Vantage with a choice of either a six-speed manual or dual-clutch automatic transmission.
Like the current Vantage, a V12 variant is also due, using the same 5.2-litre twin-turbocharged engine found in the V12 DB11.
Aston Martin boss Andy Palmer has already confirmed that the new Vantage will be shown by the end of 2017, while a V12 version will arrive at a later date. A hardcore AMR-branded track car is also likely to be on the agenda.
The V8 Vantage will cost slightly more than the current car's £94,995 starting price.
As part of a new model blitz, all of Aston Martin's key cars will be refreshed and joined by an all-new DBX SUV and Lagonda. The electric RapidE was also confirmed earlier this year as a limited-run model to enter production in 2019.
RACHEL BURGESS