TESTED 21.11.18, PORTUGAL ON SALE MARCH PRICE £32,000 (EST)
The Trophy version – sharper, faster and generally more hardcore – has usually been the Mégane RS to have. Is that the case with this new one?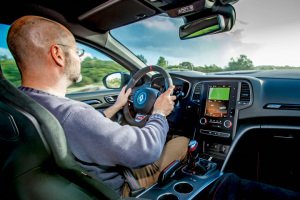 Is this soon? It feels soon. The Renault Mégane RS only arrived in the summer and yet here, already, is the Trophy version, generally the go-to variant of RS models for those who like their hot hatches flaming. And the truth is it would have come earlier still but for the backlog of models waiting to go through WLTP emissions testing.
New to the Mégane RS Trophy is more power, and you get stuff, some of which you can add as an option on the regular RS, and some of which you can't.
Output from the 1.8 turbo petrol is 296bhp, up 20bhp over the regular RS, and if you spec the dual-clutch gearbox, torque is up from 288lb ft to 310lb ft. Spec the standard six-speed manual and torque is limited to 295lb ft because that's all the 'box can handle.
I like driving the Trophy a lot and some people will like it more than all the rivals
Throttle response is said to be quicker either way on this 296bhp unit, though, owing to the adoption of a ceramic turbo bearing, while there's a freer-breathing exhaust, which has an active flap in it, which Renault says offers "two tones".  Is that madness or special? Anyway, with it shut it's "easy on the ears" and with it open "the full sporty potential can be expressed". So basically quiet or loud.
There are 19in wheels, whose design is inspired by the RS01 concept car (very cool, too), shod with Bridgestone Potenza 001 tyres, and the upcoming option of 007s as soon as they're homologated, which are better for dry use and on a circuit. You can spec a lighter wheel rim, which to me looks less cool but it does save 2kg per corner. All of this stuff is Trophy-specific.
Then you get the Cup chassis as standard, which is available as an option on the regular RS. That brings a series of nice round numbers – 25% stiffer dampers, 30% stiffer springs and 10% stiffer anti-roll bars – as well as a Torsen limited-slip differential and bi-material front brake discs, which are 1.8kg per corner lighter than the regular RS's.
To denote a Trophy, there's a bit of badging on the outside, but it's a pretty subtle transformation. Inside, there's the option of a new seat – an Alcantara-shod Recaro that sits you 20mm lower than normal.
The new seat is great, lending the Trophy a good driving position, if ultimately one that's less adjustable than a Volkswagen Golf GTI's. The interior feels solid and the Mégane, generally, feels a large car.
It's also a quick one. Throttle response is good for a heavily blown turbo. There's a degree of induction noise but most of the soundtrack comes from the exhaust's melodramatic pops and crackles on the overrun. The Trophy we tried was a six-speed manual, whose shift is notchier than you'd hope, but positive enough. We drove the Trophy on track and road in a car shod with the new 007 tyres; at first in the damp but it mostly dried out.
Because you can (and probably would) spec the Cup chassis on a standard RS, there is no great transformation here. The Trophy drives the same way, to my feel, as an RS with Cup settings. I guess with a direct back-to-back test through the same corner with the lighter wheels and 007 tyres compared with regular rims and 001s, you could spot minor changes in wheel control and steering feel, but it'd be of the kind that disappears with a bit of tyre wear or heat or pressure difference, leaving the inherent balance the same.
That balance, then, is good, and engaging, but still curious. There was a time when a Mégane would be the clear driver's choice over a Honda or Volkswagen or Hyundai, but that time isn't now.
The Mégane is arguably still the most agile of these, and almost certainly the most willing to engage the rear wheels in a corner, because it has adopted four-wheel steer to help do it. This electronically controlled assistance to the back wheels steers them in the opposite direction to the fronts at anything below 62mph, and more markedly if you choose Race on the drive mode selector than if you're in the Normal or Sport settings. Renault reckons Race might be a bit bitey, too aggressive, for the road.
There's no doubt that it's willing to go plenty sideways, plenty quickly, if you turn in to a corner on anything other than throttle. Lift and it'll tuck in; trail the brakes and it'll tuck in; just turn and it'll tuck in. The Mégane is as lairy as front-drivers currently get, and if you then get back on the power, it pulls itself straight again. There's a degree of torque steer – manageable but evident – and good steering feel, but the balance you experience is usually one of managing understeer or managing oversteer, rather than just playing with a hint of either.
In the old Renaultsport Mégane, especially in Trophy specification, you felt you were in charge of the most precise, scything, accurate hot hatch in the world. Now I don't think that's true. A Golf GTI is more passive, true, but it's very accurate. A Hyundai i30 N has, to me, a more pleasing and, crucially, more natural chassis balance, too, and I think a Honda Civic Type R feels more precise (if, to me, less exciting).
The Mégane feels like it's artificially helping you out, noticing you turning the wheel and deciding you want to turn loads, right now. I wonder if active rear steer is the automotive equivalent of 3D cinema: an unnecessary addenda, put on to increase the perceived drama and enthusiasm to something that didn't really need it in the first place. The only cars I've driven with it fitted that I didn't want to try without it were Rolls-Royces.
I think the Trophy is good on the road, mind. Body control is tight but ride comfort is relatively pliant, despite the increase in stiffness over the regular chassis, because there are hydraulic bump stops to round off the worst of things. Its cornering stance feels more natural on the road, too, with the drive mode and therefore rear steer's aggressiveness knocked back, although it's still towards the upper end of the agility scale. Unusually, though, on the customisable drive modes, I found myself doing the opposite to usual, and upping the steering weight and lowering the engine (therefore exhaust) shoutiness.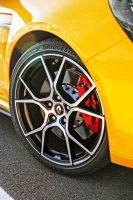 The Trophy is a fine hot hatchback, with a character and agility that in previous years would have been rewarding enough to make it the best car in the class. But with a feel of artificiality to the way it shifts its corner balance that, most notably, an i30 N feels entirely natural doing, the Mégane feels like it's trying too hard to please these days. Rivals seem to do fine without it and the truth is there are more of them and they're better than they've ever been, too.
The Trophy will come in at around £32,000, a £4000 increase over the standard car. That's pretty good value if you work out the cost of the optional kit – 19in wheels, the Cup chassis and bi-material brakes are £3350 alone – making the Trophy financially quite appealing, especially as it'll be the easier version to resell later. I like it. I like driving it a lot, and some people will like it more than all the rivals. But to me, it feels like a good and competitive hot hatch among many and not, as it once was, the obvious boss of them all.
MATT PRIOR
WHY THEY DON'T USE ADAPTIVE DAMPERS?
Hydraulic bump stops are the kind of kit fitted to rally or serious off-road competition cars. So it's a mark of how demanding Renault's development tests are that it has been using them for more than a decade on its hot hatchbacks as well.
The Mégane RS gets them front and rear. Mounted near the bottom of the struts, they come into play when the standard damper is nearing the end of its travel, softening the approach to the end of compression and preventing the suspension from crashing.
In effect, they increase the damping force, which means, Renault says, that it doesn't need to fit adaptive dampers.
Its engineers say that if it did move away from passive dampers, it would also want adjustable anti-roll bars, to make the most of a truly adjustable suspension system.
As it is, then, it's happy with passive springs, dampers and anti-roll bars and a mechanical limited-slip differential, with hydraulic bump stops to keep away the harshness, and trust the rest to tuning. The only thing, dynamically, that changes via electrics is the active rear-steer system and steering weight.

TESTER'S NOTE
How good are the optional seats? They hold you tight and in the right place and, even on a circuit, you just forget about them. Which is entirely the idea. MP
RENAULT MEGANE RS TROPHY
One of the fastest, most adjustable hot hatchbacks, but no longer necessarily the most incisive


Price  £32,000 (est)
Engine  4 cyls, 1798cc, turbo, petrol
Power  296bhp at 6000rpm
Torque 295lb ft at 2400pm
Gearbox 6-spd manual
Kerb weight 1494kg
0-62mph 5.7sec
Top speed 162mph
Economy 34.9mpg
CO2, tax band 183g/km, 37% (NEDC)
Rivals Honda Civic Type R, Hyundai i30 N Performance