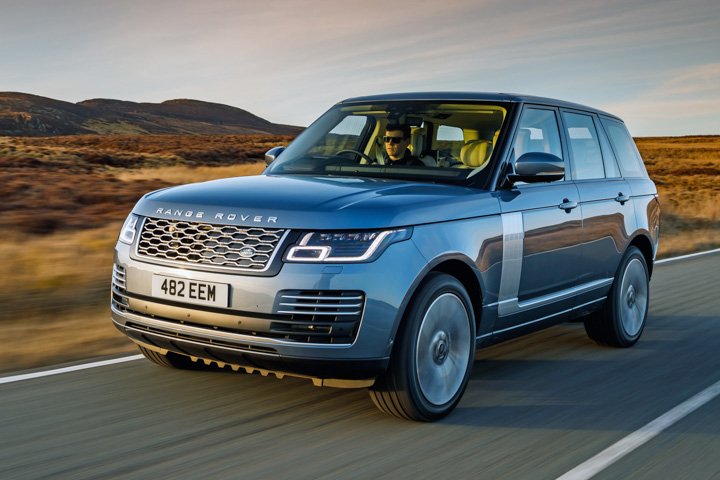 Tested 19.3.18, Cotswolds On sale Now Price £105,865
Plug-in hybrid mixes a 114bhp electric motor with a 296bhp petrol four-pot for 0-60mph in 6.4sec and up to 31 miles of electric-only range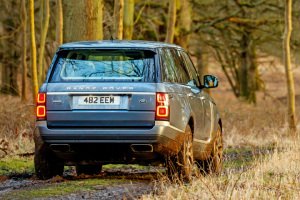 Ever since the first-generation Range Rover entered production in 1970, that alliterative nameplate has been synonymous with luxury and refinement, so much so that today it wouldn't be unreasonable to label the big SUV as the benchmark against which all other high-end cars are measured. Well, all cars this side of a Rolls-Royce Phantom or Bentley Mulsanne, perhaps.
Anyway, considering the market position that the Range Rover now occupies – as well as the connotations associated with it – Jaguar Land Rover's decision to introduce a plug-in hybrid model is backed by some pretty solid logic, and that's not necessarily referring to the environmental benefits that electrified powertrains are claimed to bring about.
You see, as important as a coveted badge, plush interior and classy, stately styling may be in this segment, perhaps even more so is the capacity for silent, refined motoring. And, let's be honest, if it's silence you want, an electrified powertrain is a great way to go about getting it.
Admittedly, the powertrain fitted to this latest Range Rover – model name P400e – isn't purely electric. It combines Jaguar Land Rover's ubiquitous 2.0-litre four-cylinder Ingenium petrol engine (found in everything from the Jaguar F-Type to the Land Rover Discovery) with a 114bhp electric motor, which is in turn powered by a 13.1kWh battery. So although an internal combustion engine is present, the 2509kg Range Rover still has the ability to travel as far as 31 miles on electricity alone, at speeds of up to 85mph.

P400e is the second-quickest of the standard Range Rovers after the petrol V8 model
That doesn't sound like a great deal of range in the real world, but when you think about where cars such as the Range Rover are increasingly being bought and used – namely, in busy cities – 31 miles is actually pretty decent. Provided you have reliable access to a charge point at home and at work, it's perfectly reasonable to assume that you might get away with performing the vast majority of your journeys on electricity alone.
Now, the idea of buying a Range Rover – or any large 4×4 for that matter – only for it to be used within the confines of the urban sprawl is a bit of a perplexing one, but the truth of the matter is that it happens. A lot. And considering that it's rather unlikely this attitude will change any time soon, the fact that manufacturers such as Jaguar Land Rover are beginning to sell 4x4s that have the ability to produce zero tailpipe emissions will at least go some way to reducing the negative public perception that SUVs are seriously bad for the environment. After all, thanks to its petrol-electric hybrid powertrain, the Range Rover P400e emits just 64g/km of CO2 on the combined cycle.
But I digress. The point here is that the electric drive mode, which can be accessed with the simple press of a button on the centre console, fits the Range Rover's character like a glove. Our test route took us through many a Cotswold village, and the ability to waft on through in massive comfort and total silence – save for the smallest amount of road noise generated by the tyres on the large, 21in alloy wheels – never gets tiresome. The electric motor's instantly available torque means there's no hanging about when pulling away from the lights, and air suspension irons out imperfections in the road's surface to give a low-speed ride that's approaching sublime. Couple all of that with the fact that the Range Rover is easy to place on the road, thanks to its excellent forward and rear visibility, and you've got yourself a seriously impressive vehicle for trundling around town in. Not bad when you remember that even the short-wheelbase version is five metres long and 2.22m wide.
Put your foot down as you move out of town and on to the open road and that theme of refinement remains largely intact. The transition between electric and petrol power is for the most part seamless, and although the four-cylinder engine might have felt out of its depth were it the sole source of power in a car as large and heavy as the Range Rover, there's no shortage of poke when it's coupled with the electric motor. Combined, the two powerplants make for a total output of 398bhp and 472lb ft of torque, which translates to a claimed 0-60mph time of 6.4sec. Flat out, the Range Rover will hit 137mph. To put that in perspective, Land Rover says the P400e is the second-quickest of the standard Range Rovers after the petrol V8 model – no mean feat.
Under hard acceleration, the four-cylinder engine doesn't sound as smooth or refined – not to mention as aurally pleasing – as the larger six-cylinder and V8 petrol and diesel powerplants, but it's far from being coarse or unpleasant. Settle down to a cruise and engine noise fades away into the background.
On faster, undulating back roads, which made up the vast majority of our test route, the Range Rover's air springs lend it a rather floaty, spongy ride, while faster corners give way to a large amount of body roll. Combined with a slower steering rack that has obviously been set up with comfortable, laid-back motoring in mind, it leaves you with the sense that if you could actually see a Range Rover's response to being told to drive with any enthusiasm, you'd be met with something resembling a reluctant eye roll. It's not that the Range Rover can't be hustled down a challenging road. It's just that such behaviour isn't particularly becoming of a big, comfortable, luxury SUV – and that's just fine.
As far as the cabin is concerned, it's all much as it was before. This means plenty of leather and wood panelling, masses of head and leg room in the back and generous adjustability in the seats and steering column. The most notable change here is the addition of the new dual-screen infotainment system first seen on the smaller Velar. Although it looks great and is intuitive enough to use, it's not the most responsive or fluid touchscreen we've come across, but that is a small gripe in such a materially rich cabin.
It would seem, then, that Jaguar Land Rover has created quite a compelling package with the new Range Rover P400e plug-in hybrid. Here is a luxurious, comfortable, handsome and refined SUV that also happens to be economical.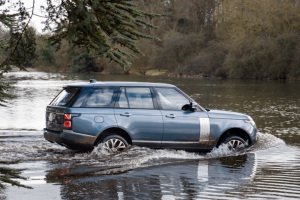 Only, that last part isn't quite accurate. Although the P400e boasts a claimed economy figure of 101mpg, that was always going to be a bit of a stretch in reality. Limit yourself to driving short distances on all-electric mode and, yes, it'll be cheap to run. Embark on longer, more demanding trips similar to that of our test route, though, and you'll pay a heavy price at the pumps. We averaged just 23mpg during our time with the car.
Despite all of its hugely capable off-road technology, then, this is a Range Rover that's most at home within the city limits, being driven for short periods on electricity alone. That might seem to go against the reputation that Land Rover was built on, but if you're happy with that, you're unlikely to be disappointed.
SIMON DAVIS
Tester's note
Off-roading in near silence, courtesy of the electric motor, is eerie but impressive. The electric motor can be used with the low-range 'box and its instant torque means the car is even easier to control on low-friction surfaces. SD
Range Rover P400e Autobiography
Electrification suits it. This hybrid gives a glimpse of how compelling an all-electric Range Rover would be


Price  £105,865
Engine  4 cyls, 1997cc, petrol, plus electric motor
Power  398bhp (combined)
Torque 472lb ft (combined)
Gearbox 8-spd ZF automatic
Kerb weight 2509kg
0-60mph 6.4sec
Top speed 137mph
Economy 101mpg
CO2, tax band 64g/km, 13%
Rivals BMW X5 40e xDrive, Porsche Cayenne Hybrid, Mercedes-Benz GLE 500e
THE P400'S ELECTRIC ELEMENT
The P400e's powertrain has been designed with optimal weight distribution in mind. The 114bhp electric motor is mounted on the eight-speed ZF transmission and the Samsung-sourced battery pack sits under the boot floor – where the full-sized spare wheel would normally sit.
The 7kW on-board charging socket is housed behind the Land Rover badge on the front grille. With a dedicated 32-amp charge point, the 13.1kWh battery pack can be replenished in as little as 2hr 45min, although a regular 10-amp unit will extend this to 7hr 30min.
Two driving modes are available: Parallel Hybrid and, for electric-only travel, EV. Parallel Hybrid combines the petrol and electric motors in the most efficient way and also offers a 'Save' function that allows the driver to prevent charge from dropping below a
pre-selected level by relying on the petrol engine alone.
AND NOW FOR SOMETHING A LITTLE BIT QUICKER…
Range Rover Sport SVR
Price £99,680 On sale Now
What's new? More power and an intoxicating soundtrack has breathed new life into our love affair with the Range Rover Sport SVR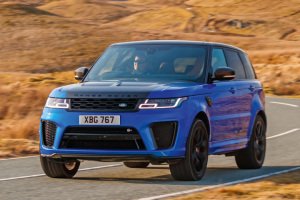 When the original Range Rover Sport SVR appeared in 2014, we awarded it the full five stars. At the time, it blew us away with its operatic supercharged V8, physics-defying handling, trademark off-road capability and intoxicating character.
Here, it has been revised for 2018, and the good news is that it retains and improves on all of those key features that made us initially fall in love with it.
Its 5.0-litre supercharged V8 now produces 567bhp – 24bhp more than the older model – and torque now sits at 516lb ft. It's still an absolute sledgehammer of a car, then, shifting its 2310kg kerb weight from zero to 60mph in just 4.3sec, accompanied by an apocalyptic soundtrack.
There's plenty of grip through the corners and the tuned damping does well to keep body roll in check. The most impressive characteristic, though, is how well the SVR can go from being a B-road barnstormer to a comfortable and composed long-haul cruiser. It's a proper Jekyll and Hyde car, and for that, we still love it. SD