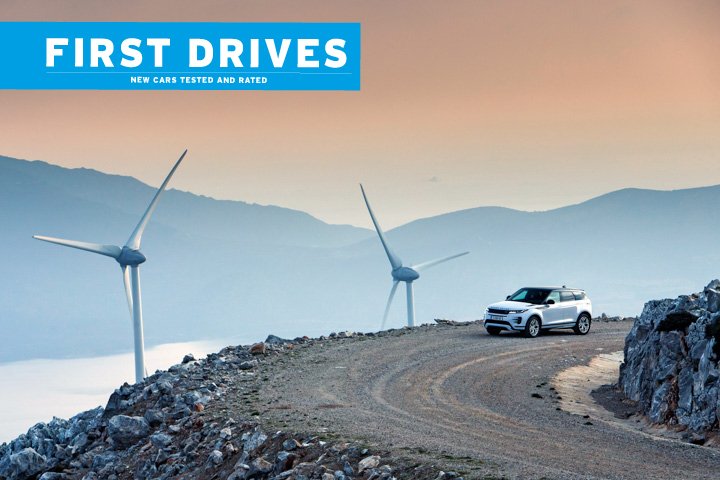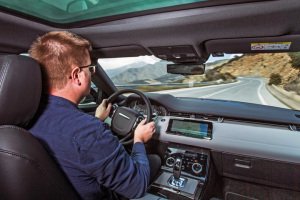 One millimetre. That's how much overall length has been added to the Range Rover Evoque during the big redesign and re-engineering process that has just delivered it from its first full model generation to this, its second.
On width, the difference is a relatively profligate four millimetres. Hardly seems worth mentioning. I expand more than that when breathing out. Come to think of it, I bet Victoria Beckham does too. On overall height, the car has actually shrunk by 11 millimetres (not sure on the comparison to Posh Spice on that score). Compactness matters to the Evoque driver, says Land Rover.
So how come this seems like a car that's mushroomed in size and become at least one fighting weight classification bigger, if not more? That's what you'll be asking yourself while you're taking in and processing the various particulars of the driving experience of what might be the most important new British-built car due to be introduced this year. The Evoque is a compact SUV that's just taken on many of the dynamic traits of a much bigger one.
The Evoque needed to become a more serious, rounded and practical prospect
It's the result of a telling change of product strategy for Land Rover. Eight years ago, this was Gaydon's catwalk idol. Its visual appeal was given such priority that there was even a three-door version with a lower, more rakish roofline – which Land Rover, ambitiously but not unreasonably, called a coupé. In the build-up to its launch, the Evoque was openly billed as Land Rover's Audi TT rival: its new style icon. Which is precisely how it went on to be embraced by the buying public.
That was before Europe's compact SUV segment exploded, though – something a brand like Land Rover could hardly ignore. The sheer force of competition this car must face today means it needed to become a more serious, rounded, practical and multi-talented prospect than the car it replaces just to tread water.
By convenient coincidence, of course, developing the Evoque in that direction might also help to address one of the criticisms levelled at it over generation one: that it didn't quite seem, to some, like a proper Range Rover underneath those celebrated designer clothes. Although the second-generation version is still smallish and transverse-engined, and still uses a clutch-based, front-axle-biased four-wheel-drive system, you'd be quite a bit less likely to say that about it, I reckon.
But for the door hinges and some inherited if widely updated powertrains, this really is an all-new car – and that's true right down to the model platform. Evoque II (L551, if you're into your Land Rover model generation codes) becomes the first car to adopt Jaguar Land Rover's Premium Transverse Architecture: a platform that allows lightweight mixed-metal construction while also permitting both 48V mild-hybrid electrification for all but the very cheapest version of the Evoque. The platform will also allow Gaydon to introduce a plug-in hybri d Evoque next year – something which, in light of the arrival of all-electric competitors such as the Mercedes EQC and Audi E-tron, is probably the least it ought to be doing.
All Evoque derivatives bar the aforementioned very cheapest D150 also get a clutch-based torque-vectoring four-wheel-drive system and a nine-speed automatic gearbox, as well as a redesigned all-independent suspension system of struts up front and JLR's Integral Link set-up at the rear. Adaptive dampers are optional (although they weren't fitted to our test car).
There's a choice of four diesel and three petrol engines at launch, with the entry-level diesel offering a feed-in price of just under £32,000 and broadly competitive lab-tested carbon dioxide emissions for fleet drivers. All versions of the car will be powered by British-built Ingenium four-cylinder engines, until JLR's three-cylinder Ingenium turbo petrols augment the line-up next year. The enlarged lithium ion battery for the car's mild-hybrid electrical circuit, meanwhile, is carried under the back seats and stores what electrical energy can be harvested under braking using the engine's belt-driven starter-generator, to be redeployed later back into the crankshaft under acceleration.
It performs the neat trick of remarkable suppleness and absorbency at little cost
And if all of that sounds, well, heavy, you'd be guessing right. Despite that mixed-metal construction, the 2.0-litre turbo petrol-powered Evoque P250 we drove was 66kg heavier than its like-for-like predecessor – but, more revealingly, almost 200kg heavier than an equivalent Audi Q3 45 TFSI and more than 100kg heavier than an equivalent Volvo XC40 T5. Luxury costs weight, Land Rover would reply, as does off-road capability. But that's a lot of extra mass for any relatively compact car to carry around – even one with 212mm of ground clearance and 600mm of wading depth.
Suffice it to say, you can feel that weight in more than one facet of the Evoque's driving experience – although not always as a detracting factor. The car has weightier steering, marginally more permissive body control, a longer-wave ride gait and a more stable, dampened-down handling response than the previous Evoque – in none of those ways by a lot, but certainly by enough to notice.
Land Rover has quickened the car's overall steering ratio and calibrated its variable power assistance to help it into tighter corners quite discreetly but cleverly, but around the straight-ahead that rack remains fairly slow, prioritising good long-distance motorway stability over a sense of incisiveness. This needed to be a relaxing car to drive over long distances, and it is.
The outright performance of the P250 petrol version, though, is a little bit underwhelming – if the Evoque's mass is a problem for it anywhere, it's definitely here. The car is fairly swift in full stride but not in any way authoritative enough that most would guess they were driving a car with a hot hatchback-level of power.
Of greater significance is that the engine's torque doesn't seem quite enough to make it feel particularly effortless on the road. The engine is certainly quiet and smooth but doesn't have the accessible muscle to keep the car's nine-speed gearbox from becoming a touch hyperactive when you want to move along more briskly. You always seem to be at least two gearchanges away from the ratio you need in response to any biggish pedal input when you're using 'D'. It's less often the case, perhaps, in 'S', although in both cases the transmission still seems hesitant to get to the cog in question. Nine-speed automatic gearboxes are like that, you might say. Maybe – but they'd have less cause to be so, I'd estimate, when working with the sort of torquey diesel engine that is slowly being driven out of the mix in cars such as these – and regrettably so.
Still, what a beautifully quiet, well-isolated turbo petrol engine the Evoque's is, even when worked hard, and what world-class refinement it has gained in a broader sense. Even on standard passive dampers, the suspension fillets and filters the road surface as effectively as that of some luxury cars costing more than twice the Evoque's price. It performs the neat trick of remarkable suppleness and absorbency at little cost, because the ride certainly doesn't feel limousine-soft or wallowy. There is gentle but progressive vertical body control in response to any bump big enough to set the car's sprung mass upwards in motion, and yet so many of the smaller intrusions simply melt away behind you unperceived – and body control remains respectable in any case.
More genuinely luxurious character flows from the richer trim elements of the car's interior, many of which really catch your eye. Land Rover's dual-screen, double-decker touchscreen infotainment system appears from nowhere – 'invisible until lit', as the designers say – as a really sophisticated technical highlight, while the leathers on the fascia, doors and seats are lovely and the chrome decorations likewise. Second-row occupant space is better but probably still not class-leading.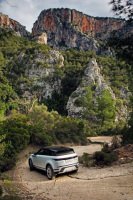 Otherwise, what could you find fault with? Well, the cabin isn't so materially rich or expensively hewn everywhere you look. The odd bit of wobbly trim and shiny moulded finish have survived into the Evoque's second generation, and for the money – and this car costs plenty of money, as you'll doubtless rightly assume – you might well expect better. Depending on your choice of engine, I dare say you might also expect stronger and more effortless performance. But we've covered that.
You might also miss the more standout styling and agile handling of the first-generation car, I guess, but to me that seems less likely. Overall, this Evoque ought to give its owners much more to be grateful for than to regret. It's a slightly different kind of Evoque, granted, but from its new comfort levels to its improved richness and practicality and remarkable, groundbreaking on-board technology, the Evoque has really come of age.
For the record, this tester wasn't one of those who thought the Evoque unworthy of a Range Rover badge in the first place, and I don't see how anyone could think so any more.
MATT SAUNDERS
CLEARSIGHT VISIBILITY AIDS

Land Rover's Clearsight rear-view mirror comes as standard on the top-of-the-line Evoque or as an option elsewhere. A backwards-facing camera on the roof allows it the neat trick of switching to become a widescreen video display when you flick what would otherwise be the anti-dazzle knob on the bottom. The display is bright and clear and permits a much wider field of view than you'd otherwise have. It does have a habit of making objects look a touch closer than they are, mind you – and it isn't much use in low direct sunlight.
The car's other visibility innovation is what Land Rover calls a 'see-through bonnet': otherwise known as Clearsight Ground View. A system of cameras on the front bumper reproduce an image of what's underneath the front end of the car on the upper infotainment screen. Land Rover says it comes in handy when off-roading or parking in tight spaces. You can easily imagine it'll become a strong Evoque selling point.
Economy might be another reason to steer clear of a petrol-powered Evoque. Our P250 returned 35mpg at best, dipping to 26mpg on a mixed route. You do wonder how much Land Rover's new mild-hybrid technology is doing to improve that. MS
RANGE ROVER EVOQUE P250 S R-DYNAMIC
More mature, very refined and genuinely luxurious – but mid-range petrol power may not suit it best


Price  £41,800
Engine  4 cyls in line, 1998cc, turbocharged, petrol
Power  246bhp at 5500rpm
Torque 269lb ft at 1300-4500rpm
Gearbox 9-spd automatic
Kerb weight 1818kg
0-62mph 7.5sec
Top speed 143mph
Economy 28.5-30.4mpg (WLTP combined)
CO2, tax band na
Rivals Volvo XC40, Audi Q3