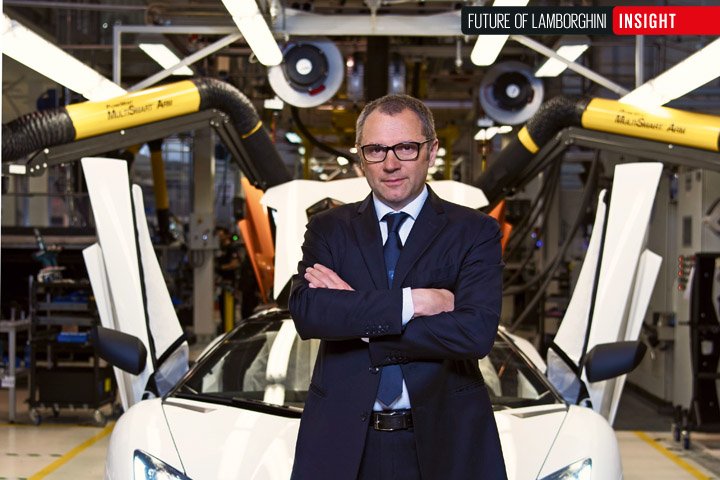 Stefano Domenicali hit the turf as Ferrari's F1 team leader. But now he rides again, on the horns of Lamborghini.

Dan Prosser

meets him
In a makeshift office at the Bahrain International Circuit, Stefano Domenicali takes a moment to reflect on what for him will be a significant anniversary. "Time is going very fast, but that's good," says the ebullient 53-year-old. "If time is going slowly, there's something wrong."
This Middle Eastern circuit's tree-lined paddock and the nine-storey Sakhir Tower that dominates the local skyline will be more familiar to Domenicali than to any of the travelling press corps or the dozens of visiting support staff. The grand prix track is hosting the media launch of the new Lamborghini Huracán Evo and, in his role as president and CEO of Automobili Lamborghini, Domenicali is here to present his company's newest supercar to the world's automotive press. By the end of this month, Domenicali will have held his position for three years.
The Italian – whose forthcoming and easy-going nature seems to be at odds with the archetype of a hard-nosed, grey-suited automotive industry executive – has been driven through the circuit's gates many times before, but always while wearing the scarlet red uniform of the Ferrari Formula 1 team. Between the end of 2007 and 2014, he served as its team principal. His memories of this Bahrain circuit from the early years will include dominant one-two race wins in 2008 and 2010, but just as those victories in the desert dried up during the second half of his seven-year stint at the helm of the Scuderia, so too did the world championship titles. In April 2014, Domenicali fell on his sword and announced his resignation – moments before, one imagines, he was shown the door.
Time is going fast. But if time is going slowly something is wrong
Following a brief spell at Audi, Domenicali was appointed CEO by Lamborghini early in 2016. While history shows Lamborghini's fortunes soared following his arrival, Domenicali would be the first to point out the framework that underpinned the renaissance had been put in place long before his appointment. Nonetheless, having sold 3245 cars globally in the year before Domenicali first set foot in Sant'Agata, Lamborghini last year posted record annual sales figures, moving 5750 cars.
So it is no longer the case that the role of president and CEO of Automobili Lamborghini is a palliative one, because although this brand has peered over the edge and into oblivion countless times during its 56-year history, today Lamborghini is alive and kicking. Instead, Domenicali is tasked with expanding sales even further and with introducing new models, making the company he oversees today a thorn in the side of the one he left five years ago.
This is his five-part plan to lead Lamborghini into a bright future – and consequently to tackle his former employer Ferrari head-on.
1
INCREASE BRAND AWARENESS
"We saw there was the potential for big growth in terms of global brand awareness of Lamborghini," Domenicali offers. "In new markets, our heritage has zero value. They don't know about Lamborghini. Success in new markets is with the younger generation, which is why we must show that we are the coolest, the sportiest and the most dynamic brand."
And in traditional markets?
"We needed to position our brand in a different way," he says. "We have to be seen to be less polarising. Before, you either loved Lamborghini or you hated it. Now, you either love it or you don't like it. But whichever it is, you recognise this is a brand with a very strong identity."
Having traded for so long on its reputation for building the wildest and most fearsome supercars on the planet, Lamborghini has tried in recent times to put forward a friendlier public face. In Domenicali's words, Lamborghini now wants to be a "happy brand".'
If you want to enjoy a car, you cannot have it driving itself
2
GROW SALES
Last year, Lamborghini's global sales leapt up by almost 70%. Were Domenicali a less humble man he might attribute that particular success to his own radiant genius, but he's quick to point out that a sizeable leap was inevitable following the launch of the Urus super-SUV. This being its first full year on sale, the marque will almost certainly post another record sales year in 2019.
The sweet spot for the time being, reckons Domenicali, will be 8000 cars sold each year: "That, in my opinion, is the right number
for our portfolio and for our markets. If new markets come in, we will need to make an adjustment to that figure, but that is the right number for us to be a solid business right now."
That figure will raise eyebrows 15 miles away on Via Abetone Inferiore, because last year was only the third time in Ferrari's history that global sales exceeded 8000. If what motivates Domenicali in his new role is a vengeful desire to prove his worth to the company that allowed him to leave, he is far too diplomatic to admit it. But it is the case nonetheless that Domenicali might yet be the man to steer Lamborghini's raging bull to within a nose of Ferrari's prancing horse.
"Exclusivity for our customers is very valuable, however," he says. "We could build a second SUV and grow sales very quickly. If I was a very selfish manager, that is exactly what I would do. But it wouldn't be right for the brand. It would pay off rapidly in the short term, but in the medium and long term it would be a very big mistake."
3
CONTINUE BUILDING SHOW-STOPPING ENGINES 
Manufacturers throughout the supercar sector have been moving away from normally aspirated engines and towards turbocharging – Ferrari very much among them. Tightening emissions legislation has all but dictated it. Domenicali knows very well that Lamborghini's soaring V10 and V12 engines with their tuneful, normally aspirated soundtracks are what sets their cars apart from the rest. Lamborghini will therefore move towards hybrid powertrains for its supercars long before it adopts turbocharging.
"This is the nature of homologation," says Domenicali, regretfully. "If I had only to respond to the needs of our customers, the next Aventador would have only a normally aspirated V12 again. But we need to respect legislation. In certain places, you will need electrification to go into the city. That is why the next Aventador will use a normally aspirated V12 but with a hybrid system." The current model is still selling so well, incidentally, that we shouldn't expect to see a replacement in the next two years.
4
INTRODUCE A FOURTH MODEL LINE 
If sales continue to grow as Domenicali forecasts between now and 2025, his company will then be in a position to introduce a fourth model to complement the entry-level Huracán supercar, the range-topping Aventador and the Urus. "The idea is for a grand tourer, a 2+2," he says. "That is something we are working on already. This car could help us reach 10,000 sales.
"I can see that if we are able to stabilise volumes over the next few years, we can manage a fourth model. But we are not strong or
stable enough to invest in a fourth model right now."
5
CARRY ON BUILDING CARS FOR PEOPLE WHO LOVE DRIVING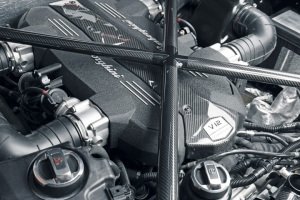 "People have been in love with cars for a long time and they want to drive them," says Domenicali. As the mainstream automotive sector hurries towards an autonomous future and a short-term rental rather than ownership model, Domenicali believes there will be demand for high-end performance cars for a long time yet: "The world is so big, so different. We have to consider if cars are to be used to transport us, or for enjoyment. If you want to enjoy a car, you cannot have it driving itself. There is definitely a future for people like us, for sure, because it is connected to the passion of life.
"On the future of mobility, the complexity goes beyond cars – it is about an entire ecosystem that has to grow. Good luck with that!" A