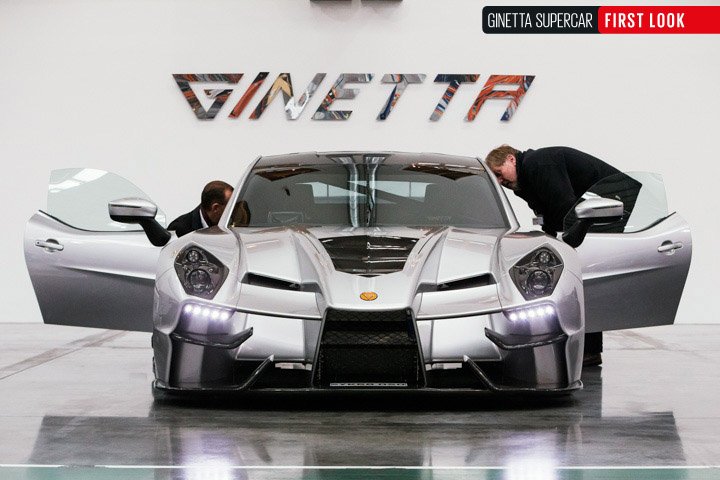 Ginetta's stunning new supercar has all the hallmarks of a Le Mans racer but with the practical elements of a road car.

Steve Cropley

was granted an exclusive inspection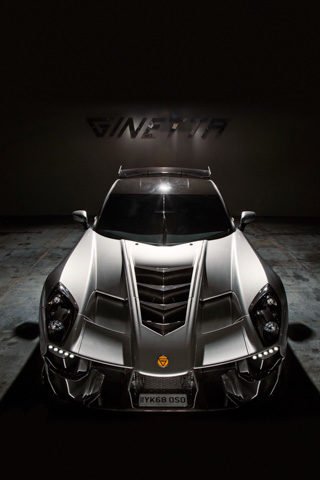 If you want a clear view of how different Ginetta is from ordinary car manufacturers, look no further than the way it has chosen to launch its shock new 200mph, Ferrari-priced supercar, one of the most spectacular new arrivals at this year's Geneva motor show.
Car makers routinely leak news snippets and 'teaser' images before they have much to show, to build anticipation and reassure themselves that their plans make sense. But Ginetta has ignored such ruses and built its new supercar to completion in absolute secrecy, depending on impressive technical capability developed from a decade of building winning race cars, and sustained by the sense of destiny of its owner and kingpin, Lawrence Tomlinson, former Le Mans winner and incorrigible lover of fast cars.
The new supercar, whose name and "under £400k" price will be revealed in Geneva, is a low, aggressively styled but essentially practical front mid-engined coupé. It has a bespoke, all-carbonfibre tub chassis built alongside the company's race cars and clad with carbonfibre body panels. It is shaped for an aerodynamic performance normally not possible in road cars, and powered by an extremely light and compact Ginetta-designed 90deg V8 engine of just over 6.0 litres capacity, producing around 600bhp and 520lb ft. The gearbox is a unique Ginetta-developed creation, a six-speed sequential paddle shift in unit with the diff, connected to the engine (and multi-plate clutch) by a short carbonfibre tailshaft. 
Our job's to make an owner walk past five other great machines to get into ours
The engine, dry-sumped and fuelled by Ginetta's own throttle bodies, has its block milled entirely from billet aluminium for extreme lightness and strength. Very compact, the unit is normally aspirated for instant throttle response. Ginetta's codename for it is BB6 (the '6' standing for 600bhp) and Tomlinson admits he has already considered a BB10. With engine in place the car weighs just 1150kg, undercutting mid-engined rivals by at least 150kg.
Tomlinson cheerfully admits his supercar project is new territory for the company he bought 13 years ago as something of a sports car underachiever and has built into a race-minded technology powerhouse. An engineer by training, who designs and develops his own car, Tomlinson has already driven the new supercar in anger at Blyton Park, a test and sprint track he owns nearby, and will start on the fine-tuning as soon as he gets back from Geneva.
"Why have we done it? Because we can, I guess," Tomlinson explains. "We've made decent progress on other fronts. We're racing Toyota in LMP1, we built the first LMP3 car with the blessing of the Le Mans organisers, our GT4 car is very successful globally and we've been running the world's most successful junior racing series for many years. We have all the design and technical capability a project like this needs, we're a proud British operation, and we need to show it off."
Despite the secrecy, Tomlinson discreetly contacted the circle of enthusiasts he knows, and came up with a handful of orders from serial Ferrari-Lamborghini-McLaren buyers who know a good driver's car when they see one. This has since expanded to 14 as word has quietly spread – not bad going for a project aimed at producing 20 cars in its first production year (2020) and which aims to preserve exclusivity with an annual output of just 30 to 50 cars thereafter. Tomlinson is much encouraged by the early reaction: "Our job is to make a driver's car so desirable that an owner with six great machines in the garage will walk past the other five to get into ours."
The new supercar is bigger than any previous Ginetta road car, a shade longer than the most recent Porsche GT3 at 4640mm, about 100mm wider and nearly 200mm longer in the wheelbase. Though officially described as front mid-engined, it's closer than most rear mid-engined rivals to having the engine truly central (the tiny V8 is so far back that its drive pulleys sit directly beneath the windscreen wipers) and the 49% front, 51% rear weight distribution proves the fact.
This layout leaves sufficient space to house a carbonfibre front structure that both provides FIA GT3 levels of crash protection and light-but-rigid mounting for the double-wishbone front suspension, whose coil-over units are anchored in the centre of the car and connected by pushrods. A similar system is used at the rear (pushrod-operated double wishbones mounted on a carbonfibre subframe), but there's also space for a remarkably large boot – well able to house two sets of golf clubs. The Michelin Pilot Sport 4 tyres are substantial without being outrageous: 275/35 ZR19s in front and 305/30 ZR20s behind.
Tomlinson took a class win at Le Mans in a front mid-engined Panoz (and now owns the winning car) but demurs at suggestions that sentiment might have played a part in the layout of his new supercar. It's just the right way of doing things, he insists. Having the engine so far back allows an optimised aero package. It also allows the front wishbones to be long, unimpeded by an engine, which in turn helps keep the tyres flat on the road as the ride height changes when aero loads build at speed.
For a road car, the new Ginetta promises a phenomenal aerodynamic performance. The company has already spent many hours in the Williams wind tunnel developing aerodynamics whose efficiency is clearly all-important in styling that bristles with planes and ducts and aerofoils, plus a high rear deck dominated by a huge wing (with the same aerofoil shape as a Ginetta LMP1 car) and an underbody diffuser that would do justice to many a pure racer. A pair of businesslike slash-cut exhausts prevent pipework interrupting underbody airflow.
Same goes for the downforce, which amounts to an extraordinary 376kg at 100mph, well ahead of cars in the LaFerrari and McLaren P1 bracket, and within 5% of Ginetta's current LMP3 car.
Tomlinson is anxious that none of this talk of lightness and extreme aero should obscure the fact that this is very much a practical road car. The "sensible" doors are sized for easy ingress/egress, and he's passionate about their panel-fit. The boot can swallow 675 litres of luggage, all sight lines are designed for easy visibility in traffic and the car will come with niceties like automatic headlights, a reversing camera, an electronic parking brake, parking sensors, sat-nav, ABS and traction control, climate control, heated screens and full connectivity. Door handles and inside switchgear will be milled from billet aluminium. Ginetta's comprehensive warranty means the company will take charge of the cars for their first two years "virtually anywhere in the world".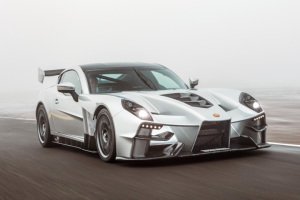 Owners will be able to configure their cars in almost any colour and trim combo, and every owner will get a race-style car fitting: the seats are moulded into the tub for lightness, so the steering column and pedal box move to suit individual drivers, with seat shapes alterable by inserts or bespoke padding. Tomlinson wants Ginetta ownership to be a highly personal experience, and believes the numbers of the car will be important for its exclusivity. He's serious about knowing owners as individuals.
Production will begin late this year, and first deliveries are scheduled for January 2020. Anyone joining Tomlinson's supercar club now won't get a car until well into next year, but the group will always be exclusive. For a company that makes around 300 cars a year, mostly racers, 50 a year is plenty. "We are not mass producers," he says, "and want this car to be a very good investment." A
PHOTOGRAPHY Luc Lacey
GINETTA'S RACING PEDIGREE

Ginetta will race its LMP1 car again this year, a developed version of the car that made its debut against Toyota's mega-millions hybrids at Le Mans in 2018. Tomlinson believes he'll have a better car now he's changed last year's Mechachrome engine for a more reliable AER unit. The first race for the 2019 car will be Spa in May, before Le Mans, then the 2019/20 World Endurance Championship starts at Silverstone in September.
However, LMP1 racing is only a fraction of Ginetta's activities. They make around 300 cars a year – a combination of super-successful G55s (a design that began as the G50, for GT4 racing), G40s for the thriving Ginetta Junior series (limited to 100bhp, but still surprisingly quick), various 'adult' versions of the G40 with over 60% more power, and a breed of LMP3 customer cars for the Asian and European Le Mans series. There's also a Le Mans Prototype called G58, a two-seater track car providing LMP2 levels of downforce with 600 horsepower and weighing 900kg. Nobody's saying whether or when the new supercar will race, but it would be hard to deny the potential.